« FDIC's Bair Says Insurance Fund Could Be Insolvent This Year | Main | Throwing Abe Lincoln Under The Bus »
March 06, 2009
Classless Couple Barack and Michelle Obama Once Again SNUB Britain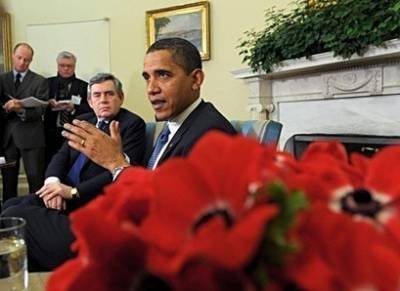 Barack Obama cancels press conference with Gordon Brown "because of snow"
Strange goings on surrounding the programme for the first day of Gordon Brown's visit to Washington.
No sooner had the Prime Minister's plane touched down at Andrews Air Force on Monday evening when word was passed to travelling Westminster correspondents that the press conference they'd been told to expect had been called off "because of snow".
Hours earlier, at around 4pm EST on Monday, a British official had told me that there would be a "press conference" after the PM and President Barack Obama had met in the Oval Office and before they had their working lunch in the Old Family Dining Room. Exact timings, however, were vague.
By 8pm, the press conference - if there'd ever been one planned - was officially off. The White House press schedule stated:
"There will be a pool spray of the meeting." In layman's language, that means a small collection of reporters and perhaps two or three quick questions. That means something very short and ample opportunity to dodge anything difficult.
As Ben Brogan of the Mail puts it, this is "not the standing podium-to-podium with the Messiah image that Mr Brown imagined". Trying to spin as best they can, the British Embassy is describing it as a "press availability" while Downing Street officials are apparently saying that "we are still negotiating".
Oddly enough, at White House press secretary Robert Gibbs's 2pm briefing, he said that "I believe it's going to be some questions in the Oval". Although he added that "I don't know the answer to all of the logistics", it was pretty clear at that stage - within the White House at least - that there wasn't going to be a press conference.
Mr Brown might be forgiven for thinking that his friend, rival and predecessor Tony Blair would not have been treated the same way by his bosom buddy President George W. Bush. After all, there are 132 rooms in the White House at least some of which, presumably, are currently free of snow.
Mr Brown might lament that despite the so-called "special relationship" Britain is now getting the same treatment as the President of Uruguay but he need not despair. I'm told there's a chance he might get drinks with Vice President Joe Biden on Tuesday evening.

Brit reporters in bit of a snit over lack of Obama-Brown news conference
British reporters are not happy. Not happy at all. They expected a full press conference after Prime Minister Gordon Brown's first visit to the Obama White House, but didn't get one.
"Though there was never any announcement on this side of the Atlantic that there would be a full-blown joint news conference today when British Prime Minister Gordon Brown stops by to meet with President Obama," USA Today's The Oval blog reported, "some British journalists are rather cranky this morning about the fact that there won't be one. Some who flew over with Brown last night thought there would be an Obama-Brown newser, and were surprised to hear when they arrived that there wouldn't. They see it as a snub."
"Mr Brown might lament," The Telegraph said, "that despite the so-called 'special relationship' Britain is now getting the same treatment as the president of Uruguay but he need not despair. I'm told there's a chance he might get drinks with Vice President Joe Biden on Tuesday evening."

.

Wild Thing's comment...........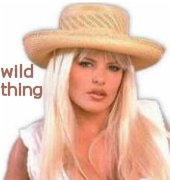 B.Hussein and Winnie Mandella Michelle Obama have absolutely no class. Barack Obama has now dissed our number-one ally, the United Kingdom, THREE TIMES, three acts of disrespect, first act of disrespect in returning the bust of Winston Churchill given to us through President Bush.
The second act of disrespect was allowing the British to believe that there would be the traditional, joint press conference with all the flags in the East Room, with the press corps made up of both Brits and US reporters after the first meeting between Obama and Gordon Brown, the prime minister of the United Kingdom. It didn't happen. UK press people -- people that loved Obama in the Guardian, in the Telegraph, people in the press over there that loved Obama -- are feeling dissed. There was no joint meeting.
The third act of disrespect was the gift exchange, the gifts that Obama and Michelle have the the Browns. This gift exchange is a traditional thing, or it has been till now. The first time the leader of a country shows up, you give them a gift. Gordon Brown's gift was.
"Mr Brown's gifts," there were three, "included an ornamental desk pen holder made from the oak timbers of Victorian anti-slaver HMS Gannet, once named HMS President. Mr Obama was so delighted he has already put it in pride of place in the Oval Office on the Resolute Desk which was carved from timbers of Gannet's sister ship, HMS Resolute.
"Another treasure given to the US President was the framed commission for HMS Resolute, a vessel that came to symbolise Anglo-US peace when it was saved from ice packs by Americans and given to Queen Victoria. Finally, Mr Brown gave a first edition set of the seven-volume classic biography of Churchill by Sir Martin Gilbert."
Now, this pen set, this pen set contains wood from the ship that Obama's desk in the Oval Office is made of. It was obvious a lot of thought went into these gifts.
What did Barack Hussein Obama give Gordon Brown? Twenty-five DVDs of classic American films. As Rush said the kind that could easily be purchased on Amazon or Barnes & Noble or anywhere.
The Prime Minister's reaction to getting DVDs is not known. Mr Brown is not noted for his love of cinema, although he once claimed on a trip to India that he was an admirer of Hollywood. I wonder how many Spike Lee movies were in the list of films.
As revealed by yesterday's Evening Standard, the Browns showered gifts on the Obama children too, using the occasion to promote British exports.
Sarah Brown gave Sasha and Malia Obama an outfit each from Topshop, which has just opened its first American store in New York. She also picked six children's books by British authors which are shortly to be published in America.
In return, the Obamas gave the Browns two models of the presidential helicopter, Marine One, to take home to sons Fraser and John. For me personally I would love this kind of gift that was given to Brown's children, but not from either one of the Obama people. The main thing is what Brown and Obama exchanged that is a total classless thing by Obama.
Both Barack and his wife are nasty and they hate white people. Tradition means nothing to Barack or Michelle and they will learn quickly that there is a lot of tradition in being President of the USA. Of course so far they have shown they don't care if they SNUB tradition and proper ettiquiet that is done as President and First Lady.
Obama is an unintelligent, boorish, ill-mannered jackass, a bi-racial Kenyan low brow mutt. Michelle will never understand that it was her ancestors that sold her ancestors into slavery.
Also, someone please tell Mrs. Brown that your gifts for her girls will probably be lost on her as she does not understand true gift giving.
He has worn out his welcome at home, and will do so in Europe as well. Then he will take refuge in the Islamic and African nations. A communist president would WANT to destroy the west's strongest alliances.
Barack Hussein Obama is NO president of mine, a usuper, he continues to verify by his conduct his true nature and danger to America, as a well disguised rabid animal, Obama will be forced to war agianst Russia and Iran because of invited attack due to weakness.And his snub of Brown was just that: weakness.

Posted by Wild Thing at March 6, 2009 05:47 AM
---
Comments
25 DVD's, that is classless, like the ugly sweater that gets passed around at Christmas, from family member to the next family. Did barry leave the price stickers on too, ...naw, he probably got them for nothing and since they were Classic American Movies, he didn't want them, they probably portrayed the real America. Not the pie in the sky, utopia where everybody is equal, i.e., equal misery to go all around.
Posted by: Mark at March 6, 2009 10:56 AM
---
He could have at least thrown in a few Obama bumper stickers. Maybe a Christmas fruit cake from '89.
The world is going to learn Chicago politics, and Chicago politics is going to prove worthless on the world stage.
Posted by: TomR at March 6, 2009 11:49 AM
---
Outstanding Chrissie, his disrespect is universal.
I just love it, those fawning SOB's in Europe are getting a taste of their own arrogance, after all Obamastain is their man of the world, he campaigned there, for them, isn't that the thing those Communist loving bastards admire most? Sorry Gordon you have mistaken this Kenyan turd for an American, he's no 'cowboy' like the one you all slammed for 8 years as being an inarticulate subhuman, you've got the real shit now, deal with it, Komrad Brown.
Posted by: Jack at March 6, 2009 02:12 PM
---
The O'Bamas have lots of class.........all of it LOW. Once a bottom feeder always a bottom feeder.
Posted by: cuchieddie-25th ID Vet at March 6, 2009 02:13 PM
---
Amen, Wild Thing. OOPE, for office of president elect, which he invented, but POTUS, he cannot be. I am saddened and shocked that no one among his cabinet can school him on how to behave while in the white house.
Posted by: Bobby at March 6, 2009 04:24 PM
---
He wants to destroy 3 of our longest standing and most important international relationships.
Great Britain: Our longest lasting and one of our most important Military Allies. He'd rather sacrifice that for russia and the collapsing hellhole that country is.
Japan: One of our biggest trading partners and our biggest ally in the Pacific. He would like to trade that good relationship for the damn chicoms and the Japanese president has sensed this from Nov 5, 2008.
Israel: Our most important and Friendliest of Military and Intelligence Alliances in the War on Terror. The annointed one would have them blown into the mediterranian in exchange for pr with iran syria lebanon hamas and saudi arabia.
Posted by: JohnE PFC U.S. Army at March 6, 2009 04:40 PM
---
Mark, giggle, you so right.
I love movies but to get a bunch of CD's from the President Z???? LMAO oh my gosh. I would even settle on a note pad with the seal of the Presidency on it or something but not something I could buy at Walmart or something.
Posted by: Wild Thing at March 6, 2009 07:08 PM
---
Posted by: Wild Thing at March 6, 2009 07:10 PM
---
Jack,LOL that was great! I agree about Brown too, he has helped send the UK into the Muslim world 10 times more then Blair did.
Posted by: Wild Thing at March 6, 2009 07:16 PM
---
cuchieddie-25th ID Vet, perfect expression for this.
Posted by: Wild Thing at March 6, 2009 07:17 PM
---
Bobby, thank you oand I agree. He has so many that could tell him what is proper. Even if they don't know I am sure there is a book what to do and when.
Love your blog Bobby!!
Posted by: Wild Thing at March 6, 2009 07:21 PM
---
JohnE PFC U.S. Army, your right, those three are going to be wishing there never was an Obama. And I don't blame them, I feel the same way.
Posted by: Wild Thing at March 6, 2009 07:24 PM
---
Was one of the DVD's the Mel Gibson movie THE PATRIOT? Totally classlss, clueless and this LACKEY is out of his F'N league! Hey $WEET HOMEY OBAMY, ever heard of PROTOCOL, customs and courtesies? Shocked the reception wasn't on the set of BET or M-TV! The mullahs and Ahab Kaboomey's and Osama bin Laden are laughing in their caves!!
Posted by: darthcrUSAderworldtour07 at March 6, 2009 07:31 PM
---