« Gov. Sarah Palin Supports Extending Tax Suspension | Main | Pelosi: "'Keep the Door Open' to Another Stimulus Package" »
March 11, 2009
"Chas" Freeman Intelligence Pick Wants National ID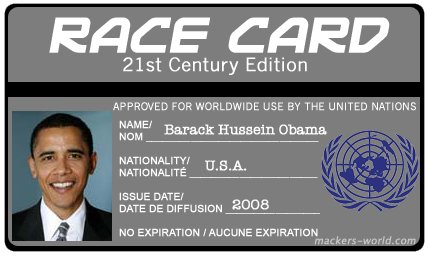 Obama's National ID card

Intelligence pick wants national ID
By Aaron Klein
Urges creation of federal system 'so we can better know who is who'
Following the 9/11 attacks, President Obama's nominee for a top intelligence post advocated that to effectively combat terrorism, the U.S. government should implement a national identity system, "so we better know who is who."
In testimony before the 9/11 commission, Charles "Chas" Freeman, the U.S. ambassador to Saudi Arabia during the first Gulf War, also recommended conducting the war on terrorism primary as a law enforcement effort.
Freeman is slated to head the U.S. National Intelligence Council, or NIC, a crucial component of the U.S. intelligence apparatus. The NIC serves as the center for midterm and long-term strategic thinking within the American intelligence community. It provides intelligence briefs for Obama and key U.S. agencies and produces reports that help determine American policy on crucial issues, such as Iran's nuclear program.
Freeman gave the commission three recommendations for better fighting Islamic terrorism:
"First, the U.S. government should improve the visa system. More names to the forms should be added in order to distinguish among the many 'Abdullah bin Mohammads.' Technical means should also be used to cut the wait."
"Second, the United States should implement a national identity system, so we better know who is who."
Third, the war on terrorism should be seen primarily as a law enforcement and intelligence war, not as a military one."
Freeman has recently come under fire for his documented ties to foreign governments, including receiving funds from the Saudi government and his service on the advisory board of a Chinese-government-owned oil company widely seen as conducting business deals meant to expand the communist nation's influence worldwide. One of the Chinese company's recent attempts to purchase a large U.S. oil firm drew bipartisan congressional opposition amid fears the deal would harm American national security interests. Violating U.S. sanctions?

.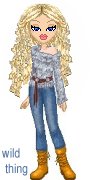 Wild Thing's comment........
Dems want national ID cards, "So we know who is who". Will we also have to wear a distinctive patch above our left breast pocket (an elephant, a cross, Casper the Ghost, a gun...)???!
When hell freezes over! I have had about enough of these Hitler like tactics. This guy is BAD NEWS. We don't need big government!
Besides don't we already have two "national IDs":.... our Social Security card and our US passport??
Hussein might have a problem since he would FINALLY have to come up with a Birth Certificate to apply.
UPDATE about Freeman

Freeman hits 'Israel lobby' on way out......he WITHDREW ...YIPPEE!!
President Barack Obama's controversial pick for a top intelligence post blasted the "Israel lobby" on his way out the door Tuesday, intensifying a debate on the role Israel's allies played in the latest failed Obama appointment.
Charles W. Freeman Jr.'s abrupt withdrawal from his appointment as chairman of the National Intelligence Council came after he drew fire on a number of fronts - including questions about his financial ties to China and Saudi Arabia.
Freeman left no doubt about where he places blame in a written statement after his withdrawal.
"The libels on me and their easily traceable email trails show conclusively that there is a powerful lobby determined to prevent any view other than its own from being aired, still less to factor in American understanding of trends and events in the Middle East," he wrote.

....Thank you Mark for sending this to me.

Mark
3rd Mar.Div. 1st Battalion 9th Marine Regiment
1/9 Marines aka The Walking Dead
VN 66-67


Posted by Wild Thing at March 11, 2009 06:44 AM
---
Comments
Another one bites the dust. This man was a schlup from the word, go. I guess it was the Jewish lobby that got him to fall on the sword for OH-bama.
He denied being a socialist. But his penchant for picking cabinet members who are strongly, anit-American, anti-Israel and anti-capitalist and pro-moslem, pro-open borders give little credance to his deinal.
Posted by: Mark at March 11, 2009 09:07 AM
---
Obama has to be setting a record for nominees for office not making it to that post. Worry not, he haqs a long list of bad choices to choose from.
Every aspect of liberal socialism Americans ever feared is coming to reality. Not only are liberals in complete charge of the government, but some of the most insane, crooked and inept of their cult is there. We are in for a wild ride.
Posted by: TomR at March 11, 2009 12:57 PM
---
My contention is that Democrats are degrading in quality as the years go on.
The old record for the most unqualified nominees was set by the Clinton Whitehouse that broke the Carter record that replaced FDR's record. (FDR did have thirteen years in office, poor security from J. Edgar Hoover's boys in pink and the emergancies of a major war to help run up his total.)

Posted by: Avitar at March 11, 2009 01:47 PM
---
Well I'm glad the ironically named intel pick withdrew. Another big defeat for big brother, And another Great Victory For The U.S.A. I'm sorry but shooting running over unarmed Pro-Democracy Demonstrators with Type 59 Tanks is NOT "too cautious" Most would call it "Cold-Blooded Murder." Good Bye and Good Ridance A$$hole!
Posted by: JohnE PFC U.S. Army at March 11, 2009 05:10 PM
---
National ID from a mystery president that doesn't have a valid birth certificate?
Posted by: darthcrUSAderworldtour07 at March 11, 2009 06:26 PM
---
Mark, well said, Freeman reflected what Obama believes in or he would not have named him. It was only pressure from others on the left mostly, that he declined.
Posted by: Wild Thing at March 11, 2009 11:29 PM
---
Tom, it sure is..."Every aspect of liberal socialism Americans ever feared is coming to reality".
Posted by: Wild Thing at March 11, 2009 11:31 PM
---
Avitar, yes, and their degrading is something unfortunately we all have to be sujected too.
Posted by: Wild Thing at March 11, 2009 11:34 PM
---
JohnE PFC U.S. Army, DITTO all you said!!!!
Posted by: Wild Thing at March 11, 2009 11:36 PM
---
Darth, yep, crazy isn't it.
Posted by: Wild Thing at March 11, 2009 11:37 PM
---