« Muslims Feel B.Hussein Obama One Of Their Own | Main | Obama and Gates Open to Lifting Ban On Flag-draped Coffins of U.S. War Casualties »
March 02, 2009
" The Bone Yard"
Aircraft Graveyard scene from the movie "The Best Years of Our Lives " (scene with Dana Andrews)
I have always loved this movie.
The Bone Yard near Davis Monthan Air Force Base in Tucson , Arizona Each one of these had a multimillion dollar price tag!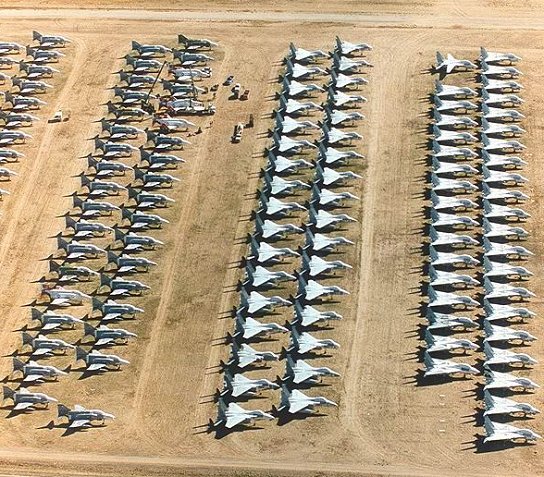 This is really is something to see. The precision in the way they are parked is impressive.
It's difficult to comprehend the size of the 'Bone yard' and the number of aircraft stored there. Of course the important thing to remember is that they are all capable of being returned to service if the need ever arises.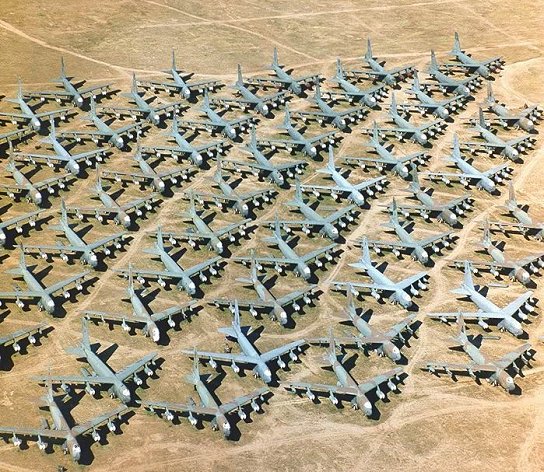 If you are ever in theTucson area, the weekly tours of the bone yard are still given through theTucson Air Museum , located just south of DavisMonthan AFB.

From BobF:
"Also, if you look at the close up picture of the B-52's, you will see three of them with a black "triangle" on the tail. Inside the triangle is the letter "K". That's the symbol for the 379 Bomb Group during WWII and the 379 Bomb Wing from Wurtsmith AFB, MI. I was at Wurtsmith for 10 years, closing it down in 1992. I worked those three particular aircraft ,and have many hours of blood and sweat invested in them. It saddens me to see those old warhorses sitting there like that. It's like a part of me is there." ~ BobF
Both the museum and the bone yard are very popular attractions in theArizona desert. It is difficult to comprehend the number of military aircraft in dead storage until you see these photographs!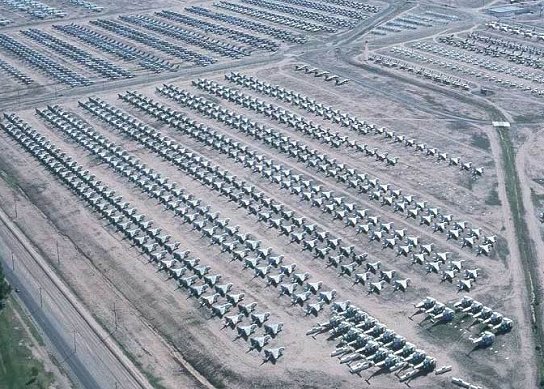 379th Bombardment Group (Heavy)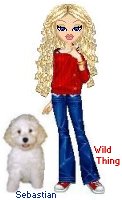 Wild Thing's comment.......
Thank you BobF, this was awesome.

.....Thank you BobF, for sending this to me.

BobF
SMSgt, USAF
1973 - 1999

Posted by Wild Thing at March 2, 2009 05:45 AM
---
Comments
Very impressive aircraft boneyard.
Can we create one ... "The Democrat Boneyard".
Put them out in the desert somewhere. Only don't worry about reactivating if needed.
Posted by: Steve Gaston, American-American at March 2, 2009 07:39 AM
---
Ahhhh sie good old days of AIR POWER and PEACE THROUGH STRENGTH.... "Bombs Away Baby" and the Russians knew who their 'Yankee Imperialist Air Pirates' were! Where have you gone General Billy Mitchell and Hap Arnold, and Harry Truman's (Strategic Air Command's Massive Retaliation Policy)?
Posted by: darthcrUSAderworldtour07 at March 2, 2009 09:55 AM
---
That was an excellant movie.
Things now just don't add up. It's like obama is scraping 233 years of history to one of those graveyards. We are going to be the largest Third world country in the world, overrun with Illegal Mexicans, High inflation, and no rule of law.
Posted by: Mark at March 2, 2009 11:43 AM
---
Did you see all those A7s? I did a tour in the Argonauts of Attack Squadron One Four Seven, embarked in USS Kitty Hawk CV63. some of the airplanes I worked on are in that particular photo.
There are also most of the A6s that the Navy had parked there. They have been in a modified preservation since being stood down. The lowest cycle ones with the Boeing composite wing modification have daily/turnaround inspections just as they did in the Fleet. It was a cover the bet thing. The bet? The F/A-18A through D Hornet.
It needs tanker help. The E and F are better int that they are actually a larger airframe with more internal fuel. It is even used as a tanker off the deck with the demise of the S-3.
Posted by: Glenn Cassel AMH1(AW) USN RET at March 2, 2009 11:51 AM
---
I love the old aircraft and the history that goes with them. Especially the old prop jobs. Too bad so many were destroyed.
It burned my soul when we chopped up so many B-52s as part of a peace treaty with the Russians. I think it happened under Reagan, may have been Bush 41. Those B-52s could be flying today. Never disarm!
Posted by: TomR at March 2, 2009 12:00 PM
---
I agree Mark, an excellent movie that I'd not seen in many years. I will definitely be renting it soon. Yup!
Posted by: cuchieddie-25th ID Vet at March 2, 2009 08:04 PM
---
Although the START Treaty started under Ronald Reagan, it was signed in 1991 by Bush 41. I blame Bush 41 for what happened to the mighty fleet of B-52's that defended this nation from the Soviet Union and fought valiantly in Vietnam and Desert Storm. Thanks to Bush 41, we're left with about 70 B-52's in the inventory today.

365 B-52Gs were flown to the Aerospace Maintenance and Regeneration Center at Davis-Monthan Air Force Base in Arizona. The bombers were stripped of all usable parts, then chopped into five pieces by a 13,000-pound steel blade dropped from a crane. The guillotine sliced four times on each plane, severing the wings and leaving the fuselage in three pieces. The ruined B-52s remained in place for three months so that Russian satellites could confirm that the bombers had been destroyed, after which they were sold for scrap
Posted by: BobF at March 2, 2009 09:19 PM
---
PS: Your first photo shows the F-4 Phantoms and my days at SPangdahlem Air Base in WEST Germany were simply SPecial! Ronnie Reagan took care of US and the West Germans realized that East Germans were the enemy, and the muzzies were not welcomed in good old Europe at that time...
SPang Sheiks #1 in 17th USAFE CSC Football! Those Bitburg Barons (F-15 Eagles) were our rivals in arms!! - USAFE 52nd TFW
Posted by: darthcrUSAderworldtour07 at March 3, 2009 08:20 AM
---