« CIC Obama Won't Budge on Veteran Insurance Proposal | Main | Obama and His Wife and OUR Military and Veterans »
March 17, 2009
~ Happy St. Patricks Day ~


I hope you all have a fun St. Patrick's Day. And to those that are Irish thank you for the music, the humor and the hearts uplifting others in your joy. God bless our Troops and their families. We are all in our thoughts today as everyday. ~ Wild Thing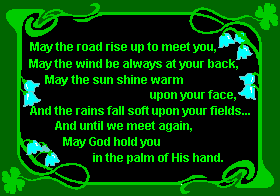 .
St. Patrick's Day is celebrated on March 17, his religious feast day and the anniversary of his death in the fifth century. The Irish have observed this day as a religious holiday for over a thousand years.
In modern-day Ireland, St. Patrick's Day has traditionally been a religious occasion. In fact, up until the 1970s, Irish laws mandated that pubs be closed on March 17. Beginning in 1995, however, the Irish government began a national campaign to use St. Patrick's Day as an opportunity to drive tourism and showcase Ireland to the rest of the world.
Last year, close to one million people took part in Ireland 's St. Patrick's Festival in Dublin, a multi-day celebration featuring parades, concerts, outdoor theater productions, and fireworks shows.


.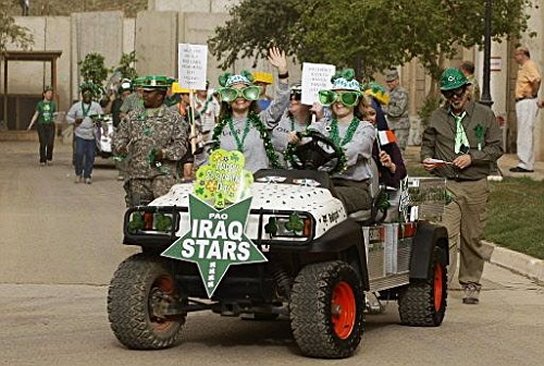 US troops hold St Patrick's Day parade in Baghdad
The Tigris river did not run green and there wasn't a pint of the black stuff for hundreds of miles as American forces in Iraq staged their first Saint Patrick's Day parade on Sunday.
But this did not dampen spirits on a dusty day in the appropriately named Green Zone where several hundred men and women, soldiers and civilians turned out to cheer ahead of the day itself on Tuesday.
As incongruous as the event may seem in bombed-out Baghdad, the festivities came with top level authorisation and were staged at a time of better security.
"We are not quite marching up and down the streets of Baghdad yet, but we do continue to see the improvement in security," said Major General Michael Eyre, commander of the Gulf Region Division.
Security was key in obtaining the green light for the parade that was organised by 1st Sergeant Scott McWilliams, a native of Chicago's south side.
"They don't have too many Irish out here," he joked, "although there are a few."
The Gulf Region Division is made up of US Army Corps of Engineers as well as civilians, and the 416th engineer command calls Chicago home.
All were adopted by the city's South Side Irish Parade committee for the big day and received 30 boxes of festive items to liven up events.
Several dozen participants clad in mock-Irish fashion and four vehicles performed two laps of the sprawling compound, handing out green trinkets and other paraphernalia to loud applause.
"I think it's a great day, a little time-out. It's about camaraderie, a touch of home here in Iraq, a little bit of America," Eyre told AFP.
Air force Major Aaron Judge sipped a fizzy green liquid from a plastic glass as a fire and rescue truck rolled past at the head of the parade.
"I'm dreaming of other things. It's green near-beer," he grinned. "This takes off the stress -- it's a lot of fun."
The parade was billed, of military necessity, as "the dry version" of St Patrick's Day, adding a unique label to the festivities which are traditionally soaked in "the drink" from New York to Dublin.
Eyre said the parade also offered a chance for Iraqis to learn something of US life.
But Iraqi workers on the compound that once housed Iraq's national museum were more than a little bemused by the antics honouring the patron saint of Ireland.
Laundry supervisor Mazin al-Dawoodi turned out with colleagues to watch although he said they had no idea what was going on.
"It looks great fun," he added.
"I don't know what is happening," admitted 26-year-old Khalid Walid Ali, who works as a storage man.
But he was quick to run after a free grey sweatshirt emblazoned with the words "Our Day."
The first Saint Patrick's Day parade in Baghdad may also be the last for a long time, however.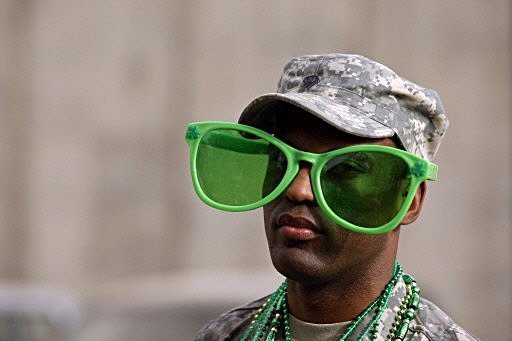 A US soldier wearing giant green glasses for Saint Patrick's Day
Americans as they wave an Irish flag during Saint Patrick's celebrations in Baghdad
President Ronald Reagan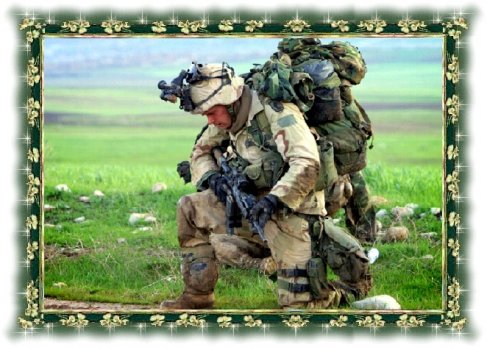 Luke Kelly - "Rising Of The Moon"
Flying through Ireland
.
Posted by Wild Thing at March 17, 2009 06:55 AM
---
Comments
Dear Lord,
Give me a few friends
who will love me for what I am,
and keep ever burning
before my vagrant steps
the kindly light of hope...
And though I come not within sight
of the castle of my dreams,
teach me to be thankful for life,
and for time's olden memories
that are good and sweet.
And may the evening's twilight
find me gentle still.
Happy St Patricks Day everyone! May the blessings of the Lord shine on you today.
Posted by: Lynn at March 17, 2009 08:07 AM
---
And may ye be in Heaven half an hour before the Devil knows yer dead...
Posted by: Rick at March 17, 2009 08:19 AM
---
Éirinn go brách!
I do wish My dear Grandma was here today. She was Born and Raised in Ireland and She could Drink anyone under the table.
Posted by: JohnE PFC U.S. Army at March 17, 2009 11:16 AM
---
The classical music station is playing Irish music today. It puts mee in the mood. I remember that everyday was St Pat's Day for my Irish grandma.
Happy St Patrick's Day Team Theodore.
Posted by: TomR at March 17, 2009 03:51 PM
---
Lynn, I love it thank you so much.
Posted by: Wild Thing at March 17, 2009 05:50 PM
---
Rick, that is one of my favorites, thank you.

Posted by: Wild Thing at March 17, 2009 05:53 PM
---
JohnE PFC U.S. Army, giggle thank you and your Grandma sounds wonderful.
Posted by: Wild Thing at March 17, 2009 05:55 PM
---
Tom, that is so wonderful, I love that kind of music. I am so glad to hear that about your Grandma. Very special.
Posted by: Wild Thing at March 17, 2009 06:01 PM
---
The best part of the movie 'Braveheart' when the Irish were lined up along side the British, you just knew this was a set up, when it started the Irish turned on the British.
Great movie Great Day.
Happy St. Paddy's day.
Posted by: Mark at March 17, 2009 06:20 PM
---
Just checking in late here.
Happy St. Patrick's Day
Posted by: Jack at March 17, 2009 07:08 PM
---
Happy St. Paddy's day to you & yours Chrissie!!
I'm having a problem with your site in FireFox!
It crashes Firefox as soon as a I scroll down a bit!
I've switched over to the Opera web browser & this seems to be working OK! Pass this info to whoever maintains your website & they should be able to patch your website code! This is a common problem on today's innertoobes!! Thanks,
Lance/SBG PS Cuchieddie sent me over here!!
Posted by: Lance at March 17, 2009 07:58 PM
---
Mark, giggle, oh that yesss good one. And yes it was a really good movie.
Posted by: Wild Thing at March 17, 2009 11:28 PM
---
Posted by: Wild Thing at March 17, 2009 11:29 PM
---
Hi Lance, thanks for letting me know about my site and that Cuchieddie sent you. Good to see you.
I will let them know what you said.
It is odd you can't see it well in Firefox though because I have 53.6 % from MS Internet Explorer and 21.1 percent frmo Firefox that look at my blog with no trouble.
Let's hope Hosting matters can know what it might be.

Good to see you Lance.
Maybe this will help:
Browser Hits Percent
MS Internet Explorer 5029536 53.6%
Firefox 2548824 21.1%
Mozilla 837430 8.9%
Safari 573074 6.1%
Opera 167284 1.7%
Posted by: Wild Thing at March 17, 2009 11:37 PM
---