« Government Takes Over, Obama Apologizes | Main | Daschle and Nancy Killefer Bows Out Due To Not Paying Taxes »
February 03, 2009
The Zippo Lighter and Our Vietnam Veterans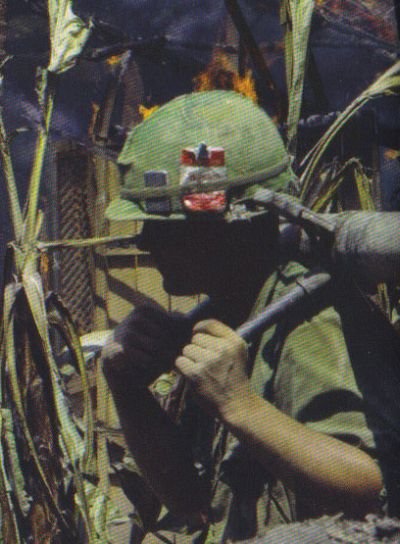 Essential Equipment. Zippos were not always carried in GIs' pockets, as this soldier shows – he's keeping his tucked into his helmet camouflage band, right next to his smokes!
Founded in 1932, the Zippo Manufacturing Company of Bradford, Pennsylvania (zippo.com) has been producing these pocket-sized flame producers for three-quarters of a century. Yet, despite the lighter's World War II and Korean War pedigrees, the "Vietnam Zippos" seem particularly unique and colorful, given their widely personalized.
Soldiers kept salt in the bottom cavities, called canned bottoms, of their Zippos, to replenish lost body salt. Other legendary Zippos were used to transmit signals or even provided a shield against enemy bullets. Staff Sergeant Naugle, who was saved because he was able to signal his position to the rescue helicopter, had a Zippo in his hand. Among men that had a close call with death, one of the luckiest was Sergeant Martinez, who Kept a Zippo in his chest pocket. A bullet struck his chest, only to be stopped by the Zippo. This was reported in Life magazine and also appeared in various advertisements.
Zippo lighters used by American soldiers during the Vietnam War have become collector's items. Every Zippo from the war bears mute witness, conveying a great sense of having been there on the battlefield. The soldiers who faced death and stood on the brink of hell, carrying their Zippos, transformed these simple lighters into an integral part of their own bodies and souls. Zippo lighters have since became priceless collector's items.
The 23rd Psalm… "Yea though I walk..." was engraved on more Zippos than any other.
The significance of this Zippo to a Vietnam Veteran transcends the purpose of lighting a cigarette.
There is a great website with tons of photos of Zippo Lighters
http://zippogallery.com/Vietnam1.htm
.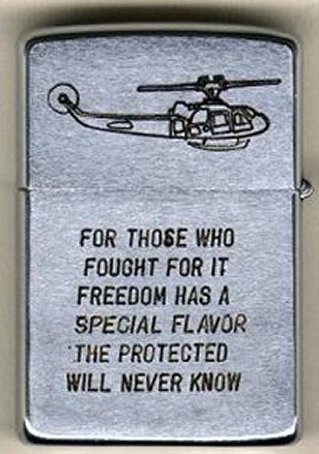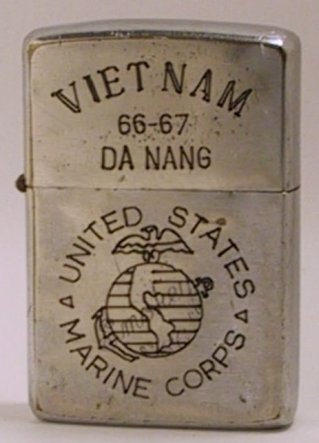 Some Phrases engraved on the zippo...

After 7 days God say "Let there be hell" and then came the dusters
And the lord said let there be marine and the fish rose from the sea
Army lifers never die they go to hell and regroup
As I steam down the river of death I'll fear nothing for I'm the meanest mother fucker on the river
As I walk through the valley shadow of death I shall fear no evil for I'm the evilest son of a bitch in the valley
Candy is Dandy But Sex Won't Rot Your Teeth
Death is my business and business has been good
Dedication Achievement Professionalism
Do unto others As they would do unto you only do it first
Fighter By Day Lover by night Drunkard by choice ready to fight
Fighting for freedom as a state that those who live in peace will never know
For those who fight for it life has a meaning the protected will never know
Fuck you red baron
Give me head til I'm dead
He who steals this lighter eat shit
Ho Chi Minh is a communist mother fucker
I am an alcoholic In case of accident get me a beer
I didn't come to Vietnam to die for my country, I came to make the other SOB die for his
I love the fucking army and the army
I may not be poet I may not be a king but I'm a fighting soldier and when I'm mad I do my thing
I walk into the swamp a knife in one hand a pistol in the other I'm a mean fucker I'm a jungle man
I'm sure to go to heaven because I have spent my time in hell
I've loved every inch of the land I stand I'll die before I'll run
If I die in Vietnam bury me on my stomach so the army can kiss my ass
If I had been at Kent state there would have been one hell of a body count
If it won't light, that's combat baby
If there must be war let it be in my day so that my children can live in peace
If you don't know what hell is like fuck with me and you'll find out
If you find this lighter on my body I hope it brings you better luck than me
If you haven't been there shut the fuck up
If you think sex is exciting try incoming
If You Want To Get Laid Smile When You Return This Lighter
Kill them all,let God sort them out
Live by chance love by choice kill by profession
Nothing is dearer than the life but nothing is more precious than to live in freedom
One has never lived till he has almost died, life has a flavor the protected will never know
One thousand marines will shit today and wipe their ass with green beret
Paratrooper's never die the go to hell and regroup
Please don't tell me about Vietnam because I have been there
The hawk is out the eagle flies high tonight
The object of war is not to give your life four your country but make the other bastard give his
The quality of mercy is not strained
The unwilling working for the unable to do the unnecessary for the ungrateful
Though I walk through the valley of death I will fear no evil
To hell and back
Vietnam is the land that God forgot but I've been there and I remember
War is hell
War is hell but actual combat is a son of a bitch
Water ? Never touch the stuff fish fuck in it you know
We came because we believe we leave because we are disillusioned we come back because we are lost we die because we are committed
We have done so much for so long with so little that now we can do any thing with nothing forever
When God open the gates of hell the 101 st walked out
Yea though I fly through the valley of the shadow of death I will fear no evil for I'm the evilest mother fucker in the valley
You only live twice once when you're born and once when you're looked death in the face

Posted by Wild Thing at February 3, 2009 05:55 AM
---
Comments
Born on a mountain top,
raised by bears, double jawboned
three coates of hair.
cast iron balls and a blue steel rod
I'm a mean Motherfucker
I'm a Marine, by God.
Posted by: Mark at February 3, 2009 07:13 AM
---
Love watching the Devil Dogs at Iwo Jima and Okinawa using their ZIPPO flame throwers and tanks! Burning Japs smelled like... VICTORY. No GITMO detainees to transport either. "Hey Marine....Got a LIGHT!"
Posted by: darthcrUSAderworldtour07 at February 3, 2009 08:04 AM
---
I had a Zippo. I smoked then. My Zippo ran on 115/145 high octane aviation fuel. I had my call sign and my units crest and motto engraved on the Zippo. That Zippo is long gone, but I have one from my Special Forces days. It was given to me by my brother who was also an SF trooper.
Fighting for Peace is like
Fucking for Chasity
Posted by: TomR at February 3, 2009 10:09 AM
---
Still use one! Take that anti-smokers!
Blue with NAVY on it.
Posted by: Glenn Cassel AMH1(AW) USN RET at February 3, 2009 12:37 PM
---
Still have mine although I gave up my Camel's over 2 two years ago. Yippee!
Posted by: cuchieddie at February 3, 2009 12:56 PM
---
On the lid:
VIET NAM
68-69
On the bottom:
Inscribed exactly as the center photo.
Obverse bottom: A pair of mating ducks
FLY UNITED
I'm not anti-smoking but I quit smoking in 1986, that lighter means an awful lot to me. I keep it in my dresser drawer.
Posted by: Jack at February 3, 2009 02:35 PM
---
Mark, LOL I love it.
Thank you for sharing. I love these.
Posted by: Wild Thing at February 3, 2009 05:50 PM
---
Darth, yes they sure came in handy for a lot of things. Thank you.
Posted by: Wild Thing at February 3, 2009 05:51 PM
---
Tom,thanks for sharing about yours I am so glad you still have one. Love what it says. giggle
Posted by: Wild Thing at February 3, 2009 05:54 PM
---
Glenn Cassel AMH1(AW) USN RET, thanks and that is great.
Posted by: Wild Thing at February 3, 2009 05:56 PM
---
cuchieddie, that is wonderful. I am so glad you still have yours too. They really are very special.
Posted by: Wild Thing at February 3, 2009 06:00 PM
---
Jack, thank you for sharing about yours. I am so glad you still have it. I was looking at one I have from the Marines that I was writing to in Afghanistan and thought it would be neat to do a post about the lighters.
Posted by: Wild Thing at February 3, 2009 06:05 PM
---