« Lou Dobbs on the Second Amendment Under Fire | Main | Obama's ACORN Group Breaks Into Home »
February 21, 2009
'Jailhouse Islam' Converts Gun Down U.S. Cops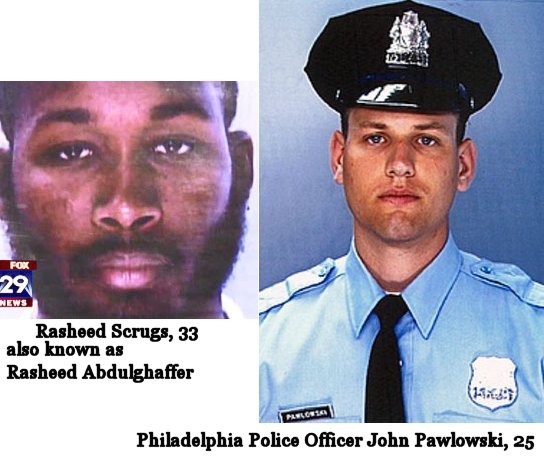 'Jailhouse Islam' converts gun down U.S. cops
'This individual was very violent and was bent on killing someone'
After a man promised to murder a cop in cold blood and then shot him several times, authorities have revealed he is a suspected "jailhouse Islam" convert.
Rasheed Scrugs, 33, also known as Rasheed Abdulghaffer, shot Philadelphia Police Officer John Pawlowski, 25, with a .357 Magnum he hid in his black, three-quarter length jacket Feb. 13.
"Pawlowski didn't stand a chance," Police Commissioner Charles Ramsey told Fox 29 News.
Detectives have been questioning Scrugs' prison friends to find out what motivation he had to kill the five-year veteran police officer. Scrugs reportedly planned to shoot at authorities when they responded to a report of a fight between him and a cab driver at 8:20 p.m.
"This individual was very violent and was bent on killing someone," Ramsey said.
Witness Manuel Dias, who works at a nearby newsstand, told detectives Scrugs said, "If you call the cop, I'll kill you and kill the cop."
The suspect then fired several shots at Pawlowski, hitting him above his bullet-proof vest. The officer fell to the ground, firing one shot before collapsing.
"As soon as the cop asked him to take his hand out of his pocket to give him something else, he just pulled the gun and shot the cop for no specific reason," Dias said.
Pawlowski's partner and another officer fired back and wounded Scrugs.
The suspect refuses to cooperate with detectives. According to the report, he told hospital workers he was high on drugs. Authorities say Scruggs had 19 packets of crack and 19 extra bullets in his pockets.
"I can't believe I shot a cop," he allegedly told the staff.
"Well, he's a cold blooded killer is what he is, and he knew exactly what it is he wanted to do," Ramsey told Fox 29 News.
Ramsey said the killer is believed to have converted in prison to radical Islam, or "jailhouse Islam."
Scrugs has been arrested nine times for robbery, car theft, weapons offenses and drugs, according to court records. In 1997, he was convicted of armed robbery and sentenced to serve 10 years in prison. However, he was released in 2002, but when he violated parole in 2004, he returned to prison for another year.
Just hours before the shooting, FBI agents briefed Ramsey about radical Islam and its growing threat to law enforcement.
"This is a radical form where certainly committing crime and killing police officers and so forth is part of it," Ramsey said.
The FBI and local Philadelphia authorities are also investigating another case in which an officer was murdered by three bank robbers dressed in female Muslim garb – also suspected to be "jailhouse Islam" converts.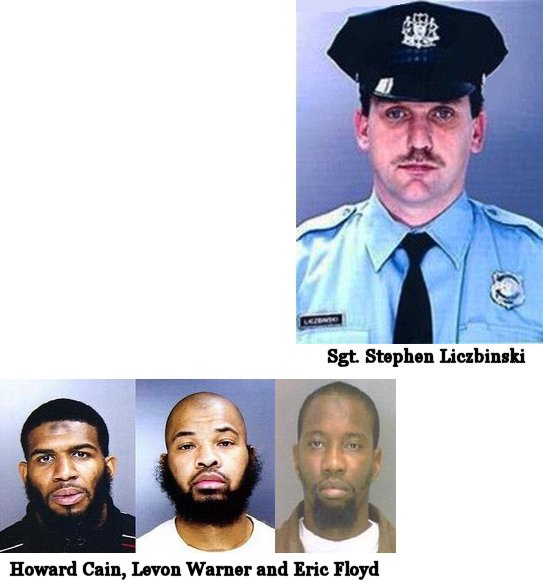 Howard Cain and Levon Warner fired at Sgt. Stephen Liczbinski, a 12-year veteran and father of three, with an SKS rifle, striking him several times May 3, 2008. Cain was killed by a K-9 officer while Warner was arrested and charged with murder, robbery, conspiracy and related offenses. Police arrested a third suspect, Eric Floyd, and found $38,000 in cash along with burqas in their vehicle.
"Since Steve Liczbinski got killed, this issue has really been something that has struck home here in Philadelphia," Ramsey told Fox 29.
On Sept. 19, 2006, Donald Van Duyn, deputy assistant director for the FBI counterterrorism division, testified before Congress about U.S. prisons presenting opportunities for the proselytizing of Sunni and Shia forms of radical Islam.
"Prison radicalization primarily occurs through anti-U.S. sermons provided by contract, volunteer, or staff imams, radicalized inmates who gain religious influence, and extremist media," he said. "Ideologies that radicalized inmates appear most often to embrace include or are influenced by the Salafi form of Sunni Islam (including revisionist versions commonly known as 'prison Islam') and an extremist view of Shia Islam similar to that of the government of Iran and Lebanese Hezbollah."
He said radicalized inmates may feel discriminated against in the U.S. or feel that the nation oppresses Muslims in other parts of the world.
"The feeling of perceived oppression, combined with their limited knowledge of Islam, especially for the converts, makes this a vulnerable population for extremists looking to radicalize and recruit," he said.

But wait LOOK at this! ...............
FOP seethes at judge in Pawlowski photo flap
The Fraternal Order of Police asked for the removal of a Municipal Court judge - whom the union called a "clown" - for turning over photographs of slain Police Officer John Pawlowski inside the district where the fallen cop worked.
But court officials argued that photos are prohibited to be on any jurist's bench when court is in session "to avoid any appearance of bias."
Judge Craig Washington had asked yesterday morning that 35th District police remove photos of Pawlowski, 25, from the makeshift courtroom where he was conducting preliminary hearings. He told Capt. John McCloskey that their presence in the courtroom was "inappropriate," McCloskey said.
He and Inspector Aaron Horne both refused Washington's request.
"At this time, the judge personally and brazenly overturned two of the officer's pictures in the courtroom," said FOP president John McNesby. The pictures, along with flowers and tribute notes, were part of a memorial to Pawlowski at the police station, at Broad and Champlost streets, in the city's Logan section. The court doubles as a roll-call room.
Bad move, said cops and the FOP.
"This courtroom is held in a police facility," said former FOP president Rich Costello, who referred to Washington as a "clown." "If the Municipal Court or the Common Pleas Court or any other court wants to come into a police facility, then they're going to honor police officers and honor our customs and traditions.
"You can't go anywhere in Philadelphia without some slain officer being memorialized, that's how many we're losing," Costello said. "Then to have the picture taken down less than a week before the officer is even buried shows insensitivity to an extreme degree."
"It's bad enough that police officers are being murdered by repeat violent offenders, which are let go by the same judges that we dealt with today," McNesby said. "If they don't like it, they can take their court, pack it up and go back to City Hall."


Wild Thing's comment...........
Why on earth are they letting this happen! Muslims have attacked our country more then once, there were two attacks on the WTC a few years apart. Muslims have attacked American embassy's, oh man so many things the list is too long to put here. So why are they letting these criminals in jail learn about the death cult so they can join up.
And that Judge, I could care less if it shows bias to have the photo there. IMO, the case is about the Policeman, so the photo should be there. I am so sick of this catering to criminals and not the victim. It happens everywhere, in too many courts and with too many lawyers.

....Thank you Mark for sending this to me.

Mark
3rd Mar.Div. 1st Battalion 9th Marine Regiment
1/9 Marines aka The Walking Dead
VN 66-67


Posted by Wild Thing at February 21, 2009 05:45 AM
---
Comments
They are using our "Freedom of Religion" against us. If we can have Christianity and Judaism, they can have Islam." But the form of Islam taught in Prisons is NOT the true Islam. It's a bastardization of the religion. They only teach the politics of it. And many flock to it because they don't celebrate holidays or birthdays, so no money coming out of their pockets once they are back on the streets. It also makes them feel like they're part of something for once in their lives. Many have been abandoned all their lives. So have a lot of others, but we don't go running to Allah.
But I digress.
They will continue to use this against us until we give in and "see the light of our traitorous ways." I ain't giving up Jesus. No way. If they would just read the book of Genesis and realize that Satan will continue to test mankind through the end of times and see that Allah is Satan, then all would be well in the land. But that's like hoping ice cream doesn't melt quickly.
Posted by: Lynn at February 21, 2009 07:57 AM
---
I'm afraid it's going to have to get uglier than it already is before the sheeples see the light. If they ever do. Too many good folks are being taken out by vermin. Too bad it's just not enough for the damn liberals.
Posted by: yankeemom at February 21, 2009 08:41 AM
---
As Wild Thing knows, we lived in South Philly for five years (50's / 60's) and my cousin is a Philly PD Special Victims detective and former US Marine... Welcome to my world too and the looks of these islamo converted inmates are no different than GITMO detainees... They have no conscience and are islamo militant wannabees. They hate 'whitey' and are Black Panther recruits and Farakhanian Islam Nationalists to the max, and they VOTE democrat!
Posted by: darthcrUSAderworldtour07 at February 21, 2009 10:19 AM
---
It's too bad when the cop's partner shot back, he only wounded him. Now the taxpayers are going to have to pay for medical treatment and prison. The cost of a bullet is probably only .50 cents.
Unfortunately, it's only going to get worse on the streets as Obama and his minions disarm law abiding citizens while criminals run rampant.
Posted by: BobF at February 21, 2009 11:51 AM
---
Prisons are turning out an army of these Black converts to islam. These Black muslims are as extreme in their following of radical islam as their bros in Pakistan and Saudi. Get ready for a lot more news events involving these Black muslims.
Posted by: TomR at February 21, 2009 02:00 PM
---