« B.Hussein Obama ( Carter on Speed) To Drop Sanctions On Iran | Main | Iraqi Insurgents Meet Our Air Force »
February 14, 2009
Actress Karri Turner Loves Supporting The Troops Meets RAC
Karri Turner actress from TV show JAG, a big supporter of our troops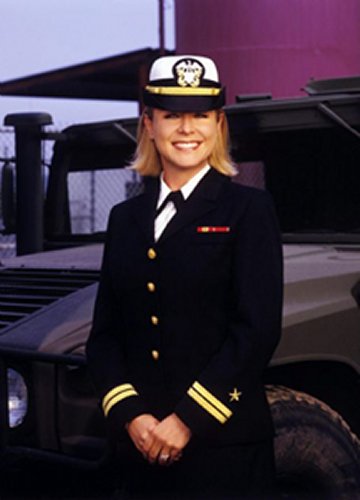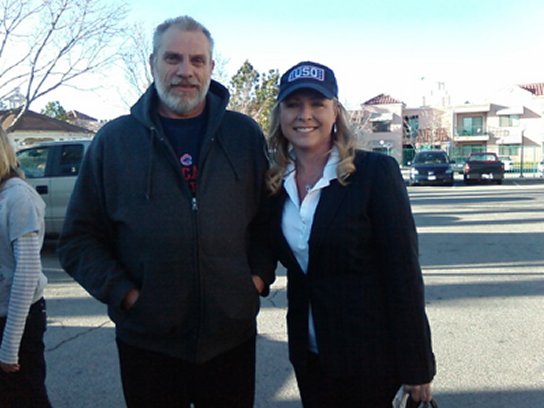 RAC and Karri Turner
"Yesterday I went to our local VA Facility here in Lancaster,CA where they were having a presentation "National Salute To Hospitalized Veterans".
My youngest son informed me that his band (Lancaster High School Band) was going to be playing at the VA, so I figured I'd go and see what the occasion was. One of the guest speakers was Karri Turner who played LT. Harriet Sims on the TV show JAG.
She has been very involved with the USO. She has been on 9 tours so far (Korea, Guantanamo, Iraq, and Afghanistan). I wish I had a recording of her speech, she took some pretty good shots at Hollywood Liberals."..... ~ RAC
.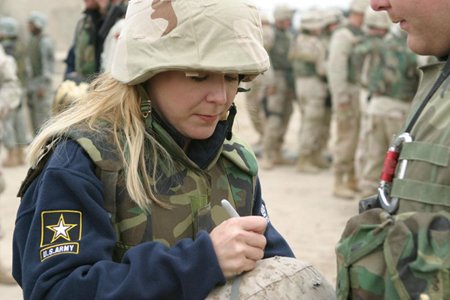 Los Angeles, CA (WFN) -- "JAG" star Karri Turner is becoming a Bob Hope for the next generation by headlining a variety show-style USO tour to American soldiers this Christmas.
Just don't ask her where she's going. Turner, who plays "Lt. Harriet Sims," says she's been sworn to secrecy about the tour's overseas stops "for security reasons."
The most she'll leak out is she's heading into a "War Zone" and -- in her words -- "I'm nervous. I'd be lying if I said I wasn't."
If anything does happen to Turner, she sees the positive side: "If I did die like that, then hip, hip hooray. At least I died doing something for my country."

And this is the band that RAC's son is a part of.

Lancaster High School Eagle Corps -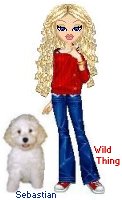 Wild Thing's comment.......
This is fantastic, I love it. Thank you RAC for sharing about this and what a great person Karri is, and her support for the troops. I love to see this so much, I just wish more in Hollywood did the same thing.
Rac said too she has a wonderful personality. I think this is so neat in so many ways. Just reading about it felt like how we want America to be every day. A time spent with those that appreciate our troops, and our Veterans, and a highschool band .....( big smile on my face) that is what America is to most of us.
Here is Karri Turner's website
.

......Thank you RAC for sending this to me.

RAC has a website that is awesome. 336th Assault Helicopter Company

13th Combat Aviation Battalion - 1st Aviation Brigade - Soc Trang, Republic of Vietnam


Posted by Wild Thing at February 14, 2009 07:55 AM
---
Comments
How wonderful!
RAC - my daughter (now in the Army) was in the Marching Band in high school. They would play at the East/West Army/Navy game at Candlestick Park. Always made me so proud, as I'm so sure you are.
Posted by: yankeemom at February 14, 2009 08:44 AM
---
Wow, this is awesome, thank you Chrissie and RAC. Many thanks to Karri Turner, she is one of the few who haven't let stardom go to her head, above all she isn't bashing the troops.
Posted by: Jack at February 14, 2009 09:11 AM
---
Hanoi Hollyweirdos are from the Far Left 'Port' side... This JAG can interrogate me anytime, anywhere!
Posted by: darthcrUSAderworldtour07 at February 14, 2009 09:39 AM
---
Wow RAC. You lucky guy. She is really pretty. You're doing OK for an old gunner.
I don't watch the news anymore, so I don't know if these stars who support our troops are ever mentioned. It is good though that we have a corps of celebrities who think our troops are the best. I notice that when a celbrity makes one of these USO trips they sign up for more trips. That says a lot for the influence the troops have on the stars.
Posted by: TomR at February 14, 2009 10:41 AM
---
Yankeemom, that is wonderful, thank you for sharing about your daughter that she was in the band and got to play for that game.
Please tell her thank you for her service to our country too.
Posted by: Wild Thing at February 14, 2009 07:00 PM
---
Jack, yes she really has a mind of her own and I love that she supports our troops.
Posted by: Wild Thing at February 14, 2009 07:04 PM
---
Posted by: Wild Thing at February 14, 2009 07:07 PM
---
Tom, we watch a lot of news and TV shows too and I can say that they do not show the troop support on the news. It is almost impossible to find.

Thank God for the internet or we would all miss a tremendous amount of news about things we need and want to know about.
Posted by: Wild Thing at February 14, 2009 07:09 PM
---