« Obama's FRIEND Terrorists William Ayers Turned Back at Canadian Border | Main | Rush Limbaugh's Awesome Take On .... You Guessed It »
January 20, 2009
What Do Retired People Do All Day?
Working people frequently ask retired people what they do to make their days interesting.
Well, for example, the other day my wife and I went into town and went into a shop.
We were only in there for about 5 minutes. When we came out, there was a cop writing out a parking ticket.
We went up to him and said, 'Come on man, how about giving a senior citizen a break?'

He ignored us and continued writing the ticket. I called him a Nazi turd. He glared at me and started writing another ticket for having worn tires.
So my wife called him a ####-head. He finished the second ticket and put it on the windshield with the first. Then he started writing a third ticket. This went on for about 20 minutes. The more we abused him, the more tickets he wrote.
Personally, we didn't care. We came into town by bus. We try to have a little fun each day now that we're retired. It's important at our age


.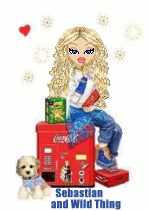 Wild Thing's comment..............
LMAO I love this one!!

....Thank you Mark for sending this to me.

Mark
3rd Mar.Div. 1st Battalion 9th Marine Regiment
1/9 Marines aka The Walking Dead
VN 66-67


Posted by Wild Thing at January 20, 2009 05:45 AM
---
Comments
Posted by: James M at January 20, 2009 06:05 AM
---
Posted by: Bob A at January 20, 2009 07:20 AM
---
I'm planning on doing this three days a week.
Posted by: Rick at January 20, 2009 07:23 AM
---
It should be great fun abusing the Obama storm troopers. Leastwise til they shoot the first one of us.
Posted by: Mark at January 20, 2009 08:01 AM
---
I just call other retired people "Old Timer". It makes me feel younger.
Posted by: TomR at January 20, 2009 10:50 AM
---
Never judge a person by the amount of medication they take to face the day nor discount the wisdom of their years. That was funny, thanks.
Posted by: Jack at January 20, 2009 12:03 PM
---
LOL I am so glad you all liked it too. I laughed so hard when I read this joke.

It does sound like fun to do sometime. heh heh
Posted by: Wild Thing at January 20, 2009 11:43 PM
---