« Exactly What IS a Natural Born Citizen? | Main | Video of Pro-Hamas Demonstration - Fort Lauderdale , Florida »
January 01, 2009
The Perimeter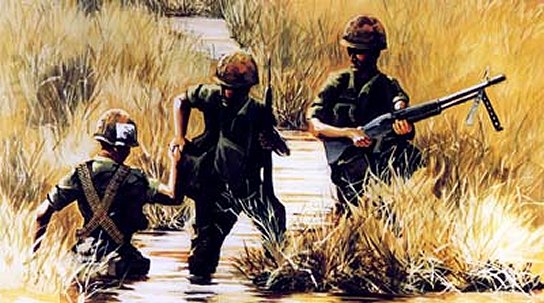 Painting ...."Perimeter Patrol" by Michael R. Crook (Army Art Collection)
The Perimeter
By James R. Lawson
The Perimeter, in the infantry, is a circle of men. It is half a squad, platoon or company. One half is on guard, staying vigilant, watching for the enemy, while the other half rests, sleeps and carries on with life as it is. They are more than just men; they are a brotherhood in uniform.
They share their plans, dreams and hopes with each other. In hard times, they share their sadness, fears and pain. They face the enemy together, some like brothers, others like fathers and sons, and always as true friends. They find a spirit in each other that binds them to one another in a bond that lasts forever.
As time passes, they will leave the service and each other. They will travel many different paths of life, some to prosper well and others not so well. Somewhere in life's travels, these men find themselves lost in the world, confused, dazed, scared, unhappy and searching for something; something they are not even sure exists. They are not soldiers anymore, they are called veterans.
Somehow, in their search, they once again find others like themselves. They find brothers of the past, brothers of the Perimeter, that circle of safety, where someone else shares their pain, their confusion and their fear. That Perimeter where that fear is eased, where there is less confusion. They share each other's pain in stories, in tears and in silence. Inside the Perimeter, eye contact can say it all. This Perimeter is a circle of life and a circle of death; it is a circle of wounded warriors, with wounds of both flesh and spirit. This Perimeter is a circle of iron that has never broken. It is a circle of common duty that knows no color, no creed and no religious ground. The circle will last forever, through the best of times and the worst of times.
The Perimeter is a place warriors will always seek - even for eternity. Just gaze out at our national cemeteries. For out there, on the outer edge, ever so vigilant, are those on the Perimeter.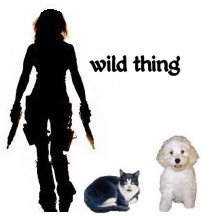 Wild Thing's comment..........
This is very special and I wanted to share it with all of you.

....Thank you Cuchieddie for sending this to me.
Cuchieddie
4/23rd 25th Infantry Division
2nd Tour Huey door gunner with the Robin Hoods
66-68
Posted by Wild Thing at January 1, 2009 05:48 AM
---
Comments
Thanks Cuchieddie and Chrissie.Nicely written and to the heart.
Posted by: James M at January 1, 2009 07:42 AM
---
On Christmas Day I talked with my best buddy from my Special Forces days. I have a perimeter of veterans and their families. It is amazing how we gravitate toward other veterans. cuchieddie is one of my buddies. I even associate with a few Marines like Steve Gaston.
Theodore's World is one of our perimeters.
Posted by: TomR at January 1, 2009 12:04 PM
---
Thank you WT and Cuchieddie, this really touches the soul. I just discovered two names of lost brothers from long ago, lost in an accident in which I'd thought more had perished. Time and experience have made me understand what happened back then. Always on watch.
Posted by: Jack at January 1, 2009 01:23 PM
---
Thank you Wild Thing and all who commented. That really is so touching.
May this year bring us a measure of peace, even if it is only in our hearts.
Stepperg (Mrs Cuchieddie)
Posted by: Stepperg at January 1, 2009 02:30 PM
---
James M, I agree it is something very special.
Posted by: Wild Thing at January 1, 2009 06:13 PM
---
Tom, that is so wonderful, I love to hear that and keeping in touch like that with your Special Forces buddy.
giggle..." I even associate with a few Marines like Steve Gaston"...
Tom, thank you this brought tears to my eyes.....
"Theodore's World is one of our perimeters".
Posted by: Wild Thing at January 1, 2009 06:16 PM
---
Jack, wow that is fantastic, thank you for sharing about that.
Posted by: Wild Thing at January 1, 2009 06:19 PM
---
Stepperg, hi so beautiful yes I agree and thank you both again my dear friend.
Posted by: Wild Thing at January 1, 2009 06:21 PM
---
Ma'am.
Our next Marine Corps Combat Helicopter Association reunion is in Reno, July of 2010.
You should attend. It is a Thursday through Sunday morning with a memorial ceremony noon Saturday.
We are the guys who flew or like myself, sat in the door manning a machine gun for medevacs, insterions, extractions and supply runs.
Your presence would be a big deal.
Our website is popasmoke.com
Our President is "Slick" Katz.
My own email is yl3cc@yahoo.com
Keep us in mind when 2010 rolls around, please.
My favorite statistic is that in Viet Nam, thanks to the rapid response of helicopters in medevac, a wounded troop had a 92% chance of survival. If we had a motto, it would be "A live Marine is worth a thousand medals."
Regards,
Bill, Fort Worth, Tx.

Posted by: bill at January 1, 2009 11:19 PM
---
Thank you Chrissie, We love you!
Posted by: cuchieddie at January 2, 2009 04:48 PM
---
HI Bob, it is so nice to meet you. Thank you so much for serving our country and Welcome Home Bob!!!
Thank you too for coming to my blog it means a lot to me. Your invitation is so kind and I would love to try to make it to your reunion in 2010. Just so you know I am no one important, just a big love and respect for our military, our troops and our awesome Veterans. I would hate to disappoint anyone if they thought I was a big star or something.
It is such an honor to know so many Veterans and each one live in my heart.

Posted by: Wild Thing at January 2, 2009 06:50 PM
---