« Great Fast Moving Tribute To Our US Military | Main | Classical Music: The RIGHT Way! »
January 10, 2009
The Democrat Chicago Way ~ LOL So Much Corruption So Little Time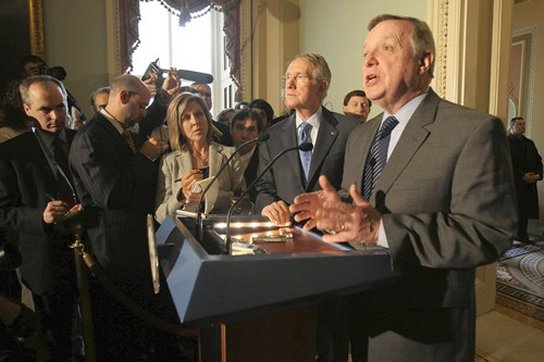 U.S. Sen. Dick Durbin (D-Ill.) and Senate Majority Leader Harry Reid talk to the press about Roland Burris in the hall of the Senate in Washington
.

State court rebuffs Burris on Senate signature
January 9, 2009 3:03 PM
The Illinois Supreme Court today rejected Roland Burris' effort to get the signature he needs to complete his appointment to the U.S. Senate.
The court's unanimous ruling tosses the issue back to Washington. Democratic U.S. Senate leaders, including Sen. Dick Durbin of Illinois, now will have to decide whether to hold firm to their insistence that Burris get a signature on his appointment form from Illinois Secretary of State Jesse White before gaining admittance.
.
Illinois Supreme Court Says Burris appointment valid
Illinois' highest court on Friday validated the appointment of Roland Burris to fill Barack Obama's vacant U.S. Senate seat, ruling that the Illinois secretary of state does not have to sign off on it.
Roland Burris's appointment to the U.S. Senate is valid, the Illinois Supreme Court says.
The court's opinion states that "no further action is required by the Secretary of State or any other official to make the Governor's appointment of Roland Burris to the United States Senate valid under Illinois law."
.

Durbin: Senate won't seat Burris without signature ....or Durbin the Turbin giving the finger to the Illinois Supreme Court
Attorney: Ruling gives Burris the Senate seat
Just days after his prospective colleagues in Washington turned him back from the Capitol, Roland Burris seized on an Illinois high court decision filed Friday to assert he has all he needs to be accepted as President-elect Barack Obama's replacement in the U.S. Senate.
But key senators disagreed.
At his news conference, Durbin said 125-year-old Senate rules demand that the secretary of state sign the appointment paperwork from Blagojevich, regardless of the Illinois court decision.
"At this point, we've clearly reached an impasse," Durbin said. "In this case, there is a missing signature under Senate rules."
Later Friday, however, Durbin and Senate Majority Leader Harry Reid of Nevada issued a one-sentence statement saying that they were seeking legal advice on how to respond to the paperwork from White.

Armed with the Illinois Supreme Court ruling, Burris' lawyers vowed to return to Washington on Monday and file suit in federal court unless top Senate Democrats reverse their rejection of impeached Gov. Rod Blagojevich's choice for the seat.
"He is now the junior senator from the state of Illinois," said Timothy Wright, one of Burris' lawyers. "It's done."
Key senators did not immediately accept that legal view. Democratic Sen. Dick Durbin, the state's senior senator and the assistant Senate majority leader, called a news conference in Chicago to argue that Burris still did not meet the criteria.
The Senate's Democratic leaders have balked at accepting Burris, citing the fact that Illinois Secretary of State Jesse White has refused to sign the appointment paperwork submitted by Blagojevich. In an effort to gain that signature, Burris' lawyers went to the Illinois Supreme Court and asked that White be ordered to sign the document.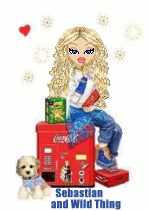 Wild Thing's comment........

Reid and Pelosi don't like to be bossed around, they want to run the show. hahaha But they are going to learn that Obama is a thug from Chicago and he ran his campaign being the THUG he is.

Dirty Barack Obama


Whatever they do, do, we know it will be whatever their leader Ho-bama tells them to do. Obama is not going to want this stuff to take away from his crowning iinauguration day.
LOL ... cracks me up, the transparent idiocy of all of them.
Posted by Wild Thing at January 10, 2009 03:45 AM
---
Comments
"The alternate domination of one faction over another, sharpened by the spirit of revenge, natural to party dissension, which in different ages and countries has perpetrated the most horrid enormities, is itself a frightful despotism. But this leads at length to a more formal and permanent despotism. The disorders and miseries, which result, gradually incline the minds of men to seek security and repose in the absolute power of an individual; and sooner or later the chief of some prevailing faction, more able or more fortunate than his competitors, turns this disposition to the purposes of his own elevation, on the ruins of Public Liberty." George Washington.
This is one of his arguments against political parties he played the absolute hatred of Bush from the left and the media. 67 million people bought it too; hook, line, and sinker. If Dick Turban wants to see a "Nazi" look in the mirror or on Capitol Hill because he's surrounded by them. Stupid anti-military POS.
Posted by: JohnE PFC U.S. Army at January 10, 2009 06:58 AM
---
Totally off topic. If you haven't seen Gran Torino yet I reccomend you do. I thought it was a really good movie.
Posted by: JohnE PFC U.S. Army at January 10, 2009 07:04 AM
---
Elliot Ness & his Untouchables would be out of business in 2009! Al Capone and Frank Nitty and Dutch Schultz were... the BAD guys? - The Night Chicago Died....
Posted by: darthcrUSAderworldtour07 at January 10, 2009 08:17 AM
---
This screwed up Harry Reid character also made the remark he was ready to seat Al Franken, the Minnesota joke without all of the certifications being in order. Two different standards, but what would you expect.
Bob A.
Posted by: Bob A at January 10, 2009 08:44 AM
---
What I've found interesting is how Obama is dictating to Reid and Pelosi. I thought there was a separation of powers in the US Constitution but Obama seems to be controlling congress.
Amazing how s junior senator with no legislation to his name or accomplishments is now so smart concerning the problems facing the US. This guy is a bozo who only votes present on difficult legislation and now he supposedly has the answers to everything.
Posted by: BobF at January 10, 2009 10:27 AM
---
Like a pack of hyenas fighting over a morsel of food. They will turn on other members of the pack. There is going to be a constant stream of political infighting over the next four years. I just don't see Pelosi, Reid and Obama willingly sharing the limelight. Their egos and their power grabbing will conflict.
I just hope they don't do irrepairable harm to America in their feuding.
Posted by: TomR at January 10, 2009 12:22 PM
---
Democrats will not disappoint
We pledge to make this the most honest, ethical, and open Congress in history.
- Nancy Pelosi
With farm teams like that of Chicago politics and it's governor being impeached, a Baltimore mayor indicted, and an asshole comedian stealing the election for Senator in Minnesota it is easy to see why the U.S. Congress and government is filled with so much Democratic lies, corruption, and gross incompetence.
Posted by: Les at January 10, 2009 03:51 PM
---
JohnE PFC U.S. Army, thank you so much. Going to try and see the movie tomorrow.
I agree so much with what you said about Durbin too.
Posted by: Wild Thing at January 10, 2009 06:17 PM
---
Darth, yes, but gosh I think they would be good at cleaning the place out. heh heh. Bad guys take out political bad guys hits headlines. haahaha
Posted by: Wild Thing at January 10, 2009 06:19 PM
---
BobF, yes isn't that something. Obama is trying to use his thug stuff on them. We will see how long they fall for that stuff. Pelosi and Reid both have big egos.
Posted by: Wild Thing at January 10, 2009 06:21 PM
---
Tom, that is a great description of them......."Like a pack of hyenas fighting over a morsel of food".
Posted by: Wild Thing at January 10, 2009 06:24 PM
---
Les, thanks I forgot to add in the Baltimore mayor corruption too. It just never stops with corruption in the dems party.
The Republican party is not perfect either but there is just no comparison in who is the most corrupt, dems win that one.
Posted by: Wild Thing at January 10, 2009 06:27 PM
---
Bob A., yess I have been waiting for the final thing on stupid Franken before I post it. I still hope he doesn't make it.
Posted by: Wild Thing at January 10, 2009 06:30 PM
---
Do we have enough popcorn to get us through Monday's go-round??
There's just something about watching Democrats turning on each other...
Posted by: Rick at January 11, 2009 12:18 AM
---
Rick, LOL I agree, and good idea about the popcorn too.
Posted by: Wild Thing at January 11, 2009 12:52 AM
---