« Rush Limbaugh's Awesome Take On .... You Guessed It | Main | "Everyone Pitch In" ~ Obama »
January 20, 2009
Some Fun and Humor For All Of Us
Traffic jams to Obama's Inauguration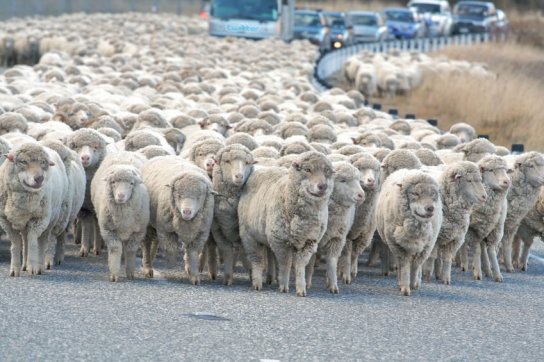 ....Thank you Tom for sending this to me.

Tom
Army Aviation
Army Airborne Infantry Special Forces
Crewchief/ Observer
66-68

.

....Thank you Mark for sending this to me.

Mark
3rd Mar.Div. 1st Battalion 9th Marine Regiment
1/9 Marines aka The Walking Dead
VN 66-67


.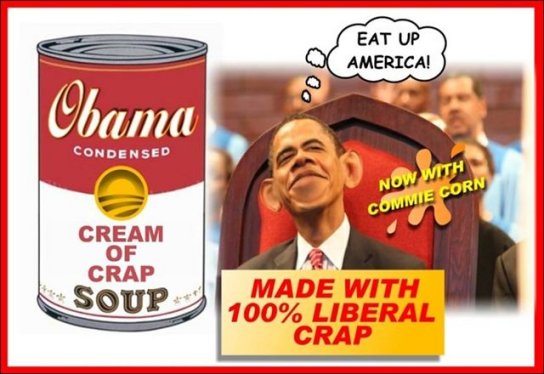 Available soon at a "re-distribution" center near you.... Delicious when served with "ACORN" squash!
WARNING: Consumption may cause need for "Joe the Plumber"!


......Thank you SSGT Steve for sending this to me.

SSGT Steve Gaston, USMC
Big D Detachment
.
Obama's Secret Service

......Thank you RAC for sending this to me.

RAC has a website that is awesome. 336th Assault Helicopter Company

13th Combat Aviation Battalion - 1st Aviation Brigade - Soc Trang, Republic of Vietnam



.
The fearless bird lies in wait every day and pounces at a corner shop in Aberdeen when the door opens.
He sneaks in, grabs his spicy Doritos, then flies off with them in his beak and shares them with other birds.
The seagull, nicknamed Sam by staff and customers, has become so popular locals have started paying for his crisps.
"Everyone is amazed by the seagull.
"For some reason he only takes that one particular kind of crisps, nothing else will do for him. But he's got it down to a fine art. He waits until there are no customers around and I'm standing behind the till, then he raids the place."
Bosses at the RS McColl shop have now decided to keep the door closed to try to deter Sam.
But customers have taken pity on the bird and have started donating money to keep him in Doritos.
He's becoming a bit of a celebrity. Seagulls are usually not that popular but Sam is a star because he's so funny."

Thank you Tim for sending this to me.
Tim Godfrey
Doorgunner
Division Recon
1st of the 9th, 1st Cav Division
68-69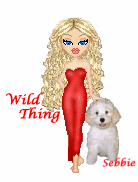 Wild Thing's comment......
There will be so much in the news today about what is going on I thought it might be nice to just take a deep breath and relax a bit. The cult of O, will be doing their thing.
Thank you all that sent me these things, some of them I have saved for today,.
Posted by Wild Thing at January 20, 2009 05:48 AM
---
Comments
He must be a typical obama voter. A free handout and of course everybody ELSE is paying for it. Whether it is voluntary or not.
Posted by: Mark at January 20, 2009 08:49 AM
---
These laughs are needed for today. I think if Sam tried a Lay's potato chip, he couldn't eat just one.
This day my TV is off. I am listening to Classical music and 50's-60's music. Later I may go out and buy a box of ammo just in spite of the hoopla.
Posted by: TomR at January 20, 2009 10:46 AM
---
Tom, today is the day I pick up my new Ruger SR9 along with a few boxes of ammo. I will also not watch anything at all related to the coronation of the new watermelon king. Fuck him!
Posted by: cuchieddie at January 20, 2009 12:17 PM
---
Yep, Sam is the true Obama voter, take the handout or simply take it all and crap on the rest.
Posted by: Jack at January 20, 2009 12:35 PM
---
Posted by: Les at January 20, 2009 03:23 PM
---
Thank you everyone, it did help today a little to laugh.
Mark, yes haha even the bird wants a handout.
Tom, that sounds great I love that music.
Cuchieddie, awesome.
Jack, LOL " crap the rest".
Les, thank you for the images.
Posted by: Wild Thing at January 20, 2009 11:28 PM
---