« IDF Ground Forces Enter Gaza | Main | When In War Zones Listen to Warnings! »
January 04, 2009
Prayer for the Welfare of Soldiers in the Israel Defense Forces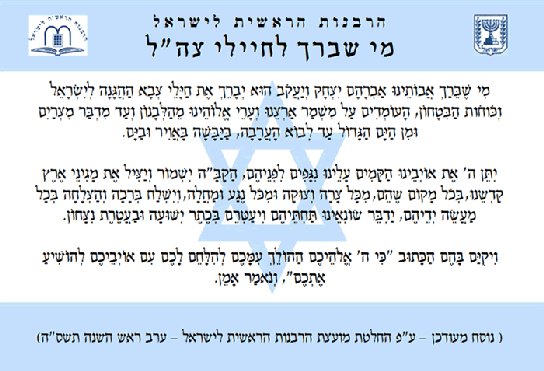 Prayer for the Welfare of Soldiers in the Israel Defense Forces:
He Who blessed our forefathers Abraham, Isaac and Jacob - may He bless the fighters of the Israel Defense Force, who stand guard over our land and the cities of our God from the border of the Lebanon to the desert of Egypt, and from the Great Sea unto the approach of the Aravah, on the land, in the air, and on the sea.
May Hashem cause the enemies who rise up against us to be struck down before them. May the Holy One, Blessed is He, preserve and rescue our fighting men from every trouble and distress and from every plague and illness, and may He send blessing and success in their every endeavor. May He lead our enemies under their sway and may He grant them salvation and crown them with victory. And may there be fulfilled for them the verse: For it is Hashem, your God, Who goes with you to battle your enemies for you to save you. Now let us respond: Amen.

* Something.....and Half of Something blog
Thank you Linda so much.
Posted by Wild Thing at January 4, 2009 01:40 AM
---
Comments
Posted by: James M at January 4, 2009 06:09 AM
---
God Bless the Israelites with blessings and complete victory. Amen.

Posted by: Lynn at January 4, 2009 06:49 AM
---
As a Christian, I have a responsibility to pray for the peace of Israel. That's easy...I do it everyday.
Posted by: Stepperg at January 4, 2009 12:29 PM
---
Thanks WT, I commented on Linda's site too. I still subscribe to Curtis LeMay's rules of engagement.
"I'll tell you what war is all about, you've got to kill people, and when you've killed enough they stop fighting." Gen. Curtis LeMay
Genghis Khan applied this Rule Of Engagement to Iraq and Iran and peace was predominant for many years in the Middle East.
God bless and watch over our Israeli ally and her people.
Posted by: Jack at January 4, 2009 12:29 PM
---
These Islamofascist enemies of Israel are also enemies of the United States. So, let me say "ditto" to this prayer for the welfare of the 'soldiers' in the U.S. armed forces. The IDF and U.S. military are fighting the same enemy in the same war against terrorism. They are our protectors of freedom and democracy.
Posted by: Les at January 4, 2009 07:46 PM
---