« Obama First President to Skip Ball Honoring Medal of Honor Recipients | Main | Pelosi Signals Willingness To Add to TARP Funds »
January 26, 2009
Pelosi Says Birth Control Will Help Economy and Obama Taxes for Abortions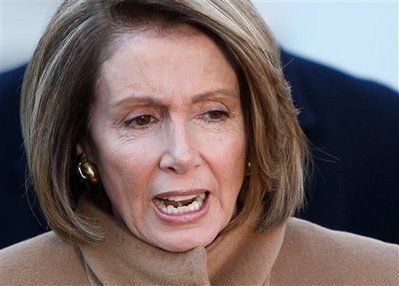 Pelosi Says Birth Control Will Help Economy
Drudge
Speaker of the House Nancy Pelosi boldly defended a move to add birth control funding to the new economic "stimulus" package, claiming "contraception will reduce costs to the states and to the federal government."
Pelosi, the mother of 5 children and 6 grandchildren, who once said, "Nothing in my life will ever, ever compare to being a mom," seemed to imply babies are somehow a burden on the treasury.
The revelation came during an exchange Sunday morning on ABC's THIS WEEK.
STEPHANOPOULOS: Hundreds of millions of dollars to expand family planning services. How is that stimulus?
PELOSI: Well, the family planning services reduce cost. They reduce cost. The states are in terrible fiscal budget crises now and part of what we do for children's health, education and some of those elements are to help the states meet their financial needs. One of those - one of the initiatives you mentioned, the contraception, will reduce costs to the states and to the federal government.
STEPHANOPOULOS: So no apologies for that?
PELOSI: No apologies. No. we have to deal with the consequences of the downturn in our economy.
But there is more look at this..................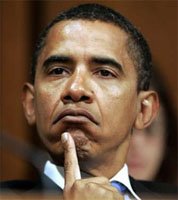 President Barack Obama Forces Taxpayers to Fund, Promote Worldwide Abortions
Barack Obama promised during the presidential campaign that he wanted to reduce abortions and said as much in a statement yesterday in association with the anniversary of Roe. Today, however, he betrayed that promise by forcing taxpayers to fund groups promoting and performing abortions overseas.
In an executive order, the president officially scrapped the Mexico City Policy that protected taxpayers from involvement in overseas abortions for eight years. Now, Obama will send hundreds of millions of dollars to groups that aggressively promote abortions on a worldwide scale.
Obama was slated to overturn on Thursday the protections President Bush put back in place following the Clinton administration, but Obama decided to wait.
He hoped his decision today to force taxpayers to fund foreign abortions will somehow make him seem less radical because he decided to wait until after the pro-life movement mourned the thirty-sixth anniversary of Roe v. Wade.
The executive order will make non-governmental groups that do abortions in other nations or lobby pro-life countries to overturn their abortion limits eligible for public funds.
During the Bush administration, such groups were prevented from receiving the family planning money or any aid through the State Department, if they would not back down from their pro-abortion agenda.
Douglas Johnson, the legislative director for the National Right to Life Committee, emailed LifeNews.com about Obama's decision.
He told LifeNews.com how the executive order will hurt non-abortion groups that provide medical care and services to women and families in foreign nations.
"One effect of Obama's order will be to divert many millions of dollars away from groups that do not promote abortion, and into the hands of those organizations that are the most aggressive in promoting abortion in developing countries," he said.
"Obama's order will predictably result in a redirection of funds to groups such as the International Planned Parenthood Federation, which are ideologically committed to the doctrine that abortion on demand must be universally available as a birth control method," Johnson said.
Johnson said pro-life advocates need to brace for more attacks on pro-life laws and measures.
"This is the first in an anticipated series of attacks on longstanding pro-life policies, as the new administration pushes Obama's sweeping abortion agenda," he said. "That agenda includes repeal of the Hyde Amendment, which would result in tax-funded abortion as a birth control method in the U.S., and imposition of sweeping pro-abortion mandates on private employers through health-care reform legislation."
The two biggest abortion businesses in the world, the U.S.-based Planned Parenthood and the British-based Marie Stopes International, refused to stop doing abortions or trying to get nations to abandon their pro-life culture and heritage and refused to follow the pro-life rules and accept the funds.
Now, taxpayers will fund those abortion businesses and their abortion marketing campaigns.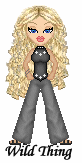 Wild Thing's comment.......
The Dems new slogan: We'll abort our way out of debt!!
So when is the Pope going to needs to excommunicate Pelosi, Obama and Biden. All three of them are pro baby killers. And this latest BS won't fly much with the Pope either is my guess. I am not Catholic so I don't know all the stands on this kind of thing.
Yeah, Nancy. Kill off all the American babies and replace them with illegal aliens who can work for you on the cheap.
Posted by Wild Thing at January 26, 2009 02:45 AM
---
Comments
B. Hussein reminds me of the song title:
A walking contradiction.
The US has no business funding for worldwide abortions and how do you reduce them by more funding. Also there are people on welfare that get pregnant and/or get their girlfriends or wives pregnant so they can collect more from welfare.
This POS is pure BS.
Bob A.
Posted by: Bob A at January 26, 2009 07:04 AM
---
Obama isn't Catholic but Biden and Pelosi are. If the Pope was serious about ending abortion, he would excommunicate not only Biden and Pelosi but any politician who's Catholic and supports abortion.
Posted by: BobF at January 26, 2009 07:24 AM
---
If these idiots are serious about spending money on contraceptives, why don't they promote castrations or tubal ligature!!! At least you wouldn't be murdering a life that had just begun!!!
Doesn't Pelosi realize that by being pro-abortion, she is reducing the Dems voting base and future tax revenue source???
Too bad this bitch wasn't aborted!!!!!
Posted by: John at January 26, 2009 07:59 AM
---
Another thought.......why not require every aborted fetus to be placed on the steps of the White House so all can see what murderer's these clowns are!!!
Posted by: John at January 26, 2009 08:01 AM
---
Nutsy Pelosi and Biden are your typical CAFETERIA CATHOLICS that pick and choose which one(s) of God's 10 Commandments to acknowledge and obey!
- 51 million abortions and counting!
Listen to Texans Rick Green and David Barton daily
on www.wallbuilders.com and www.wallbuilderslive.com
They are patriots to the end!
PS: Check out their archives / shows/ documents.
Posted by: darthcrUSAderworldtour07 at January 26, 2009 08:43 AM
---
Speaking of Birth Control....
why didn't Pelosi's parents practice this?
Posted by: Steve Gaston at January 26, 2009 08:52 AM
---
The Elite Ruling class is just setting up their peasant victim class. Can't have all those independent, self-reliant people running around creating jobs and products now, can we? Hell, the Dems would no longer be needed.

Posted by: yankeemom at January 26, 2009 09:19 AM
---
The Pope basically is pro-life and calls for nonviolent solutions during conflicts. Me, I personally disagree with the latter just because you need to defend yourself by force if necessary, I have my own gripes about the Vatican et al. but I still consider myself a good Catholic, but to do what this wench does yeah needs to be excommunicated She basically committed Catholic treason. I really don't get it, she's for abortion and yet she has five kids which that fact itself is mind boggling to me because I can't figure out how she got laid even once.
Posted by: JohnE PFC U.S. Army at January 26, 2009 09:20 AM
---
Everything about the Democratic leadership is radical and contradictory. Why are we involving ourselves in other countries cultures unless they are a danger to us? My tax money is being used for something that has no effect on me.
This is some more of that globalization BS.
Yes, the Pope should excommunicate Biden and Pelosi.
Posted by: TomR at January 26, 2009 12:55 PM
---
The overriding question appears to be, is why doesn't the Pope censure or criticize those Cafeteria Catholics? I reckon it's for the same reason that an overwhelming number of American Jews condemn Israel and embrace the Democrat party and Global Communism. They all go to rallies, Judeao-Christians, Jews and others, they fervently wave the flag, then trash old glory as they leave, to go back to their life of sinning and disrespect. They have nothing vested in their beliefs, their country or the defense of their liberties as long as someone else will step into the breech to protect and serve them.
As long as there are no perceived external threats they'll all embrace the one world concept but once they feel threatened, they like their Euroweeny counterparts, will demand that United States soldiers intervene. Catch 22 had a fictional band of smugglers and thieves that were wheeling, dealing and stealing for personal profit at the expense of others. Today they they would be identified by the big D proudly displayed on their name suffix.
Posted by: Jack at January 26, 2009 02:33 PM
---
Steve Gaston got it right. Too bad Nancy Pelosi's parents didn't believe in the same economic philosophy.
Posted by: Les at January 26, 2009 05:25 PM
---
Hi Steve Gaston,
To bad Obama's didn't. Also Harry Reids. Agree with you 100%. My views are somewhat contradictory on abortion, I am against it but if my daughter had ever considered it, I would have tried to my best to change her mind but been supportive of her in whatever decision she made. My love of her outweighs my beliefs and sometimes common sense ( with her most of the time). At least I post them and am consistent. I have a Down syndrome son and when she was pregnant and they thought there may be a birth defect (which thank God there wasn't she said she would go through with her pregnancy.) This from a girl with a DS brother who now works in that field.
Boudica_bpi@boudica.us
Bob A.
Posted by: Bob A at January 26, 2009 06:33 PM
---
BobA., I remember back when Clinton was president and Hillary went to China and all over to push the abortion agenda.
This seems to be a big thing for the left to get abortions paid for with our tax dollars all around the world.
I agree with you Bob, they are just what you said.
Posted by: Wild Thing at January 26, 2009 07:38 PM
---
BobF, thanks I agree, I was not even sure if he could do something like that.
Posted by: Wild Thing at January 26, 2009 07:40 PM
---
John I agree too bad Pelosi wasn't aborted.
This is right on too..........."Doesn't Pelosi realize that by being pro-abortion, she is reducing the Dems voting base and future tax revenue source???"

Those babies unborn are future tax payers and voters for the dems.
Posted by: Wild Thing at January 26, 2009 07:44 PM
---
John, many of them don't even acknowledge it is a baby. Like a thing or something. It is so awful how they refer to an unborn baby.
Posted by: Wild Thing at January 26, 2009 07:46 PM
---
Darth, thank you I will check them out.
Posted by: Wild Thing at January 26, 2009 07:48 PM
---
Steve Gaston, yes now that would have relieved the world of a lot of grief.
Posted by: Wild Thing at January 26, 2009 07:50 PM
---
Yankekemom, yes if that happens who needs them anymore.
Posted by: Wild Thing at January 26, 2009 07:53 PM
---
JohnE PFC U.S. Army, thank you so much and I agree with you.
This is so funny.....
"I can't figure out how she got laid even once."

LMAO
Posted by: Wild Thing at January 26, 2009 07:56 PM
---
Tom, this is just what they are.....
"Everything about the Democratic leadership is radical and contradictory"....I agree.
Posted by: Wild Thing at January 26, 2009 07:58 PM
---