« Gutting Security: Obama's Dangerous Anti-Terror Picks | Main | Aircraft Carrier Named the USS George H.W. Bush Commissioned »
January 10, 2009
'On the Road in Iraq With Our Troops and Gary Sinise' ~ On FOX Tonight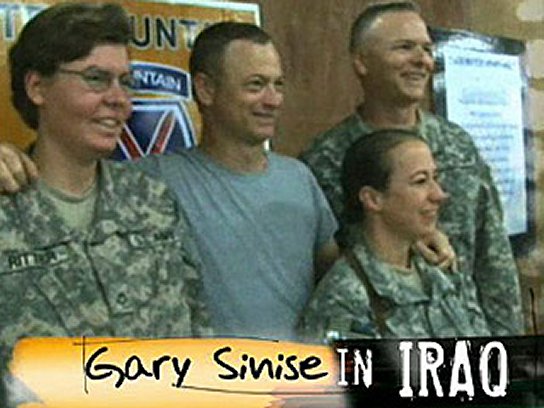 In this exclusive FOX News documentary, actor and activist Gary Sinise shares the "on the road" experiences he had last summer in Iraq while visiting American troops.
Some 25 hours of his adventure was captured verite style with a handheld camera. Sinise does his best to meet his goal of what he says is "5000 handshakes, 2000 miles in seven days."
The personal footage captures heartfelt meetings between Sinise and the troops in Kuwait and the Iraqi cities of Al Qaim, Al Asad, Ramadi and Baghdad.
Fox News Chanel
Time:Saturday 9 p.m. ET....... Repeats Sun., January 11 at midnight ET
Posted by Wild Thing at January 10, 2009 03:55 AM
---
Comments
We're watching it! We already have it planned.
I do like Gary very much. He's one who was
raised knowing where his duties lay and that's
a good thing.
My kids like him too.
This is important. Everyone needs to see it!
Posted by: Lynn at January 10, 2009 07:47 AM
---
Wild Thing, Team Theodore, and Gary Sinise are the HOPE - BOB HOPE - of 2009! FREEDOM IS NOT FREE and John 15:13 forever! Yes WT, after Epiphany / 3 Kings, we finally took our Christmas tree and Christmas Village down!
Posted by: darthcrUSAderworldtour07 at January 10, 2009 08:08 AM
---
Anxious to see it, thanks WT. BTW that other HBO special 'Taking Chance' is supposed to air February 21.
Posted by: Jack at January 10, 2009 12:07 PM
---
Lynn, that is great, I am looking forward to it.
Posted by: Wild Thing at January 10, 2009 04:48 PM
---
Darth, thanks for oJohn 15:13 , good one.
I always feel a little sad when I take the tree down. I kidded Nick this year let's leave it up all year. He just laughed and said, but what about the part of getting anxious for putting it back again. haha
Posted by: Wild Thing at January 10, 2009 04:50 PM
---
Jack oh great thank you. I marked it down now on my calendar.
Posted by: Wild Thing at January 10, 2009 04:52 PM
---
I'm watching this right now. Even better than I thought it was going to be.
Posted by: Eden at January 11, 2009 05:48 AM
---