« Prince Harry's Remarks No Big Deal | Main | Hamas Reinstates Crucifixions of Christians »
January 13, 2009
Officials Turn Down The CHEAT Al Franken Request in Minn. Race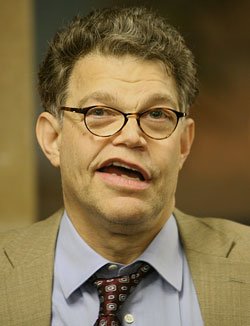 Officials turn down Franken request in Minn. race

ST. PAUL, Minn
Democrat Al Franken was quickly turned down Monday when he asked Minnesota's governor and secretary of state to issue an election certificate that would let him take office in the Senate.
In letters the campaign sent to Republican Gov. Tim Pawlenty and Democratic Secretary of State Mark Ritchie, Franken's lawyers argued that a seven-day waiting period for issuing the certificate after an election has passed and he should get the signed certificate. But the state officials said their hands were tied by state law and they could not act.
Franken led Republican Norm Coleman by 225 votes after a statewide recount that was completed Jan. 5.
Coleman is suing over the result, claiming there were irregularities on Election Day and during the recount.
Minnesota law prevents officials from issuing an election certificate until legal matters are resolved. But Franken's legal team argues that federal election law entitles Franken to receive the certificate before the lawsuit is settled.
"The people of Minnesota are down a senator in the U.S. Senate. This is an opportunity for Governor Pawlenty and Secretary Ritchie to ensure the interests of all Minnesotans are represented in Washington," Franken lawyer Marc Elias told reporters in a conference call. He didn't rule out a lawsuit.
In a statement, Ritchie said state law requires him and the governor to turn down Franken's request.
"Minnesota law is very clear on when a certificate of election can be issued. Neither the governor nor I may sign a certificate of election in the U.S. Senate race until all election contests have reached a final determination," Ritchie's statement read.
The statement didn't specifically address Franken's argument that federal law supercedes the state law.
Pawlenty echoed Ritchie, saying it is clear the law won't allow him to issue a certificate while the race is being contested in court.
Coleman campaign manager Cullen Sheehan dismissed the move as a power play meant to get around Franken's need to defend the election outcome in court.
"He can't and won't be seated in a seat he didn't win, so he is trying this underhanded attempt to blatantly ignore the will of Minnesotans and the laws of the state," Sheehan said.
Franken's campaign was due to file a response to Coleman's lawsuit later Monday. Elias characterized the Coleman action as "riddled with errors that are fatal to much if not all of the claims made in the petition."
By law, a trial on the lawsuit must start within three weeks of its filing, which occurred last Tuesday. It will be heard by a three-judge panel that includes one Republican appointee, one Democratic appointee and one named by an independent governor.


Wild Thing's comment.........

Standard Democrat election strategy. Recount until you "find" enough new ballots to change the result and then stop.
What a total mess they have in Minn. And the only reason is because of the democrats! They just can't do things legally and orderly. They have to LIE, CHEAT and STEAL to try and win. Heck Obama did that when he stole all those votes from Hillary Clinton. Dead people voting, ACORN, etc, all things the Democrats have their filthy hands into.
Here are the facts. Coleman won the election by approximately 700 votes. Then a bunch of mysterious BS "corrections" reduced his lead to about 200 votes before the recount even started. Then, during the recount, boxes of mysterious extra votes kept turning up for Franken, coming from the strangest places.
Al Franken will never be a legitimate U.S. Senator, even if he is officially certified and takes the seat. There won't be any justice until Coleman takes his rightful Senate position and Franken takes a position in federal prison for stealing the election.

....Thank you Darth for sending the article to me.

Darth
U.S. Airforce
C-5 loadmaster
84-97


Posted by Wild Thing at January 13, 2009 04:50 AM
---
Comments
What's wrong with his face? Did he have a stroke?
Posted by: Steve Gaston at January 13, 2009 11:34 AM
---
Minnesota is getting more and more liberal. It is the first state to elect a muslim to Congress. Now a comedian. Minn is run by Democrats so it is no surprise that "lost" votes for Franken were mysteriously found.
Franken can join Kennedy and Reid in the Senate and they can do Three Stooges routines.
Posted by: TomR at January 13, 2009 11:34 AM
---
Does this really surprise anyone?!? The Dems will do whatever it takes to gain another seat in the Senate or House. Too bad they can't find a footlocker full of "lost" votes for Coleman.
Franken, Reid, Teddy, Hillary, and all the other looney Dems and RINO's treat Congress like it is SNL so why not have someone who was actually on that program show them how to act.
You are so right Steve.....that is one UGLY face. Maybe he would be better off wearing a burqa or go bury his head in the sand somewhere. Better yet, up Big "O"'s butt!!!!! Couldn't hurt his appearance any!!!!
Posted by: John at January 13, 2009 01:15 PM
---
-"What's wrong with his face? Did he have a stroke?"-
No Steve, this is not the result of a stroke just drugs and New York discos.
As for the election, the DNC has been doing this forever. During Reagan's Presidency Tip O'Neil stole an Indiana eighth congressional district election exactly the same way.

Posted by: Avitar at January 13, 2009 02:48 PM
---
It could be drugs or it could be a stroke or it could be he is just plane Fuc*ed Up. This is the best the demos can do for a Senator.
How do you go from being over 700 votes the winner to -50 in the hole. Where were all these uncounted votes before frankenstein came up short. Why were they not all counted on election day.
As conservatives we need to learn creative electioneering and vote fraud. why should the demos be the only party allowed to cheat.
Posted by: Mark at January 13, 2009 02:54 PM
---
Posted by: Les at January 13, 2009 05:09 PM
---
Geez...I thought Mr. Ed had an ugly mouth in the 60's...Please use B & W pictures next time Wild Thing! - Wilburrrrr 2009
Posted by: darthcrUSAderworldtour07 at January 13, 2009 05:11 PM
---
Steve Gaston, ROTFLMAO, that is an actual photo of him. So many blogs are posting the photo of him from Saturday night live where he has put on diapers and is acting like a baby or something, it is just used so much and I wanted to just have a photo of him how he looks and will look in office. He is so HORRIBLE!
Posted by: Wild Thing at January 13, 2009 06:54 PM
---
Tom, hahaha exactly......... "Franken can join Kennedy and Reid in the Senate and they can do Three Stooges routines."
Posted by: Wild Thing at January 13, 2009 06:55 PM
---
John, LOL that would be sooooo funny too.
Minn. wants these freaks, like that Muslim they voted in too.
Posted by: Wild Thing at January 13, 2009 06:57 PM
---
Avitar, yes, can you imagine sometime, we could see an honest election take place. I think I would faint from shock.
Posted by: Wild Thing at January 13, 2009 06:59 PM
---
Mark, I think he is just plain Fuc*ed Up like you said. Lots of times the ugliness that a person is on the inside shows up in the face. Like Soros too is like that.
Posted by: Wild Thing at January 13, 2009 07:05 PM
---
Les, OMG that is perfect.
LOL hahahahahaha
Posted by: Wild Thing at January 13, 2009 07:10 PM
---
Darth, hahahahahahahaha
I will see what is out there in google land. hahaha
Posted by: Wild Thing at January 13, 2009 07:11 PM
---
I thought Minnesota was the land of rugged Vikings and blue-eyed blonde Vikingettes? How do the muzzies in Muslimsota get away from wearing their sandals in 5 feet of snow? If Al Franken Stein were an NHL goalie for the Minnesota Wild, he'd catch FIVE hockey pucks in his mouth!
Posted by: drstrangeloveb52isok at January 13, 2009 09:24 PM
---