« Letters From Iraq: Outside the Wire | Main | Gov. Palin Unveils 'SarahPAC' »
January 30, 2009
Obama's ILLEGAL Aunt Seeks Asylum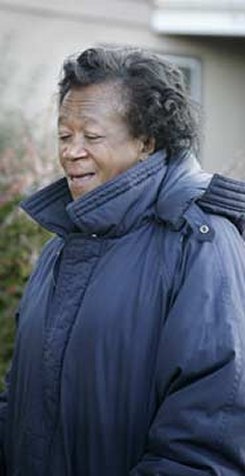 Obama's aunt Zeituni Onyang

Obama's illegal aunt seeks asylum
Obama's illegal alien aunt has enlisted the help of an immigration lawyer to help her win asylum and stay in the United States.
Margaret Wong and Associates is representing Zeituni Onyango, the 56-year-old Kenyan half-sister of Obama's deceased father, the Cleveland Plain Dealer reports. Onyango and her lawyer are scheduled to attend an immigration hearing in Boston on April 1.
"The judge will be looking at evidence that they may not have been aware of four years ago," Michael Rogers, spokesman for Wong, told the newspaper. "Wong is optimistic. We would have preferred to not conduct this case in the media spotlight, but that's not going to happen."
Onyango, revealed in November to be dwelling on Flaherty Way in a South Boston slum, has been living in the United States illegally, refusing to leave the U.S. for her Kenyan homeland after a judge rejected her request for asylum in 2004.
Boston Housing Authority spokesman Bill McGonagle told the Boston Herald she received a small stipend for working six hours a week as a volunteer resident health advocate in her complex.
"Auntie Zeituni" made a $260 campaign contribution to her nephew's presidential bid from a work address in the city. She proudly displayed photos of Obama, including some that appear as old as 25 years, inside her first-floor apartment, McGonagle said.
The Bush administration issued a directive requiring high-level approval before agents could arrest fugitive immigrants on Oct. 31, the Associated Press reported. Immigration and Customs Enforcement documents reveal U.S. officials were concerned about implications of detaining Onyango in the days before the election.
"The Homeland Security Department censored parts of the document before turning it over to the AP, citing privacy and law enforcement reasons for withholding some of the information, including the name of the person who sent the e-mail," the AP revealed. "It also blacked out the names of recipients of the directive, making it impossible to determine whether it was sent to anyone outside the department or outside government."
ICE spokeswoman Kelly Nantel said the order was lifted by the end of November.
Shelli Baker of Boston's WROL 950 AM told WND she went to the Boston apartment with Philip Berg after the election. While Onyango did not answer the door, she said something curious happened.
"I knocked on her door, and a nice young African-American greeted me. He was very happy. He saw my camera. I said, 'Can you tell me, is she still here?' And he said, 'No, she went away with some men in a car about a week ago. It got too hot about these elections with her nephew.'"
Baker asked the man if Onyango would be back. He replied, "I think so."
She then asked him a strategic question: "Are you all rejoicing that her nephew born in Kenya was elected?"
He responded, "Oh yes. We had a party about that."
Baker said the apartment management told her they knew Onyango would be back, despite her 4-year-old deportation orders.
"Evidently this type of obstinacy and persistence is very well known to the Obama family," Baker told WND. "And they're very proud of it."
Now the Plain Dealer has revealed that Onyango left her home in Boston public housing to escape media coverage in December.
Onyango traveled to Cleveland, Ohio, and hired Wong to assist her in her fight to remain in the U.S.
According to the report, Wong said Onyango stayed with relatives in an African immigrant community while in Cleveland. Rogers said she returned to Boston later in December.
On Dec. 17, an immigration judge stayed an order to deport Onyango.
The judge reopened her case for asylum on Dec. 30, a spokeswoman for the U.S. Executive Office of Immigration Review said.
Earlier this month, Onyango attended Obama's swearing-in ceremony and an inaugural ball at Washington's Renaissance Mayflower Hotel, a historic luxury hotel, the Associated Press reported.
Rogers claims she never met with the president during inaugural festivities. She arrived with her immigration lawyer as her guest.

Wild Thing's comment.........
Want to make a bet she goes to the front of line in front of every other legitimate person seeking citizenship here in the US? And not only that, then she will get on welfare and any and all of the hand out programs the democrats put forth.
Hmmmmm how VERY odd.....She needs asylum from a country where Barry Soetoro is phenomenally popular??
We used to be a nation of laws, codified in the Constitution....but oh wait, that's right we I mean THEY unfortunately have a President that has NOT obeyed our Constitution and loaths it .
.


....Thank you Mark for sending this to me.

Mark
3rd Mar.Div. 1st Battalion 9th Marine Regiment
1/9 Marines aka The Walking Dead
VN 66-67


Posted by Wild Thing at January 30, 2009 04:45 AM
---
Comments
Oh dear Gawg. Here we go! The first of 1 million to claim amnesty. I guess she can move in with Oblama's Mommie-in-law, in the White House.
Posted by: Steve Gaston at January 30, 2009 07:21 AM
---
Of course, we all knew that was going to happen!
She'll get it too, because good old Barry is at the helm.
Posted by: Lynn at January 30, 2009 08:23 AM
---
Hep me, hep me!!! Preferential treatment? Naw,we all know the Dems are like Dingy Harry, fair and honest. Zeituni Onyang living and stealing a livelihood from the taxpayer as an illegal alien has no bearing. She "be presidential now"!!! If you deport her the BOA will have to transfer her welfare check to Kenya. Sheesh!!!
Posted by: Jack at January 30, 2009 09:30 AM
---
I guess now that half of Kenya will move here and be related somehow to Obarry. So she moved to an African immigrant "community" in Cleveland. America has become a nation now of non assimilating immigrant communities. Most of them seem to have figured ways to get my tax dollars.
Posted by: TomR at January 30, 2009 09:37 AM
---
Get out of my country you skank bitch.
Posted by: cuchieddie at January 30, 2009 03:36 PM
---
To get our tax dollars that's exactly why they are here. They don't give a ratsass whether the country survives of fails as long as they get their handout. Obama is there to ensure that they get it at our expense.
She has been illegal in this country for over 4 years, plus. She was told to leave and didn't. Guess what and nobody enforced it. That is why we have almost 40 million illegals getting a stimulus check. And the democrats have just bought them.
Posted by: Mark at January 30, 2009 03:50 PM
---
George Bush screwed up when he didn't allow the authorities to arrest her, as she should have been, before the election. Bush protected Barack Obama from something that Obama would have thrown him under the bus for if the situation was reversed.
I have no problem granting asylum to Zeituni Onyango AFTER she swears under oath and provides irrefutable proof that Barack Hussein Obama was born in Kenya.
Posted by: Les at January 30, 2009 05:23 PM
---
She looks like Opra in 20 years! Does she have a valid U.S. Birth Certificate too?
- WE ARE ONE?
Posted by: darthcrUSAderworldtour07 at January 30, 2009 05:52 PM
---
Steve Gaston, LOL I bet Michelle Obama would hate that. It sure is odd we have not seen any photos of Michelle with Obama's grandmother the white one or the one that was here from Kenya, or this aunt or anyone else. Very odd.
Posted by: Wild Thing at January 30, 2009 06:45 PM
---
Lynn, Yes she will get whatever she wants and then the good people that came here legally wait. sheesh
Posted by: Wild Thing at January 30, 2009 06:48 PM
---
Jack, good point!!!
"If you deport her the BOA will have to transfer her welfare check to Kenya"
Posted by: Wild Thing at January 30, 2009 06:50 PM
---
Tom, they sure have, they have it down to a science.
"Most of them seem to have figured ways to get my tax dollars."
Posted by: Wild Thing at January 30, 2009 06:52 PM
---
Posted by: Wild Thing at January 30, 2009 06:57 PM
---
Mark, all of that is so infuritating!!!!!!!!!!!
I am so sick of this stuff happening.
Posted by: Wild Thing at January 30, 2009 07:00 PM
---
Les, heh heh now wouldn't that be something.
Posted by: Wild Thing at January 30, 2009 07:03 PM
---
Darth, hahahhaha
That will be the title of some gossip column. heh heh Or maybe they are related. I saw where Michelle said keep your hands off Barack to Oprah.
Posted by: Wild Thing at January 30, 2009 07:08 PM
---