« President Bush and Laura Receive Rousing Welcome at Baylor Basketball Game | Main | Boy's Wrapped B-Day Present Is Dad Home From Iraq »
January 31, 2009
B.Hussein Obama 'friend': End of Israel 'within reach'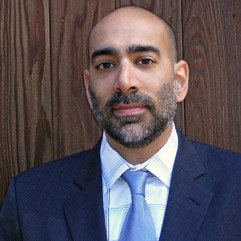 Obama 'friend': End of Israel 'within reach'
JERUSALEM
Accusing the Jewish state of "genocide," an anti-Israel Palestinian activist once commended by President Obama has predicted the end of Israel, which, he boasted, is "within reach, in our lifetimes."
In a piece earlier this month titled, "Why Israel won't survive," Ali Abunimah, co-founder of Electronic Intifada, a pro-Palestinian online publication, accused Israel of war crimes and gloated, "Now, the other pillar of Israeli power – Western support and complicity – is starting to crack. We must do all we can to push it over."
"It is Israel as a Zionist state, not Palestine or the Palestinian people, that cannot survive this attempted genocide. Its problem is legitimacy, or rather a profound and irreversible lack of it," wrote Abunimah.
Abunimah previously was described as close to Obama and has introduced the politician at pro-Palestinian events. Referring to a time period in the late 1990s, Abunimah said that "Obama used to be very comfortable speaking up for and being associated with Palestinian rights and opposing the Israeli occupation."
Abunimah was quoted stating Obama was "quite frank that the U.S. needed to be more evenhanded, that it leaned too much toward Israel."
He noted Obama's unusual stance toward Israel, commenting "these were the kind of statements I'd never heard from a U.S. politician who seemed like he was going somewhere, rather than at the end of his career."
In his piece this month, Abunimah blasted Israel's three-week campaign against Hamas in the Gaza Strip, accusing the Israel Defense Forces of "massacr[ing] civilians in the hope that the population would turn against those fighting the occupier."
Obama, anti-Israel activist raised funds for Islamic causes
In the 1990s, Obama was a speaker at events in Chicago's large Palestinian immigrant community to raise funds for U.N. camps for the so-called Palestinian refugees. Abunimah recalls introducing Obama at one such event, a 1999 fundraiser for the Deheisha Palestinian camp in the West Bank.
"I knew Barack Obama for many years as my state senator – when he used to attend events in the Palestinian community in Chicago all the time," stated Abuminah during an interview last year with Democracy Now!, a nationally syndicated radio and television political program.
"I remember personally introducing [Obama] onstage in 1999, when we had a major community fundraiser for the community center in Deheisha refugee camp in the occupied West Bank. And that's just one example of how Barack Obama used to be very comfortable speaking up for and being associated with Palestinian rights and opposing the Israeli occupation," Abunimah said.
Abunimah previously described meeting with Obama at a fundraiser at the home of Columbia University professor Rashid Khalidi, reportedly a former PLO activist.
"Obama came with his wife. That's where I had a chance to really talk to him," Abunimah recalled. "It was an intimate setting. He convinced me he was very aware of the issues [and] critical of U.S. bias toward Israel and lack of sensitivity to Arabs. ... He was very supportive of U.S. pressure on Israel.
According to quotes obtained by Gulf News, Abunimah recalled a 2004 meeting in a Chicago neighborhood while Obama was running for his Senate seat. Abunimah quoted Obama telling him "warmly" he was sorry that "I haven't said more about Palestine right now, but we are in a tough primary race."
"I'm hoping when things calm down, I can be more up front," Abunimah reportedly quoted the senator as saying.
Abunimah said Obama urged him to "keep up the good work" at the Chicago Tribune, where Abunimah contributed guest columns that were highly critical of Israel.
Abunimah serves on the board of the Arab American Action Network, or AAAN, a controversial Arab group founded by Khalidi's wife that mourns the establishment of Israel as a "catastrophe" and supports intense immigration reform, including providing driver's licenses and education to illegal aliens.
The rest of the article HERE


Wild Thing's comment........
The Bible says, says that in the latter days they will attack Israel, but she will be miraculously saved.
Obama on the other hand, and this jerk Ali Abunimah, and their ilk will not be saved and that thought makes me smile.

....Thank you Mark for sending this to me.

Mark
3rd Mar.Div. 1st Battalion 9th Marine Regiment
1/9 Marines aka The Walking Dead
VN 66-67


Posted by Wild Thing at January 31, 2009 04:44 AM
---
Comments
And that the Eagle and the Bear will fight. We will defend Israel and thus, be saved. But what kind of man allows his buddies to determine the fates of other nations? Israel is a beautiful land of some fantastic cultures, languages and religions--even Islam sprang from Israel. This land was given to the Israelites by not only the UN, but God. Those who follow God's teachings will be saved. Those who don't will be cast into the Lake of Fire with Lucifer for all time. Which would I rather do? Follow the teachings of the Bible (it is Basic Information Before Leaving Earth)anyway. I can't wait to meet Him and Jesus face to face. What a day in Paradise that will be. My relatives who have passed before me-all there to welcome me home. Who could ask for more?
Posted by: Lynn at January 31, 2009 07:52 AM
---
PROUD to be a crusading Gentile Infidel ally of Israel! Israel is God's Country!!
Posted by: darthcrUSAderworldtour07 at January 31, 2009 10:00 AM
---
Shortly obama will have to make a choice between I slam and Israel. Push will come to shove and we shall see which side of the line obama comes down on. All of His Palestinian buddies are counting on him to come through for them. We shall see.
Also that 78 % of the Jewish populaton that voted for this dirtbag will also realize they, too, have been had.
Posted by: Mark at January 31, 2009 03:03 PM
---
I'm a firm supporter of Israel.
The hottest places in hell are reserved for those who, in time of great moral crisis, maintain their neutrality. ~ Dante
Obama and his minions are showing their true colors, Јосип Броз Тито Obama is going to toss our staunchest ally under the bus. Dragging feet over what to do with Iran is going to provoke their attack on Israel, either way the United States will get: 1. blamed 2. involved, like it or not. Not one country around the world is willing to step into the crisis and stand up to Iran and it's Russian bully, but they'll whine about no action or praise verbose dalliance until it's too late to prevent the inevitable.

Posted by: Jack at January 31, 2009 03:17 PM
---
Posted by: Les at January 31, 2009 03:53 PM
---
Posted by: Wild Thing at January 31, 2009 07:39 PM
---
Darth, me too I am so glad to be an Indifel.
Posted by: Wild Thing at January 31, 2009 07:44 PM
---
Mark, oh man oh man I sure do agree with every word you said. Obama is not going to like it but he cannot sit on both side with this.
Posted by: Wild Thing at January 31, 2009 07:49 PM
---
Jack, you always have such perfect quotes, thank you so much.
Posted by: Wild Thing at January 31, 2009 07:52 PM
---
Les, oh wow thank you so much for the information. Yes your right he is not just the only one.
Posted by: Wild Thing at January 31, 2009 07:53 PM
---