« Obama to Issue Order Closing Gitmo During First Week in Office | Main | Prince Harry's Remarks No Big Deal »
January 13, 2009
Socialist Obama and His Climate Czar Choice Socialist Ties As Well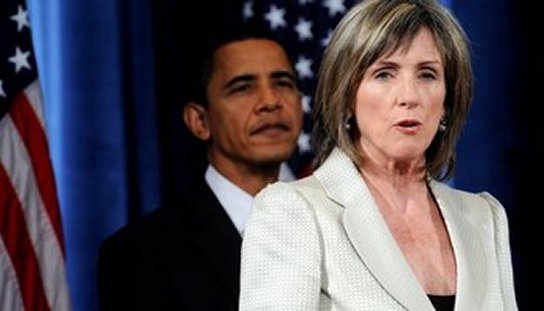 Carol M. Browner has been tapped as the coordinator of climate and energy policies.
Obama climate czar has socialist ties
Until last week, Carol M. Browner, President-elect Barack Obama's pick as global warming czar, was listed as one of 14 leaders of a socialist group's Commission for a Sustainable World Society, which calls for "global governance" and says rich countries must shrink their economies to address climate change.
By Thursday, Mrs. Browner's name and biography had been removed from Socialist International's Web page, though a photo of her speaking June 30 to the group's congress in Greece was still available.
Socialist International, an umbrella group for many of the world's social democratic political parties such as Britain's Labor Party, says it supports socialism and is harshly critical of U.S. policies.
The group's Commission for a Sustainable World Society, the organization's action arm on climate change, says the developed world must reduce consumption and commit to binding and punitive limits on greenhouse gas emissions.
Mr. Obama, who has said action on climate change would be a priority in his administration, tapped Mrs. Browner last month to fill a new position as White House coordinator of climate and energy policies. The appointment does not need Senate confirmation.
Mr. Obama's transition team said Mrs. Browner's membership in the organization is not a problem and that it brings experience in U.S. policymaking to her new role.
Mrs. Browner ran the Environmental Protection Agency under President Clinton. Until she was tapped for the Obama administration, she was on the board of directors for the National Audubon Society, the League of Conservation Voters, the Center for American Progress and former Vice President Al Gore's Alliance for Climate Protection.
Her name has been removed from the Gore organization's Web site list of directors, and the Audubon Society issued a press release about her departure from that organization.
Republicans said Mrs. Browner's work with Socialist International raises questions.
Socialist International bills itself as the world body of democratic socialist movements. It includes members ranging from Israel's Labor Party and France's Socialist Party to Angola's MPLA, which won the 1970s Angolan civil war with the aid of Soviet arms and Cuban troops.
The Democratic Socialists of America, not the Democratic Party, is listed as the group's U.S. representative.
Socialist International regularly blasts the construction of fencing along the U.S.-Mexico border.
Socialist International was congratulatory when Mr. Obama won the election, issuing a statement noting that "the sky may seem a bit brighter today.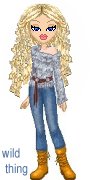 Wild Thing's comment.........
"rich countries must shrink their economies to address climate change"
How much do we need to shrink, and how exactly do they plan to shrink it?
Eric Holder, Hilda Solis, & now Carol Browner: All far-left over-the-top socialists. What were the 52.7% who voted for this zero thinking? Just wait until he gets his hands on Supreme Court nominees.
Wouldn't it be easier to just list the people in Ho-bama's administration who DON'T have socialist ties?

....Thank you Richard ( Richard is Lynn's husband) for sending this article to me.
Posted by Wild Thing at January 13, 2009 04:47 AM
---
Comments
Glenn Beck said on his show yesterday "Stop using the word czar! It's not a good thing! Theywereallshotintheheadandburiedinthewoodsfor100yearssonobodywouldfindthem! Whydoyouthinkthatwas?" (he said it pretty much as one word) The Messiah, Lord Barack Obama Most Merciful is starting to piss a lot of people off. If he thinks G.W. was unpopular with America just wait another six months. I actually heard the expectation for people showing up to the coronation is not as high as before. To me that means that the media oversensationalized this yet again. Did you also hear that Gentleman from Houston on Rush, he was so funny and right too.
Posted by: JohnE PFC U.S. Army at January 13, 2009 07:04 AM
---
Yep, we are headed for a sharp left turn in a few days. There will be denials and cover ups and claims of being moderate. But Obama has made socialist statements and presented socialist plans. Now he is putting communists in positions to spend our money and get socialist laws legislated. "Global governance", in other words another anti US measure like most UN mandates.
Posted by: TomR at January 13, 2009 11:58 AM
---
Probably a good thing she has been named 'Global Warming Czar' it looks like she's has trouble warming anything else, especially men. She has got to be the ugliest women I've seen, as a democrat, since Hillary.
Posted by: Mark at January 13, 2009 03:57 PM
---
Posted by: Les at January 13, 2009 04:02 PM
---
Don't forget about Coyote Uglies (1993-2001) Madeline Albright, Janet 'Waco Whacko' Reno Kid, and their hygienically challenged fan clubs like Code Pinkos Inc.!
Posted by: darthcrUSAderworldtour07 at January 13, 2009 05:18 PM
---
JohnE PFC U.S. Army, thank you so much for the Glenn Beck stuff and Yessss I did hear the guy on Rush Limbaugh too. He was soooo funny and good.
Thank you for putting that in your comment JohnE.
Posted by: Wild Thing at January 13, 2009 07:43 PM
---
Tom, your right and the things you said are a huge reason I am so concerned. How can a handful of Republicans go up against so many socialist/communists. The few have not even been that strong on a regular basis. Plus these people Obama is putting in power won't listen to us even if they got feedback. haha no way.
Posted by: Wild Thing at January 13, 2009 07:47 PM
---
Posted by: Wild Thing at January 13, 2009 07:49 PM
---
Les,l good one, thank you, I am saving that one.
Posted by: Wild Thing at January 13, 2009 07:54 PM
---
Darth, oh yesss your right, we better not forget about them. Gosh they have such horrible people on their side.
Posted by: Wild Thing at January 13, 2009 07:55 PM
---