« Did Roland Burris's Business Partner Help Patti Blagojevich Land Her Job? | Main | Operation Cast Lead: Background Briefing »
January 07, 2009
Marines Raise Flag on New U.S. Embassy in Baghdad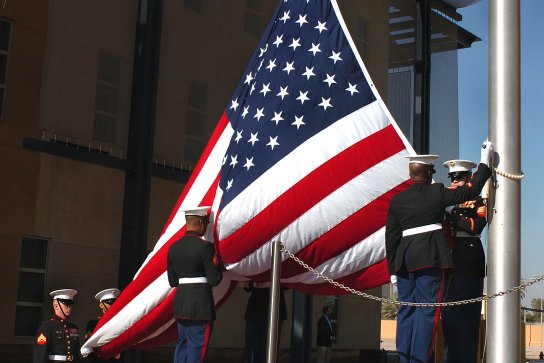 Marines Raise Flag on New U.S. Embassy in Baghdad

U.S. Marines raised the American flag yesterday during the dedication ceremony for the new U.S. Embassy in Baghdad as Ambassador Ryan C. Crocker declared "a new era" for Iraq and the Iraqi-U.S. relationship.
U.S. Marines raise the American flag during the dedication ceremony for the new U.S. Embassy in Baghdad, Jan. 5, 2009. U.S. Army photo by Sgt. 1st Class Derren J. Mazza

Iraqi President Jalal Talabani, U.S. Deputy Secretary of State John D. Negroponte and almost 1,000 invited guests looked on as the embassy's Marine security detachment raised the red, white and blue over the largest U.S. Embassy in the world, with the Army's 4th Infantry Division Band playing the U.S. national anthem.
The compound, set on 104 acres along the banks of the Tigris River in central Baghdad, includes 27 modern office, housing and support buildings in tones that blend with the desert landscape. Officials said the scale of the new complex reflects the importance of the U.S.-Iraqi bilateral relationship.
More than 1,200 U.S. diplomats, servicemembers and government officials and staff from 14 federal agencies will work and live on the compound, embassy officials said. Their tasks and missions run the gamut: supporting local elections, helping to fight corruption, helping develop Iraq's energy and transportation sectors, strengthening the rule of law, providing security training and promoting educational and cultural exchange. In addition, 240 servicemembers assigned to Multinational Force Iraq are based at the embassy.
Construction of the compound began in 2005 and was completed in 2008 at a cost of $592 million, officials said.
Talabani called the new building a sign of how far the U.S.-Iraqi relationship has come.
"This building is not only a compound for the embassy, but a symbol of the deep friendship between the two peoples of Iraq and America," he said.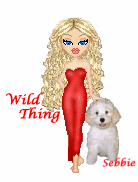 Wild Thing's comment........
OORAH!
When I saw this, the very first thing that came into my mind was how hard our troops fought to get to Baghdad. I will never forget that as long as I live.
Posted by Wild Thing at January 7, 2009 03:47 AM
---
Comments
Exactly--Ooo-Rah!
But you won't see it on tv!
God forbid the liberal communist news organizations show anything good.
They've run this country into the ground because people believe what the media is saying, whether it's true or not.

Posted by: Lynn at January 7, 2009 04:37 AM
---
Keep this as our symbol of hope. We will come back even stronger in 2012. Ever notice how most "experts" end up being dead wrong especially about America. In 1775 the experts were probably saying that his majesty's forces would easily crush the rebellion in the colonies. During WWII the experts were certain that nazi germany was unstoppable and the world was powerless to stop him. During the Cold War the experts were predicting that the ussr was on the verge of crushing the west. Now these "experts" (like that kgb asshole, funny how he's regarded as an "expert" on this) are saying that we are on the verge of collapse. They were wrong then they are wrong now. America will Survive.
Posted by: JohnE PFC U.S. Army at January 7, 2009 04:45 AM
---
A sight to behold and thought impossible a few years ago. Semper Fi and Old Glory now waves in the skies of Babylon! Syria and Iran will no doubt plan to attack OUR U.S. embassy there in the near future.
Posted by: darthcrUSAderworldtour07 at January 7, 2009 10:03 AM
---
The Bush doctrine, it sure must gag Dingy Harry that this has happened. I can't give any success Kudo's to anyone but the setting President and the Ambassadors in boots who made this happen. How long before Jimmy Carter the second screws it up? Well done troops!!! Semper Fi Marines!!!
Posted by: Jack at January 7, 2009 01:08 PM
---
Very heart warming, my Brothers and Sisters. Keep up the good job.
Posted by: Steve Gaston, Extreme Marine at January 7, 2009 05:30 PM
---
The flag raising at the U.S. Embassy symbolizes the liberation of 25 million Iraqis in conjunction with the liberation of 25 million Afghans by U.S. and coalition troops. This contribution to freedom, democracy, and world peace will be a difficult to match for the rest of the 21st century. OORAH!
Posted by: Les at January 7, 2009 05:33 PM
---
Lynn, yes, this is such a HUGE story. I agree Lynn it sure is horrible ow the media does all it can to avoid these stories.
Posted by: Wild Thing at January 7, 2009 06:59 PM
---
JohnE PFC U.S. Army, good idea.
I agree JohnE, whenever I hear one of the "experts", I seldom have heard most of them know what they are talking about. So few of them have even been there to see first hand.
Posted by: Wild Thing at January 7, 2009 07:02 PM
---
Darth, yessss, it brought tears to my eyes. I remember so much the fight to get there, what a day that was when they arrived in Baghdad, that is when they tore down statues of Saddam and smoked some cigars in one of his palaces.
Posted by: Wild Thing at January 7, 2009 07:05 PM
---
Jack, yes, I bet ole Harry Reid didn't want to hear this news. He probably threw the memo away when he got it.
Posted by: Wild Thing at January 7, 2009 07:08 PM
---
Steve Gaston, Extreme Marine, I am so proud of your brothers and sisters. They deserve every bit of praise and thanks for what they have done.
Posted by: Wild Thing at January 7, 2009 07:12 PM
---
Les, it symbolizes so many things, thank you Les.
Posted by: Wild Thing at January 7, 2009 07:15 PM
---