« Burris Consulting With Attorneys After Being Barred From Senate | Main | Hamas - Human Shield Confession »
January 07, 2009
Left Finds Their Own Kind of Patriotism Under Obama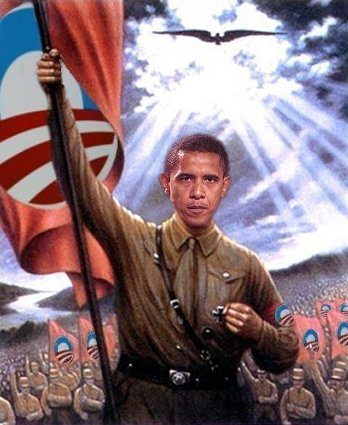 Left adjusts to a new patriotism under Obama
BERKELEY, California: The hundreds who massed at the University of California campus here on election night responded to Barack Obama's victory by heading off on a route that has been for a generation the sacred way for the activist left: out the campus gates, through Sproul Plaza, and down Telegraph Avenue toward People's Park.
By the time they arrived at the intersection of Telegraph and Durant avenues, where a tie-dye vendor occupies one corner, it became clear they did not come to challenge the system now preparing to consecrate a new regime in Washington. At one point, a man scaled a lamppost and unfurled the Stars and Stripes. The crowd broke out in the national anthem.
"People finally felt like our generation had reclaimed patriotism," said Haley Fagan, 24, a Berkeley paralegal who got stuck in a car trying to cross the street as the crowd surged. "It was a moment that we felt comfortable with it."
After generations of finding their voice in dissidence, some Americans on the left wing are adjusting not only to a new postelection comfort with patriotic symbols, but also to the political reality they represent. Believing in Obama after Inauguration Day will mean identifying with the machinery of U.S. power.
"There's a left-wing tradition of being systematically opposed to the U.S. government, knee-jerk reactionary - most of our presidents have made it fairly easy to do," said Jo Freeman, author of "At Berkeley in the Sixties," a memoir of her student activism. "Those who view everything the U.S. does as automatically suspect already have a problem doing that with Obama."
"It will be a patriotic celebration," Birgeneau said in an interview. "That small circle will now be surrounded by a lot of students who are happy to be members of a nation that just elected its first African-American president."
Not since Franklin D. Roosevelt turned the federal government into an aggressive agent of liberalism - pushing the New Deal at home and confronting fascism abroad - has the left felt such a deep attachment and invested such hopes in a head of state.
"People in the '30s felt that for once the government was on their side," the Berkeley historian Leon Litwack said in an interview. "They had never had that kind of relationship to a president before."
Disagreements with U.S. foreign policy, particularly in Vietnam, fueled a cynicism about American might and its trappings, Litwack said. He has written in praise of Free Speech Movement leaders for "eschewing the conventional flag-waving, mindless, orchestrated patriotism."
"They defined loyalty to one's country as disloyalty to its pretenses, a willingness to unmask its leaders, and a calling to subject its institutions, government and wars to critical examination, not only the decisions made by rulers but often their indecision," he said.
Such a view of patriotism was so hardened in Berkeley - where, after the Sept. 11, 2001, terrorist attacks, the Fire Department removed flags from its trucks for fear that they could become targets of antiwar demonstrators - that a gathering of College Republicans made the front page of The Los Angeles Times in 2003 for walking down Telegraph waving flags and singing "America the Beautiful" as a sardonic provocation.

A similar, if earnest, display on election night "did strike me as funny and ironic," said Mark Rudd, who organized campus protests in the 1960s as a national leader of Students for a Democratic Society and who has been critical of President George W. Bush.
"For the last eight years - and probably for much longer - most radicals have been mourning for our country," he said. "Obviously the empire is not going to fall overnight, but at least there's been a popular vote that changes the direction of the last 40 years."

.....the rest of the article is HERE
.
Wild Thing's comment.........
They got their UnAmerican leader...now they won't be burning the flag I guess.
"students who are happy to be members of a nation that just elected its first African-American president"
Communists and socialists happy to have one of their own as President, it has NOTHING to do with that Obama is part black. If they were voting for him because he is a black man then they would also have been for Michael Steele, J.C. Watts, and Justice Thomas.
Being balck has something to do with it but no way is it the only reason.

......Thank you RAC for sending this to me.

RAC has a website that is awesome. 336th Assault Helicopter Company

13th Combat Aviation Battalion - 1st Aviation Brigade - Soc Trang, Republic of Vietnam


Posted by Wild Thing at January 7, 2009 03:55 AM
---
Comments
"Being balck has something to do with it but no way is it the only reason." Yes, it's the same as saying that the civil war was fought over slavery.
"If I thought this war was over slavery I would lay down my sword and fight for the other side."
General Ulysses Simpson Grant, Supreme Commander of the Union Army.
Posted by: JohnE PFC U.S. Army at January 7, 2009 04:48 AM
---
Empire? What Empire? We don't keep territories anymore. The only thing we have that even remotely resembles an "empire" are the 14 insular areas and there is actually debate on whether or not to make them U.S. States. One of these areas such as the Phllipines we granted independence because their people voted for it. When we intervene, we send troops, we get the job done, and we get out. Then for security purposes we leave a small peacekeeping force if the country so chooses and then over time the peacekeepers are withdrawn. We keep troops there on a semi-permanent basis and now we are gradually withdrawing our forces from several countries. The only country that we'll have troops probably longer than anywhere is Korea.
Posted by: JohnE PFC U.S. Army at January 7, 2009 05:28 AM
---
Condi Rice and Clarence Thomas are proud Afro-Americans. Obama is 1/2 white and 1/2 black - the same colors of a zebra, penguin and panda bear. Am I missing something about Barack being black?
- B&W TV 1960 / 2009?
Posted by: darthcrUSAderworldtour07 at January 7, 2009 09:54 AM
---
Does this mean that the leftist radicals will stop demonstrating and protesting? That will be difficult to do. It is in their blood. I believe even minor incidents of moderate governance will cause the Left to protest.
Obama is going to find out that even though he was elected, America is not the socialist Left that he is. He will have to moderate some of his ideas. When he does the professional protesters will get to do their thing and whine, snivel, rave and demand.
Meantime, the Right will be too busy earning tax money and leading responsible lives. Most Americans are too busy and dignified to get out on the streets and act like a band of mad chimpanzees.
Posted by: TomR at January 7, 2009 12:26 PM
---
Harken back a few years when the Pallies won their election, we saw the same displays in their squares and parks,(same people???) it wasn't about 'democracy' then or there and it isn't about black liberation now, it's all about socialism, the blacks have willingly been used to push the communist agenda because too many politically correct whites lack the courage to speak out and too few blacks can see over the self imposed racial barrier. Some see it clearly, as do some non white people. It's reflected in O Vomit's choices that he's being dictated by the left and his own leftist ideals, he's just using the available tools available to all Democrats.

http://www.badeagle.com/journal/archives/2009_01.html#001315
http://blackrepublican.blogspot.com/2008/12/obama-magic-negro.html
Pardon me if I'm not a believer of the hype of Nortius Maximus AKA Bogus Potus. Until then it's hard to take any of their antics as anything American or to take them seriously, a threat yes. My apologies Chrissie, the devil made me do it.

Posted by: Jack at January 7, 2009 12:29 PM
---
Posted by: Les at January 7, 2009 04:23 PM
---
One of these dipshits points out,..." the Constitution, due process, separation of powers, basic legal and human rights - once they have been taken away, or at least radically threatened,"
When exactly did this happen in the last 8 years ? Except their claim that the Gitmo Detainees were denied their Rights. Then suddenly, the Constitution has been breeched. These are POW's in fact they are not even POW's by definition but captured Terrorists. Who when released, have been killed or recaptured. Talk about not knowing what the hell is really going on these people are turly crazy.
Posted by: Mark at January 7, 2009 04:25 PM
---
JohnE PFC U.S. Army, thank you for the quotes.
Yes I think so too what you said about Korea.
Posted by: Wild Thing at January 7, 2009 06:00 PM
---
Darth, your right, we have some very fins blacksk in our party but the left want more then that they have to be far lefties for them to approve. Very sad but true.
Posted by: Wild Thing at January 7, 2009 06:02 PM
---
Tomm, you nailed it and all you said it exactly how it is and will be too.
Also Obama has already seen the Code Pink group protesting him at the Hotel he is staying in right now. So there will still be some groups that have no intention of halting their protests.
Posted by: Wild Thing at January 7, 2009 06:06 PM
---
Jack, LOL no problem, I agree with you.
I will never trust what a leftie says or does. No way. There is nothing about them that shows me they love our country.
Posted by: Wild Thing at January 7, 2009 06:08 PM
---
Les, good ones, they are such slime!!!
Posted by: Wild Thing at January 7, 2009 06:09 PM
---
Mark, DITTO that!!!!
"Talk about not knowing what the hell is really going on these people are turly crazy."
Posted by: Wild Thing at January 7, 2009 06:10 PM
---