« Golden Retriever Puppy with Baby Kittens | Main | IDF: 300 Hamas operatives killed in Gaza »
January 11, 2009
Last Days for Marine Were True Finest Hours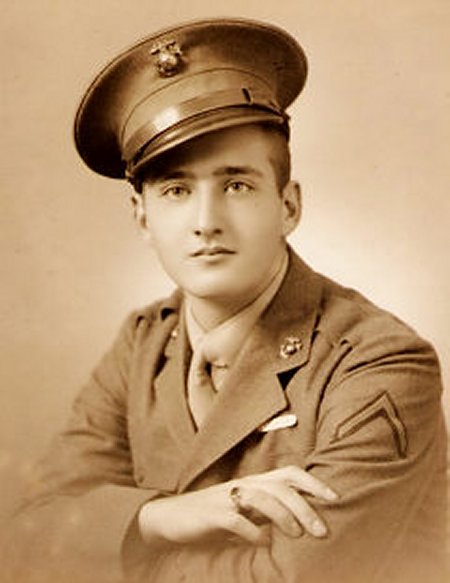 Gaspar Musso, USMC during WW11 days

Last days for Marine were true Finest hours
Sometimes when old Marines die they do fade away into unmarked graves in Potter's Field.
Such might have been the case for Gaspar Musso, USMC 925050, who fought in the Battle of Tinian in the Marianas Islands in 1944 and who died Nov. 15 at age 84 in a Brooklyn nursing home.
Enter Police Officer Susan Porcello, a PBA delegate at the 68th Precinct in Bay Ridge and one of those big-hearted New Yorkers who still make this the best city on Earth.
NYPD officer Susan Porcello
"No way was I going to let this brave old Marine who fought for his country in WWII get buried in Potter's Field," she says.
Porcello first met Musso back in July when she responded to a 911 ambulance call to the retired insurance broker's one-bedroom apartment on, appropriately, Marine Ave.
"When my partner, Eddie Ennis, and I arrived at his apartment Gaspar seemed a little bit down about himself," Porcello says. "He said he felt alone in the world. We talked to him a bit and as I looked around his tidy apartment I noticed that he had served in the military - the Marines to be exact."
Porcello asked him about family and friends. "Look around you, what do you see?" Musso said. "I have no family or friends."
To which Porcello said, "Well, I'm your friend."
Right there, with those four beautiful words, Gaspar Musso was destined to die with the dignity he'd earned with a rifle in his hands, fighting in a USMC uniform, in a war that saved civilization.
If she didn't already wear a badge, you'd want to pin a star on Susan Porcello.
Musso, a diabetic with a host of other age-related maladies, had accidentally overdosed on his prescription medications. Porcello accompanied him to Lutheran Medical Center.
"I told him I'd be back to visit him and take him to a senior center where he could make some friends," said Porcello, who comes from a big Italian family with a mom, dad, three sisters and a brother.
"I told him I was making him my 'Grandpa,' and if he liked, he could spend Thanksgiving with my family. Eddie and I discussed alternating holidays with Gaspar so he wouldn't be alone for any of them."
Two days later Musso was placed in critical care. Porcello asked hospital staff where he'd be buried if he didn't make it. "Potter's Field," said one administrator.
"This infuriated me," said Porcello. "There was no way I was going to let a man who fought for our country be buried in Potter's Field. Not on my watch!"
Porcello told the hospital to keep her apprised of Musso's condition. She had a local priest visit him. Porcello even asked NYPD's Missing Person's Squad to search for next of kin.
No luck.
Musso had been an only child to Anthony and Marie Musso, both deceased. He had no other relatives. Musso's only friend, an upstairs neighbor, had died the year before.
After his health improved, Musso asked Porcello to become his official health proxy.
She transferred him to Caton Park Nursing Home, where he was treated extremely well. She visited him often, learning that Musso was born May 7, 1924, joined the USMC in December 1943, finished training at Camp Lejune in March 1944 and was fighting with the 2nd Marines on Tinian Island by July 1944.
"I visited Gaspar on Nov. 13, bringing him rosary beads, a Bible, and his reading glasses," she said.
"The next day, Nov. 14, I returned and found Gaspar sitting up in a chair, dressed in his own clothes. Looking great."
Porcello washed his hands and face, trimmed his nails and eyebrows and asked if he was coming to her house for Thanksgiving. "I'm trying!" he said. He also asked Porcello to bring him a Christmas wreath for his room.
The next morning Porcello received a phone call saying that Gaspar Musso had died peacefully in his sleep.
No way was she going to let her good friend be toe-tagged and buried in Potter's Field.
Porcello paid out of her own pocket for a wake at McLaughlin's on Third Ave. and a mass at St. Patrick's Church in Bay Ridge, where a crowd of good-hearted cops from the 68th Precinct filled the pews, six serving as pallbearers. Sgt. Angel Rosa of the 68th, also a Marine, arranged for a USMC honor guard at Musso's funeral.
Then taps blew over Gaspar Musso, United States Marine, as he was buried next to his mother at Resurrection Cemetery in Staten Island.
With the dignity he deserved.
Semper Fi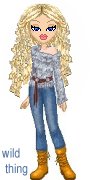 Wild Thing's comment.......
I cried when I read this, what a beautiful story and so touching to see a person reach out to a Veteran , one of our Heroes, like this. God bless Porcello for making a difference in this world.

....Thank you Mark for sending this to me.

Mark
3rd Mar.Div. 1st Battalion 9th Marine Regiment
1/9 Marines aka The Walking Dead
VN 66-67



......And a Hat tip and thank you to Goth Guy for his blog, Gerbil Droppings.
Posted by Wild Thing at January 11, 2009 04:50 AM
---
Comments
Now that is WHAT life is all about! Treating each other with respect and dignity. This young woman found something we have all forgotten in our busy lives and made it work. How wonderful of her. And what a great story this makes.
Thanks for sharing it!
Posted by: Lynn at January 11, 2009 06:36 AM
---
Mark, Chrissie thanks so much for sharing this wonderful story. It reaffirms' my faith in humanity. A quick story on family. While on burial detail at Ft. Bliss we were waiting at a gravesite for the hearse to arrive, I noticed there were no family or friends present. As the hearse came into view, we hurried off the bus into our positions. Out of the hearse came an urn and we buried it/him/her with full honors. I didn't understand the importance of the situation at the time. Later I realized that for this veteran we were his only family. Now I know what they mean when people say, "live forever".
Posted by: James M at January 11, 2009 08:29 AM
---
Another WW II Leatherneck welcomed to guard Heaven's Pearly gates! "I apologize to the Greatest Generation for my 'DEGENERATION of DEGENERATES' in reference to secularism, greed, lust and socialism! These lunes actually think that our blessings from Above are free? - Obamanation rules in 52 hours and counting...
Posted by: darthcrUSAderworldtour07 at January 11, 2009 09:04 AM
---
Thanks WT, Mark and Goth Guy.
That was a heart wrenching story, too many veterans are left alone by their family. Their friends all dead and they have little in common with the younger generation that loathes them. Having spent over 2 years with my unit before deployment we had a civilian employee working with our company, a WWII paratrooper disabled at Normandy, he was there to help keep our equipment in shape, on maneuvers he stayed behind, he was always there to greet us on our return, on his time. We deployed and within the month got word of his passing, he'd taken his service .45 and ended it all. We were his only family and we'd left him behind. It's never too soon to befriend one of the greatest generation. Sometimes 'we' are all they have left to live for. Well said Darth.

Posted by: Jack at January 11, 2009 12:22 PM
---
NYPD Officer Porcello is a saint. At least an angel. This story has made my day. I have known people who work with the terminally ill and others who deliver Meals on Wheels. There are a lot of good people. They just don't command the attention that obnoxious celebs and the criminals do.
Posted by: TomR at January 11, 2009 12:40 PM
---
What a great story! We need to take care of the real hero's in this country. There are fewer of them each and every day...Before I retired from the State Police in MD I would stop by the retirement home that was on my patrol at least once a week while in uniform just to visit and talk to the "old folks"...I learned they are the wisest and smartest of us all and it was one of the best things I could have done...I met some amazing people and got the best advice in the world from these "life" pros..God Bless Her for what she did...there is a special place in heaven for people like her....again Great Story!
Posted by: Dennis at January 11, 2009 04:43 PM
---
Lynn, I agree, she stopped and took the time,and her actions all came from her heart.
I wish this kind of thing happened more often.It means so very much and it is so much deserved by our Veterans.
Posted by: Wild Thing at January 11, 2009 06:59 PM
---
James M, that is wonderful. Thank you for sharing about what happened.
Posted by: Wild Thing at January 11, 2009 07:00 PM
---
Darth, yes there are still good people around and I wish more would share their stories like this. I would bet there are others out there and I would also bet not one of them with a good heart is a dem. They don't have a good heart that I can see.
Posted by: Wild Thing at January 11, 2009 07:04 PM
---
Jack, DITTO that....."It's never too soon to befriend one of the greatest generation"
Posted by: Wild Thing at January 11, 2009 07:05 PM
---
Tom all of what you said is so true. Well said Tom.
Posted by: Wild Thing at January 11, 2009 07:07 PM
---
Dennis, wow thank you so much for sharing about that. That had to mean the world to them when you stopped by like that.

Posted by: Wild Thing at January 11, 2009 07:11 PM
---
Officer Porcello and the rest of the 68th helps renew my faith in fellow human beings. There are good people out there they just don't get the notice they should.
Posted by: Mark at January 11, 2009 07:14 PM
---
Hats off to Officer Porcello. A big "Thank You" to her for her decency and kindness. This is why I read this blog, thanks Wild Thing.
Posted by: Swink at January 11, 2009 11:36 PM
---
I read this story over at Wizbang earlier this week. The police officer, Officer Porcello, is deserving of some sort of medal. What a beautiful story about a wonderful woman!
Hopefully, Officer Porcello, you are aware of the hero you have become!!! Thank you, Ma'am, for YOUR service to our country. We are so blessed to have you...
Posted by: BT in SA at January 12, 2009 12:30 AM
---
Great story. If anyone has Officer Porcello's address, please let me have it as I would like to send her a thank you card. Every now and then you hear about someone such as her so maybe there is still some hope for us after all.
Posted by: cuchieddie at January 12, 2009 05:31 PM
---