« President Bush First Ex-prez to Face Limit on Secret Service Protection | Main | Obama's Pick Richardson Withdraws His Chance To Be Commerce Secretary »
January 05, 2009
Jimmy Carter Charity Homes Start to Crumble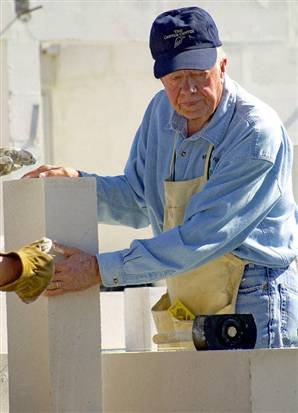 Wow he can do all that work without a speck of dirt. Not his hands, hat, shirt, even his tool belt.....LOL
Charity homes built by Hollywood start to crumble
RESIDENTS of a model housing estate bankrolled by Hollywood celebrities and hand-built by Jimmy Carter, the former US president, are complaining that it is falling apart.
Fairway Oaks was built on northern Florida wasteland by 10,000 volunteers, including Carter, in a record 17-day "blitz" organised by the charity Habitat for Humanity.
Eight years later it is better known for cockroaches, mildew and mysterious skin rashes.
A forthcoming legal battle over Fairway Oaks threatens the reputation of a charity envied for the calibre of its celebrity supporters, who range from Johnny Depp and Brad Pitt to Colin Firth, Christian Bale and Helena Bonham Carter.
The case could challenge the bedrock philosophy behind Habitat for Humanity, claiming that using volunteers, rather than professional builders, is causing as many problems as it solves.
April Charney, a lawyer representing many of the 85 homeowners in Fairway Oaks, said she had no problems taking on Habitat for Humanity, despite its status as a "darling of liberal social activists". She said the charity should have told people that part of the estate had been built on a rubbish dump.
One man pulled up his floorboards to find rubbish 5ft deep under his kitchen. Other complaints include cracking walls and rotting door frames that let in rats and ants. Many residents have complained of mildew and mysterious skin rashes.
One resident said her children were suffering from skin complaints. "The intentions are good, but when the politicians and big-shot stars have left we're stuck with the consequences. This house looks pretty but inside it either stinks or sweats," she said.
Judy Hall, the charity's local development director, said recently that it had been dealing with about 30 complaints. She added that skilled work was carried out by professionals.
Some residents dismiss their neighbours' worries. Diennal Fields, 51, said people did not know how to look after their homes: "It's simple stuff: if there is mildew, don't get a lawyer, get a bottle of bleach."


Wild Thing's comment.........
The "Habitat" ones he helped build in South Dakota some years ago only made it to the first snowstorm—the roofs caved in.
You let Jimmy "Habitat for Hamas" Carter build your house, you take your chances. I guess the people also expected someone to maintain the house for them as well.

....Thank you Lynn for sending this to me.
Posted by Wild Thing at January 5, 2009 02:47 AM
---
Comments
While it's good to care for your fellow man, you can't just do it shoddily and expect nothing to happen later on. Plus, with Habitat, to get one of those homes, you have to put in time building others homes as well. You never get out from under them. And there are income restrictions.
Now, yes, the homeowner should take care of certain things, but to find garbage 5 feet thick under the kitchen floor is ridiculous! That's nothing the homeowner did. Makes you kind of wonder if they built the homes on the remains of a garbage dump!
Makes it kind of look like Habitat was saying, "hey, look what we did! Aren't we just the greatest thing since sliced bread?"
Posted by: Lynn at January 5, 2009 04:30 AM
---
And you know there were plenty of people with sincere good intentions that worked on this who have to feel bad.
Reminds me of those Extreme Home Makeover stories you can find googling where the people have mortgaged or lost their homes other ways, or they are falling apart.
Common sense tells you, no matter how many people you have working on it, unless it's an Amish barn raising, there are going to be problems.
Posted by: Eden at January 5, 2009 05:16 AM
---
Carter is a phony posturing self aggrandizing bastard, did I mention traitor? I wouldn't let him near anything of value or security.
If one person can pound a hundred nails in an hour imagine what 10,000 can do in the same time frame. Where is Jimmah's contracting license and credentials, where is his qualified labor, isn't this a union violation? What a CF.
Just before my uncle called me to go to work for him I was a road whore for a John Deere dealer, I'd get a service call and off I'd go, typically 75 miles out all around the compass points, day or night. One of my service areas was on the reservation, in '64-'66 the Feds had came in and built tract housing for them, single occupancy frame homes with all the amenities, livable, but nothing elaborate. By '68 these homes were a shambles, abandoned, vandalized, the yards grown up with weeds. Out of curiosity I stopped one day on a service call to take a look, what a shock. The residents had torn out the hardwood flooring and used it for firewood in the fireplaces, the crawl spaces were full of trash, that indoor luxury, the bathroom was demolished, the tub now a stock watering trough out in the yard, it's crawlspace was now the privy. Any and all appliances were long gone.
I was out that way this past summer, all traces of the 'development' are gone, bulldozed. They're in the casino business these days, gamblers on one side and those reliable taxpayers on the other, life is sweet.
Several lessons to be learned, don't be housing those who don't appreciate a home nor put forth any effort to own one. Don't build something so shoddy that nobody will respect it and above all it has to be overseen and protected, the builder as well as the owner have to be held accountable.

Posted by: Jack at January 5, 2009 09:41 AM
---
This is 'Love Canal' revisited. They built this complex on a garbage dump. Almost as bad as a Chemical dump site. When I lived in the Buffalo Area, we live about 7 miles from the Love Canal. The whole development was sponsored by City of Niagara Falls, Planning department.
As far as Carter goes his organization is "non-profit", and only Union employees can volunteer for this bogus building. If You are not Union don't bother. The workers are not paid because it is for the good of the 'Po-People'. Now young apprentices and very inexperienced journeymen have to volunteer for these assignments through the Union. Since they don't get paid, there is no incentive to do a good job, but hurry up and get it done and get the hell out of there to go to a real job where the money is.
All material is donated, for political favors of course. When the inspectors come by they give it the once over and are gone. One rule in Ohio, was that an inspector could not be held responsible for shoddy workmanship, even though he apporved it.
Maybe now the laws will tighten up and lock up some of these do-gooders, like carter, and give the building trade back to the contractors.
Posted by: Mark at January 5, 2009 10:32 AM
---
I talked to a guy involved with Habitat in our area and he says some of the people who got these houses are always complaining and want everything done for them, including changing light bulbs. They call them for everything from when their cars break down to when they need groceries.
I guess the old adage of "you paid nothing so you got nothing" applies here.
Posted by: BobF at January 5, 2009 10:43 AM
---
Sub-prime medieval castles and photo ops, eh Sir Thanks A Lot?
- Peanut Farmer 1976 & 2009
Posted by: darthcrUSAderworldtour07 at January 5, 2009 11:39 AM
---
A couple of kids here came and rang our doorbell this past fall. I answered. They were collecting $$$ for "Habitat for Humanity." As is my usual response to kids who are soliciting - for whatever cause or reason - I said, "Just a minute. Let me get my wallet." Then after I shut the door and went to go retrieve some money - I realized, "no." Not contributing to "that" cause. Went back to the door and said, "I will not contribute to Habitat for Humanity because of the political agenda it supports." The two little girls were dumbfounded. But I refused to contribute. I hope they told whoever was "leading" their group that some nasty woman refused due to politics. So be it. Girl Scout calendar? Sure. Here's 10 riyals. Boy Scout Pizza event? Here's 25 riyals. Habitat for Humanity? Nope. No can do.
Posted by: BT in SA at January 5, 2009 01:36 PM
---
"A 17 day blitz" is the secret that every engineer sees. It takes time for concrete to set up, for plaster to dry, for paint to dry, for floor mastics to outgas. You can shorten the time it takes to build a house only so much before things fall apart.
Jimmy never had an idea of what maintaining humanity took while he was President, he hasn't changed since leaving office.
Posted by: Avitar at January 5, 2009 02:53 PM
---
Jimmy Carter is such a POS that nothing about him surprises me anymore. Everything that he touches turns to crap or was crap to start with.
Posted by: Les at January 5, 2009 05:02 PM
---
Once again Carter proves what a worthless piece of human excrement he is. I wish every day that he will finally drop dead.
Posted by: cuchieddie at January 5, 2009 05:10 PM
---
Lynn....""hey, look what we did! Aren't we just the greatest thing since sliced bread?" .....
I agree with you, that statement in quotes is exactly one of the big things I don't like about it.
Posted by: Wild Thing at January 5, 2009 08:11 PM
---
Eden, yes I ams sure other then Carter there were people trying really hard to do something from their heart. Too bad that latched on to something Cater was involved with.
Posted by: Wild Thing at January 5, 2009 08:13 PM
---
Jack ditto and amen to that!!!!
"Carter is a phony posturing self aggrandizing bastard and traitor. "
Posted by: Wild Thing at January 5, 2009 08:15 PM
---
Mark, GREAT way to put it.

"This is 'Love Canal' revisited."

Yes and I bet since Carter was involved they let a lot of things slide.

Posted by: Wild Thing at January 5, 2009 08:18 PM
---
BobF, thanks for sharing about that. Yes that does not surprise me at all. Sad but true.
Posted by: Wild Thing at January 5, 2009 08:22 PM
---
Darth yes the peanut farmer withi the peanut sized brain.
Posted by: Wild Thing at January 5, 2009 08:23 PM
---
BT in SA, haha you are like me I would have done the same thing. Thank you for sharing about that.
Posted by: Wild Thing at January 5, 2009 08:25 PM
---
Avitar, ......"Jimmy never had an idea of what maintaining humanity took while he was President, he hasn't changed since leaving office. "......yes your so right.
Posted by: Wild Thing at January 5, 2009 08:28 PM
---
Les, ditto that, if I was in charge Carter would not even be out on the streets. That is all I will say but I am thinking a hell of a lot more.
Posted by: Wild Thing at January 5, 2009 08:29 PM
---
cuchieddie, when he does I will be serving champaign at this blog.
Posted by: Wild Thing at January 5, 2009 08:31 PM
---
So, Jimmah's not even any good as a jackleg carpenter??
Posted by: Rick at January 6, 2009 11:24 PM
---
HfH affiliates have varying rules for their homeowners, consistent rules include homeowner education and sweat equity 300-500 hrs per family, downpayments and no interst mortgages. Yes, homeowners are supposed to be responsible for maintenance. The "good deal" may hold them to resale only to the affiliate for the amount of principal paid on the mortgage. Homeowners are not paid or reimbursed for any improvements (ie deck,nice landscaping etc)if they choose to sell the house back.It is affordable, but the HfH homeowners have a lot of restrictions that they agree to, it's is more a conservatorship than ownership. Florida is not the only case of "shoddy building" by HfH. Run a Google search and find that there have been other valid lawsuits filed against an affiliate, mold, violation of building codes, infrastructure. Building on an old dump is just one of the more sensational ones where the affiliate did not work with the homeowners when the problems started, but took the attitude that the people had bought the house and the affiliate was no longer involved...........EXCEPT if the people want to leave and sell the house back. Affordable, yes and no, some problems are far to costly for the income levels that HfH professes they help. Many affiliates are upping their purchase prices and therefore the income requirements of their homeowners, in effect disposing of the very mission statement of HfH and becoming more like the professional for profit builder.
Posted by: Jay at January 7, 2009 03:53 PM
---