« Last Days for Marine Were True Finest Hours | Main | Democrats Use The Word Democracy But They Are Wrong »
January 11, 2009
IDF: 300 Hamas operatives killed in Gaza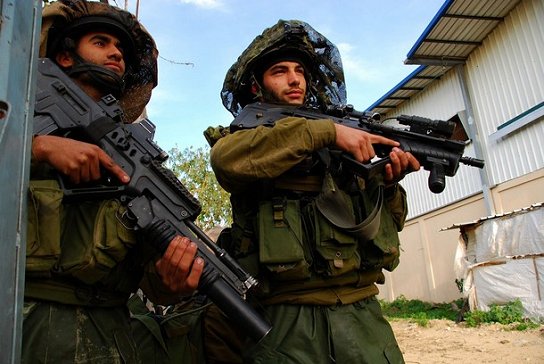 Israeli army paratroopers take part in the fight against Hamas militants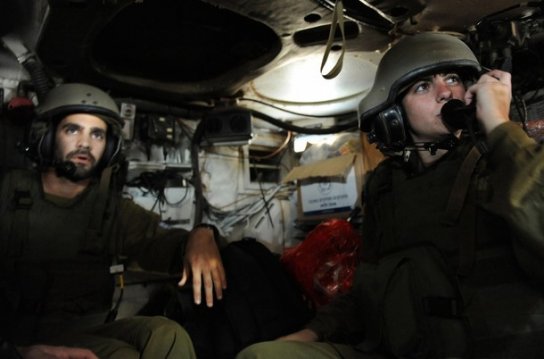 Israeli army paratroopers Captain Amit Kaufman (R) leads his soldiers in the fight against Hamas militants on January 10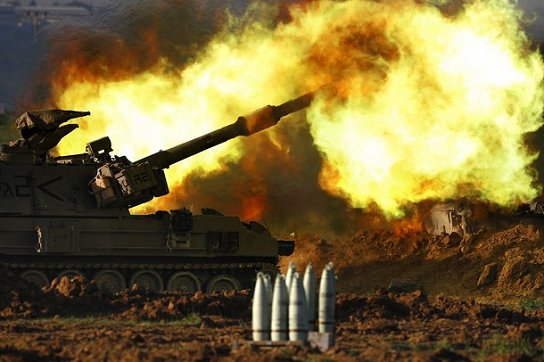 An Israeli mobile artillery unit fires a shell towards Gaza from its position outside the northern Gaza Strip January 10, 2009. Israel pressed on with a punishing Gaza offensive and Hamas fired more rockets into the Jewish state on Saturday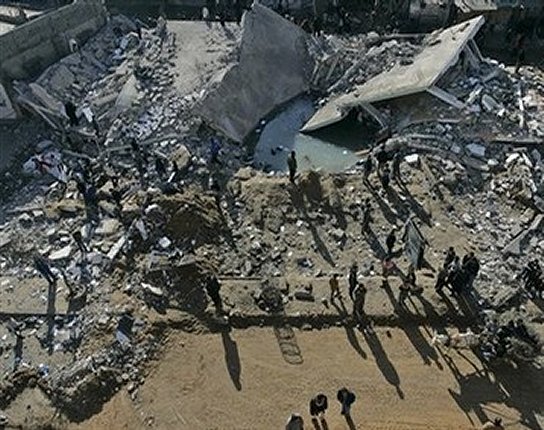 Palestinians gather next to a building used by the Islamic group Hamas after it was hit in an Israeli missile strike in the Zeitoun neighborhood in Gaza City,. Israeli jets and helicopters bombarded Gaza.
IDF: 300 Hamas operatives killed in Gaza
IDF troops in the Gaza Strip on Saturday targeted Hamas operative Amir Mansi, a senior member of Izzadin Kassam, the group's military wing.
A senior commander of IDF operations in the Strip said that Mansi was the head of the Gaza Strip rocket division, and was previously involved in dozens of rocket attacks against Israel in recent weeks.
He was also known to be a close associate of Hizbullah, and received information from the group on a regular basis.
Mansi was killed while attempting to fire mortars at Givati troops at Jabal Rice, in the northern Gaza Strip. Two other combatants were also hit.
The IDF commander said the fact that Mansi was personally involved in attacking Israeli troops showed that the Hamas military wing was in a serious state of distress, as senior Hamas operatives would not ordinarily venture out into battlefields.
The IDF officer also said that entire companies of Hamas had been completely wiped out, and some Hamas fighters had gone AWOL or fled battlefields.
"They are afraid to come out and fight, that's why Mansi went out to fire rockets on his own," the officer said.
The officer also said that Hamas had replicated nature reserves that the IDF found in southern Lebanon in 2006, with built-up urban areas in Gaza City. The group was said to have built up tunnel systems in such a manner that if the IDF deepened its operation into the city, it would encounter face-to-face and hand-to-hand resistance.
Meanwhile, the IDF announced that at least 300 Hamas operatives have been killed since the ground offensive stage of Operation Cast Lead was launched a week ago. The IDF estimate was backed up by intelligence.
Also Saturday, IAF planes dropped leaflets warning Gaza residents of an escalation in attacks, as southern Israel came under more Palestinian rocket fire.
"The IDF will escalate the operation in the Gaza Strip," the leaflets said in Arabic. "The IDF is not working against the people of Gaza but against Hamas and the terrorists only. Stay safe by following our orders."
The leaflets urged Gaza residents not to help Hamas, and to stay away from its members.
The Israeli military said more than 15 terrorists were killed in fighting overnight Friday. It said aircraft attacked more than 40 targets including 10 rocket-launching sites, weapons-storage facilities, smuggling tunnels, an anti-aircraft missile launcher and gunmen.
Seven soldiers were lightly wounded during the operations and taken for medical treatment.
The dropping of the leaflets appeared to be partly a psychological tactic. Defense officials say they are prepared for a third stage of the offensive, in which ground troops would push much further into Gaza, but are still waiting for approval from the government.
The officials, speaking on condition of anonymity as they were discussing classified information, said the army has also planned a fourth stage which calls for a full reoccupation of Gaza and toppling of Hamas.
The Associated Press reported that during the day an Israeli tank shell landed outside a home in the northern Gaza town of Jebalya, killing nine people as they sat outside in their garden. Separately, a woman was killed by an Israeli air strike in the southern town of Rafah.
During the night, troops from the infantry, tanks, artillery, engineering and intelligence corps were engaging with Hamas operatives. Snipers fired at soldiers from the Paratroopers Brigade. The troops fired back and reported a hit. Mortar shells were fired at soldiers from the Givati infantry brigade. Troops returned mortar fire.
Between 1 p.m. and 4 p.m. Saturday, the military halted fire in order to allow the transfer of humanitarian aid into Gaza. The "humanitarian corridor" has been observed daily since Wednesday.

Wild Thing's comment......
GO ISRAEL! No cease-fire until all objectives are met!. Run them into the ground. Tha Hamas are killers and need to be wiped out. I am so proud of the IDF.

....Thank you Mark for sending this to me.

Mark
3rd Mar.Div. 1st Battalion 9th Marine Regiment
1/9 Marines aka The Walking Dead
VN 66-67


Posted by Wild Thing at January 11, 2009 04:55 AM
---
Comments
I know that's right-no letting up. Hamas has got to come to realize they aren't the center of any world anywhere and come down off that damn high horse of theirs.
I'm sorry the Palestinians got cheated way back when, but that is not the fault of anyone in today's world. Talk to God about it. Don't take it out on innocents because with Israel, they will respond and you might not like how.
Posted by: Lynn at January 11, 2009 06:32 AM
---
Israel has 9 days to grind Hamas into the ground....because when Obama comes into office he will place pressure on Israel to accept a joint Eyptian/Turkish/UN peace deal. Watch this space...
Posted by: Lyn in Australia at January 11, 2009 07:33 AM
---
GOD created the earth in six days so no problem for God's chosen ones... 300 islamofascists KIA x 72 virgins = 21,600 busy bodies in Harem Heaven, eh? I'm flying my 3' x 5' Lone Star Texas Flag over the next 52 hours in honor of GW BUSH! My liberal neighbors detest this. Too bad. Obamanation my *ss!!
Posted by: darthcrUSAderworldtour07 at January 11, 2009 08:57 AM
---
300 is an excellent start!
Posted by: Duane at January 11, 2009 10:55 AM
---
The IDF learned well from the mistakes in 2006. I hope the Israeli politicians also learned. The muzzies never learn.
It looks like the IDF is very systematically kicking ass. They may have to reoccupy Gaza. Hell, they have paid for it at least twice now,
Darth, fly that Lone Star Flag often. It still represents freedom.
Posted by: TomR at January 11, 2009 11:50 AM
---
Muzzie absolution for the sin of envy being 72 even-toed doe eyed ungulates for the descendents of Cain. Small price to pay for martyrdom. More, more , get some more. Well done IDF, 300 is a nice start you are providing the world some relief.
"Life is pleasant. Death is peaceful. It's the transition that's troublesome."
- Isaac Asimov
Posted by: Jack at January 11, 2009 11:54 AM
---
Lynn, yes I honestly don't know how Israel goes as long as it does between fighting back. I love owhen they do because they don't miss, their IDF is awesome like our troops. I pray so much they will always be on the same side. I know in their hearts our troops will be it is just what the heck is going to happen when Obama rules and that is what he will do too...rule.
Posted by: Wild Thing at January 11, 2009 06:37 PM
---
Israel has shown remarkable restraint in it's response to the over 7000 shrapnel filled rockets, missiles, and mortars launched by Hamas and it's not-so-innocent civilian population that they targeted exclusively at Israel's civilian population center's these last three years and that continues today despite Israel's current defensive military action. No other country in the world would have allowed this declaration of war against it's civilian population for one week, not three years, without a massive and crushing response. How many Israelis and Jews would be killed and seriously injured and maimed if the military might was reversed? Tens, hundreds of thousands, or millions for sure. So, stop with this Palestinian "innocent civilian" garbage. It is pure BS for the Jew-hating and terror supporting Kool-Aid drinkers.
Those who criticize Israel for a disproportionate response to Islamofascist terrorist cowards who use women, children, mosques, hospitals, and schools as shields, weapons caches, and missile/rocket/mortar launch sites for their savage behavior are hypocritical bastards who would not tolerate this war-like action on their own soil. This includes the UN and Vatican itself.
No matter what progress Israel has made until now it will cave as it has done every time before to international pressure for an Islamofascist terrorist hudna (false cease-fire). The only response to this terror is total annihilation of the enemy and it's not-so-innocent supporters. If Israel gives in to the enemy with another false "cease-fire" then these terrorists will win and take it as a green light to expand their active focus and wrath at Europe and the United States.
Posted by: Les at January 11, 2009 06:40 PM
---
Lyn in Australia, good point, this will be a lot different with Obama's agenda.
Posted by: Wild Thing at January 11, 2009 06:40 PM
---
Darth, oh my gosh I LOVE it. I can just imagine your neighbors steaming. heh heh
I LOVE that flag.
Posted by: Wild Thing at January 11, 2009 06:43 PM
---
Duane, I agree it sure is.
Posted by: Wild Thing at January 11, 2009 06:44 PM
---
Tom, I agree, I sure hope those in charge like Olmert let the IDF keep going on this instead of stopping them like he did last time. That would be so hard as a solider the stop and go like that. They are fighting back so beautifully, I am so proud of them.
Posted by: Wild Thing at January 11, 2009 06:51 PM
---
Jack, that is a perfect quote for this, thank you.
Posted by: Wild Thing at January 11, 2009 06:52 PM
---
Les, I agree so much, there is no such thing as a "disproportionate response to Islamofascist terrorist" no way.
Posted by: Wild Thing at January 11, 2009 06:54 PM
---
PS: I tell these hygienically challenged un-neighborly left-wing lune bats that I am flying the flag of... CHILE? I fly the U.S. flags of heritage too and perhaps the Stars on Bars will wave on the 20th? God bless diXie! They think our SC Palmetto State flag is a muslim flag too!
Posted by: darthcrUSAderworldtour07 at January 12, 2009 11:20 AM
---