« A Visit To Gov. Sarah Palin During The Holidays 2008 | Main | Roland Burris Resume Chiseled in Stone »
January 03, 2009
Gov Palin Welcomes Int'l Delegation to Celebrate 50 Years of Alaska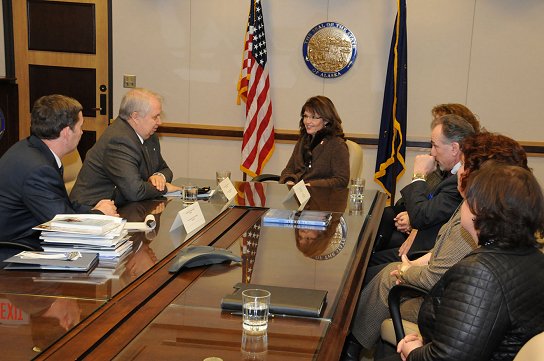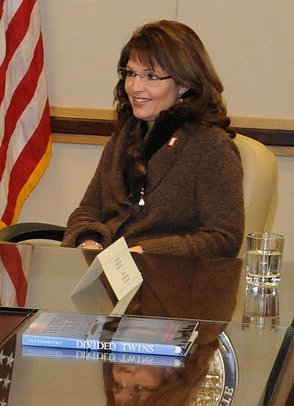 Gov Palin welcomes int'l delegatioin to celebrate 50 years of Alaska
January 2, 2009, Anchorage, Alaska – Governor Sarah Palin today is welcoming an international delegation of diplomats who are traveling to Alaska to celebrate Alaska Statehood Day on January 3, 2009. Representatives from several Asian and European countries accepted Governor Palin's invitation to participate in weekend celebrations marking the 50th anniversary of Alaska being admitted to the Union.
"We welcome these representatives with our best Alaska hospitality. We are pleased with their recognition of the importance of our 50th anniversary," Governor Palin said. "It is a special honor to welcome Ambassador Kislyak and to showcase our state to this high-profile international group."
Among the traveling dignitaries is Mr. Sergey Kislyak, newly appointed Ambassador of the Russian Federation to the United States, who is making his first visit to Alaska.
"I am so pleased to be here this weekend," Ambassador Kislyak said. "As discussed in my meeting with Governor Palin, it is encouraging to note the similarities between Alaska and the Russian Far East. Our existing commercial connections and the mutually beneficial nature of our professional partnerships can only help provide a measure of stability as, together, we face the global economic challenges that lie ahead."
Ambassador Kislyak also met with representatives of the Aleut International Association, Institute of the North, Alaska Rule of Law Initiative, National Parks Service, ISER Alaska Chukotka Project, and Turnagain Elementary School Russian Immersion Program, all of whom have been involved in multi-year Russia-related projects.
In addition to Ambassador Kislyak, foreign dignitaries include Yuri Gerasin, Consul General of the Russian Federation; Julian Evans, British Consul General; John Mataira.. and Haijun Wang, Deputy Director General of the Foreign Affairs Office of China's Heilongjiang Province. Mr. Wang is leading a four-person delegation from Heilongjiang Province, a sister province to Alaska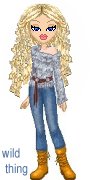 Wild Thing's comment.......
Was Obama ever leading delegations of foreign diplomats from Russia, the UK, China, ROK, Canada and others(3 of whom are UN P5 members with nukes) when he wasn't bothering to hold meeting on the Senate Foreign Relations committee?
Will Katie Couric be reporting on this? Interviewing the Russian Ambassador? Are they other governors meeting with diplomats from the P5 countries?
Notice the book "Divided Twins" in front of her, which is all about the similarities between Alaska and Siberia. I wonder if all the MSM pundits who got thrills up their legs when they saw Obama reading The End of America by Fareed Zakharia(or some similar title) have ever heard of that book. I wonder if they've read it.
Posted by Wild Thing at January 3, 2009 06:50 AM
---
Comments
"The difficulty in understanding the Russians is that we do not take cognizance of the fact that he is not a European, but an Asiatic, and therefore thinks deviously. We can no more understand a Russian than a Chinaman or a Japanese, and from what I have seen of them, I have no particular desire to understand them, except to ascertain how much lead or iron it takes to kill them. In addition to his other Asiatic characteristics, the Russian have no regard for human life and is an all out son of bitch, barbarian, and chronic drunk." George S. Patton, 8 August, 1945
Posted by: JohnE PFC U.S. Army at January 3, 2009 09:10 AM
---
The only time this woman ever takes a bad picture is when Tina Fey is imitating her.
Posted by: Eden at January 3, 2009 09:22 AM
---
Most states don't celebrate their statehood days anymore. I know Colorado's is August 1, 1876. To the government, those days are not important and they haven't been since the bicentennial in 1976. And as for reporting things like this, it's not important enough to make the evening news.

Posted by: Lynn at January 3, 2009 10:18 AM
---
The United States lost out on a great Vice-President in Sarah Palin. Alaska continues it's good fortune to have her as it's governor and champion of the State.
Posted by: Les at January 3, 2009 04:00 PM
---
Lynn, here is a unique history lesson of the state I'm from and one that is still celebrated even today. October 2, 1835, 100 mexican soldiers under the command of Francisco de Castaneda arrive in the town of Gonzales in the state of Coajuila y Tejas with direct orders from Generalissimo Antonio Lopez de Santa Anna to retrieve a small cannon given to the township to repell indian attacks. The people responded by hastily assembling a militia and making a flag with a black star a picture of the cannon and the phrase "COME AND TAKE IT" after a brief skirmish the mexicans withdrew from Gonzales. Texian Militias led several successful battles against the mexicans including Capturing the City of San Antonio de Bexar and the Fort known as The Alamo forcing the mexican forces under General Martin Perfecto de Cos to withdraw to Mexico City. In 1836 Generalissimo Santa Anna marched an army of over 6,500 soldatos through the coldest winter on record the force was divided between Santa Anna and Jose de Urrea on February 23, 1836 Santa Anna's force of 2,400 men arrived in San Antonio Causing the Texian Garrison under the command of Lt.Col William Barret Travis to withdraw into the Fort. For 13 days the Texan Soldiers were cut off and waiting in vain for reinforcements from General Sam Houston. On March 6, 1836 after midnight Santa Anna ordered his troops to assault the Alamo. After being repulsed twice and suffering very heavy from Texan Cannon, Rifle, and Shotgun Fire, the Mexicans scaled the walls of the Fort and began to storm inside after the battle only non-combatants and soldiers that had previously left as couriers were alive. Among the dead were William Travis, James Bowie, and Davy Crockett. people remained alive Susanna Dickenson December, in Goliad, Texas General Urrea and a force of about 2,000 soldatos caputred the Presidio La Bahia and the 500 Texan Soldiers garrisoned there as well as there commander Colonel James Walker Fannin. on Palm Sunday March 27, 1836 by the order of Santa Anna and against the recommendation of Urrea the Texans were marched awayfrom the Garrison and to the Town of Goliad when at about 8:00 a.m. the Mexicans about faced and executed all but 28 of the 342 survivors in what is now known as the Goliad Massacre. Meanwhile as Santa Anna was pursuing General Houson he was met with a suprise attack at the Battle of San Jacinto and in 18 minutes the mexican force of 1,200 men under Santa Anna suffered 630 Killed, 208 wounded, and 730 Soldatos were captured with Texan casualties of 6 Killed and 26 wounded. A few days later Antonio Lopez de Santa Anna was captured wearing a private's uniform and his identity was realized by his men shouting "El Presidente!" in exchange for his life Santa Anna granted Texas' Independence and the Republic of Texas was Born. After nearly a decade of existing as its own sovereign nation Texas sought annexation by the United States and on December 29, 1845 Texas became the 28TH State of the United States of America.
Posted by: JohnE PFC U.S. Army at January 3, 2009 09:06 PM
---
Eden your right. She is so photogenic. It doesn't matter where she is or what the situation is, she is somehow prepared. What it is I think is an abundance of self confidence, she is unafraid to be who she is and it shows. She didn't change when she was on stage with McCain to when she was shaking hands with the crowd. She is a nautral.
Posted by: Mark at January 3, 2009 09:49 PM
---
I agree with all of you. Sarah is beautiful and veruy photogenic, I love her smile it makes me smile back when I see it. It is really a joy to find things and post them about her.
It feels so good to have someone that is a politician that really loves America and thinks so much like all of us do.
Posted by: Wild Thing at January 4, 2009 12:08 AM
---
She's rare, she's genuine, and like GWB, she lets the slams roll off her like water off a duck's back.
That's why they are so very scared of her. They thought the first round of slams against her would send her little woman self back to her igloo.
That's a true sign of leadership in my opinion. Able to do their job without letting personal feelings get in the way.
Then theirs Fauxbama, who gets irritated if he's asked a question while he eats his waffle.
Posted by: Eden at January 4, 2009 03:46 AM
---