« Alan Colmes Attacks Former Special Ops Soldier For Defending Israel | Main | In Country With Our Army & Marines in Iraq »
January 08, 2009
Four Presidents and Obama Lunch At White House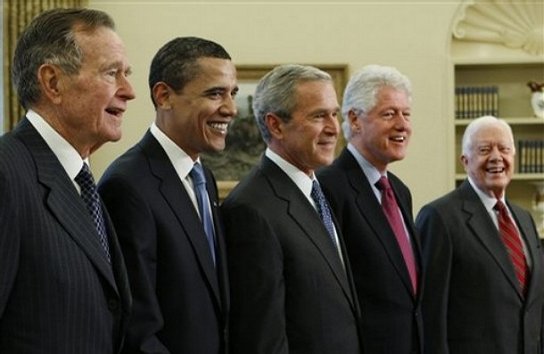 President George W. Bush stands with President-elect Barack Obama (2nd L), former President George H.W. Bush, former President Bill Clinton (2nd R) and former President Jimmy Carter (R) in the Oval Office of the White House in Washington, DC, on January 7, 2009.

Dana Perino:
"For the first time in over 27 years, all living U.S. Presidents will meet together at the White House in what will certainly be a historic gathering. These former Presidents have experienced something that, as I said yesterday, very few of us can even imagine. And President Bush is happy to welcome President-Elect Obama to lunch today, because he will soon be a member of this small group … The last such meeting at the White House was on October 8, 1981, when all living former Presidents -- Nixon, Ford and Carter -- met Ronald Reagan before departing for the funeral of Egyptian President Anwar Sadat. "
President Bush:
"I want to thank the President-elect for joining the ex-Presidents for lunch. And one message that I have and I think we all share is that we want you to succeed. Whether we're Democrat or Republican, we care deeply about this country. And to the extent we can, we look forward to sharing our experiences with you. All of us who have served in this office understand that the office transcends the individual. And we wish you all the very best. And so does the country. "
Stammering Obama can't even do a simple thank you speech. OMG a 3 year old could communicate better then Barack Hussein Obama.
Posted by Wild Thing at January 8, 2009 02:55 AM
---
Comments
I saw the first picture of the 5 Presidents and I thought maybe I should print that out, it's kind of neat. Then I saw the second Stooges one and thought, "now THAT'S a keeper!"
GWB has always been hard for me to listen to without wanting to help him talk, but he's Orator of the Century compared to BO. B. Hussein is like nails on a chalkboard.
Remember our first real introduction to the real Word Bumbler Obama at the Saddleback Forums? Rick asked him 27 questions, I counted 248 uh's. Then there's that stuttering thing and the long drawn out annnnnnnnnnnnnnnd.
I would NEVER make fun of someone with a speech problem, but I'm making an exception here because I just can't believe how often the goofy media calls him a great speaker. Ha!
If Sarah talked like that...well, she doesn't but she still gets the rail for her speech patterns. I'm a hick I suppose, she talks like me.
But when BO does this stumbling about on his words, the goofy media calls it being "thoughtful." Oh, please.........it's more like can't think without his prompter.
Posted by: Eden at January 8, 2009 07:19 AM
---
Obama couldn't speak because he didn't have a teleprompter in front of him.
Posted by: BobF at January 8, 2009 07:23 AM
---
The look on Bush the Elder's face as The O is talking is priceless!
The O tried to look humble...I guess that's above his paygrade too.
Posted by: yankeemom at January 8, 2009 07:24 AM
---
Interesting picture. I notice that only the Democrats are barring their teeth.
Posted by: Steve Gaston at January 8, 2009 07:51 AM
---
No teleprompter. BobF beat me to it!
BHO didn't get the memo. He wore the wrong tie.
There are a few other versions of this group photo on the blogosphere, right now. Take a look at the first one on Flopping Aces and tell me that the body language of Jimmah Cahtah doesn't speak volumes...
GWB has always been and will always be a very gracious and respectful man. He has too much class to be hanging out with anyone in that group but for his Dad.
Posted by: BT in SA at January 8, 2009 08:27 AM
---
The best President of the last 40 years is not there.
Posted by: TomR at January 8, 2009 11:12 AM
---
From the Washington Times
http://www.washingtontimes.com/news/2009/jan/08/obama-upstages-bush-at-gathering-of-the-presidents/
After Bush spoke he said.......
-----------
"Thank you all." Done, finished, over and out.
Junior White House staffers immediately bellowed "Thank you! Thanks, guys!" in an aggressive call for the press to vamoose. The giant "scoop" television lights that illuminated the members of the world's most exclusive club were quickly shut off as reporters and photographers began heading for the door.
But just then, the man who takes over the house on Jan. 20 on a long-term lease -- four years, with an option to renew for four more -- decided that the show wasn't quite over.
With a wave of his right hand, he froze the press corps in place. Still in the dark, and with Mr. Bush fidgeting next to him, Mr. Obama stammered at first, taking the floor in a room that, for eight years, has fallen silent after the president has spoken and his staffers have called out, "Thank you!"
---------------
Just one more example of the BOGUS POTUS showing no class or respect for tradition as he upstages Bush to show everyone how important he is.
http://i90.photobucket.com/albums/k249/Maccono_2006/obama_full.jpg
http://www.anniemayhem.com/blog%20pics/ObamaChange.jpg
Posted by: Les at January 8, 2009 02:08 PM
---
I saw this yesterday on Fox, there are four together and off to the right about a foot is Carter, he is definitely keeping his distance from all of them. Or they are keeping their's. Carter is a pariah even to the democrats.
Posted by: Mark at January 8, 2009 04:14 PM
---
Instead of Larry, Moe, and Curly in the second picture they could just as well be Barry, Blow, and Surly.
Posted by: Les at January 8, 2009 05:14 PM
---
Eden, hahaha thank you.
It was always easy to listen to George Bush, now to try to hear what Obama has to say I can't stand it. I too start counting the ah's uh's etc. He better take a teleprompter with him when he meets with foreign leaders.
Posted by: Wild Thing at January 8, 2009 06:00 PM
---
BobF, hahaha exactly. He really is a terrible speaker.
Posted by: Wild Thing at January 8, 2009 06:03 PM
---
Yankeemom, LOL yes I think your right.
"The O tried to look humble...I guess that's above his paygrade too."
Posted by: Wild Thing at January 8, 2009 06:05 PM
---
Steve Gaston, haha yes,
I love how the four of them are standing at a slight distance from Carter.
Posted by: Wild Thing at January 8, 2009 06:08 PM
---
BT in SA, LOL good one. Thank you for the link. Yes it sure looks like eithes Carter is standoffish or the other 4 don't want to stand too close to Carter.

hahahahaa
Posted by: Wild Thing at January 8, 2009 06:13 PM
---
Tom, I agree, I sure do miss Reagan.
Posted by: Wild Thing at January 8, 2009 06:17 PM
---
Les, LMAO thank you so much for the link and information.
Posted by: Wild Thing at January 8, 2009 06:20 PM
---
Mark, Ditto that he sure is.
"Carter is a pariah even to the democrats"
Posted by: Wild Thing at January 8, 2009 06:22 PM
---
I was hoping Carter would choke on the corncob he was eating.
Posted by: cuchieddie at January 8, 2009 07:18 PM
---