« America Hating Corrupt Harry Reid's Land Grab | Main | Obama Is A Failed President Elect! Sacrifice is His Favorite Word! »
January 12, 2009
California Woman Raises Troop Morale With 'Pin-Ups for Vets' Calendar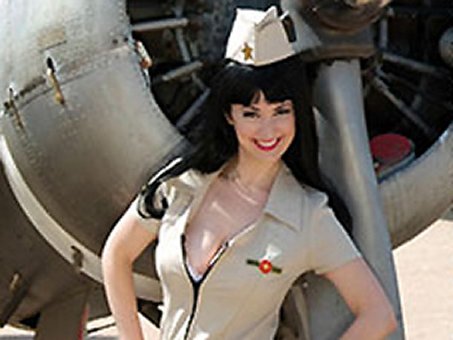 California Woman Raises Troop Morale, Funds With 'Pin-Ups for Vets' Calendar
Pin-up art — a morale-booster for troops fighting overseas during World War II — is making a comeback, or will be if a California woman has anything to say about it.
Gina Elise, 26, is bringing retro back with her third annual "Pin-Ups for Vets" calendar, which features herself in costumes and poses that were popular among America's fighting men in the 1940s. Profits from the sales of the calendars provide assistance to U.S. military hospitals.
About two years ago, I started hearing stories of wounded soldiers that were coming back to underfunded hospitals, so I just decided that I really wanted to do something to help out," Elise told FOXNews.com. "I've always been a huge fan of the pin-up era, so I figured I can sort of combine my love for this era to not only use the money for the hospitals but also help boost morale with the calendars themselves."
The UCLA grad started spreading the word about the project in hopes of enlisting some help.
"Some people thought I was nuts," she said. "But I have a lot of friends that are artists and photographers and costume designers that actually donated their time and services. Wal-Mart also gave me a community grant to help get the project off the ground."
And it soared right to the Web. At Pinupsforvets.com, with a donation of $22 or more, anyone can purchase a calendar for themselves, a hospitalized veteran or a deployed service member, along with a personal message of appreciation.
If the calendar is being sent overseas, Elise mails it in a care package. For those recovering in U.S. hospitals, she hand-delivers every calendar.
"I go there and I ask things like their name and their birthday and show them their birth month on the calendar. A lot of these veterans don't get visitors, so to see their reaction when I show up is really rewarding," she said.
"At one VA hospital in San Diego, I left the room after talking to a veteran and all the nurses rushed toward me saying they were in shock because he'd suffered a traumatic brain injury and that was the first time he'd spoken in a month!"
Loreleye Winn, director of voluntary resources at San Diego's Veterans Affairs hospital, recalled one of Elise's visits.
"She was dressed like a '40s pin-up lady, and she passed out some calendars to the patients and went around to their bedsides," Winn said. "They really enjoyed it and it just was a pleasure to have someone come in and visit."
Winn isn't the only one singing "Pin-Ups'" praises.
"There have been five flags flown over military bases in Iraq in honor of the project, and I also received the 2007 California Junior Chamber of Commerce's Outstanding Young Californian award," Elise said.
Thus far, "Pin-Ups for Vets" has raised $20,000, with proceeds from 2007 going to Loma Linda VA Hospital in Loma Linda, Calif., and proceeds from 2008 awarded to San Diego's Naval Medical Center.
And Elise says she gets back more than she gives.
"It's really inspiring when you are going into these hospitals, especially Walter Reed, where they have the most severe cases, and you're seeing double amputees, triple amputees, people with severe illnesses, and yet they're still so strong," she said. "They're some of the bravest people I've ever met."
webiste for her project
http://www.pinupsforvets.com/behindtheproject.html

Wild Thing's comment........

What a great idea, I just love things that make the day better for our Veterans and our troops.

......Thank you Lynn for this story.
Posted by Wild Thing at January 12, 2009 03:47 AM
---
Comments
Actually, my hubby Richard gets the praise for this one. He read it and thought it was a great idea that she's doing. Our pilots need to decorate their planes with pretty pin up girls again. I think the Playboy bunnies ought to do something like this too. The boys are doing so much and asking so little in return. Let them have their Bettie Page, Greta Garbo, Marilyn Monroes and Marilyn Maxwells (my hubby's family knew her) and any other pretty girl who does the pin up work. God knows they deserve it.
Posted by: Lynn at January 12, 2009 04:30 AM
---
Santa stuffed a wonderful 'Million Dollar Legs of Greta Garbo' novel in my stocking.... WOW! Frau Vader doesn't mind if I hang fish net stockings on the chimney mantel on Christmas Eve either! WW II nose art books are in my collection and the crew dogs that flew and fought against the Japs and Nazis had THE BEST nose art on their aircraft and bomber jackets... The A-10 and F-4 fighters had some nice shark teeth on them as well at Myrtle Beach / SPangdahlem AB West Germany in my younger days.
Posted by: darthcrUSAderworldtour07 at January 12, 2009 11:11 AM
---
Those pictures look just like pin-ups of the 40's. I also wish the troops could do pin-up artwork on their aircraft and tanks. The British tried it, but they got complaints from the Arabs and a few female service members so they stopped the artwork. Surprisingly some other female service members strongly supported pin-ups on the aircraft.
Anyway, this is another good project for our troops and veterans. Thank you Gina.
Posted by: TomR at January 12, 2009 12:25 PM
---
Unfortunately the military probably won't allow the troops to hand the pinups in their rooms or work areas. The military is very PC.
Posted by: BobF at January 12, 2009 02:52 PM
---
Won't it be funny if the USAF dropped plane loads of these calendars over enemy muslim positions in Iraq and Afghanistan? The same for the IAF and Gaza.
Posted by: Les at January 12, 2009 04:16 PM
---
Les, the 'IS LAMO' enemy today would get turned on by airdropped pictures of goats, sheep and yaks! We're infidels... remember?
Posted by: darthcrUSAderworldtour07 at January 12, 2009 05:46 PM
---
I like being an infidel. If anyone wants to try taking me out, please let me know and we can arrange a meeting.
Posted by: cuchieddie at January 12, 2009 06:33 PM
---
I'll bet she raises more than just morale...hehe
Good for her it's what the troops need, a little...morale boosting.
Posted by: Mark at January 12, 2009 07:03 PM
---
Lynn, thank you and thanks to Richard too. Thanks for sharing about your husband's family knowing Marilyn Maxwell.
Posted by: Wild Thing at January 12, 2009 11:44 PM
---
Darth, I love the nose art, some of it is like collectible artwork it is so well done.
Posted by: Wild Thing at January 12, 2009 11:46 PM
---
Tom, thanks for the information. I think things like this are marvelous for morale.
Posted by: Wild Thing at January 12, 2009 11:49 PM
---
BobF, yes, I have seen both in the last few years. Some have or are allowed theze things and others are not. Maybe it depends where the Platoon is located or something.
Posted by: Wild Thing at January 12, 2009 11:51 PM
---
Les, LOL that would be awesome. heh heh it would really tick off the Muslims.
Posted by: Wild Thing at January 12, 2009 11:52 PM
---
Darth, hahahahaa goats how funny is that.
Posted by: Wild Thing at January 12, 2009 11:54 PM
---
cuchieddie, heh heh, I love being an infidel too.
Posted by: Wild Thing at January 12, 2009 11:55 PM
---
Posted by: Wild Thing at January 12, 2009 11:58 PM
---
PS: Mark, when we opened our C-5 Galaxy visor pressur door, it took 23 seconds to get... raised... fully erected! Hmmmmm?
Posted by: darthcrUSAderworldtour07 at January 13, 2009 05:30 PM
---