« Blackhawks Over Iraq | Main | Iranian Protesters Back Gaza and Burn Obama Pictures »
January 14, 2009
Attitude is Everything
Attitude is Everything
by Joseph Kinney
........About Joseph Kinney
A native of Kansas, Joseph Kinney joined the Marines after completing high school where he became a infantryman serving in Vietnam. Badly wounded, he was discharged, graduated from college, and became a senior aide in the United States Senate. He is writing a book on the role of church and family in the making of America's warriors. He lives in Pinehurst, NC.
.

Thirty-nine years ago I was shot in an ambush while a Marine on a night patrol in Vietnam. I had potentially fatal wounds to my chest and a serious wound to my right leg. To put matters bluntly, I had never been more terrified in my life. Would I die? And if I died, would I go to heaven? I also thought about the buddies I was leaving behind. Somehow, I wanted to believe that they would be better off without me to slow them down.
The next morning I woke up at a hospital in Da Nang. The doctors told me that my days as a fighting Marine were over. Somehow, I felt that I had more to give but wouldn't get the chance.
My history is relevant only because there are huge differences between then and now when it comes to our Wounded Warriors. For the past couple of years I have had the privilege of knowing Col. Jack Cox (USA, ret.) who is a stalwart in the Wounded Warrior Program at Fort Bragg. He has been a great friend and mentor, and has taken the time to introduce me to some of this generation's wounded.
There are at least two important differences between my generation and the young men I have seen at Fort Bragg's Womack Hospital which is near where I live. For openers, the Army acts as if the wounded person is going to remain forever a soldier. That is their basic operating assumption moving forward. Second, the attitude of these kids is amazing. These brave warriors, no matter how badly wounded they are, believe that they will soon be back with their units fighting in Iraq or Afghanistan.
Today, there are 17 Marines who are amputees fighting in Iraq. I am certain that there are as many soldiers doing the same for the Army.
Recently, I received a widely distributed email from Col (Dr.) Brett Wyrick. He was a trauma surgeon at Balad Air Base in Iraq. He wrote: "If I ever hear (anyone) griping and complaining, I jump into them pretty quickly, now. Most people over here have nothing to gripe about compared to Marines. Marines are different. They have a different outlook on life . . .
"One Marine Private was here for several days because he was a lower priority evacuation patient. He insisted on coming to attention and displaying proper military courtesy every morning when I came through on rounds. He was in a great deal of pain, and it was a stressful to watch him work his way off the bed and onto his crutches. I told him he was excused and did not have to come to attention while he was a patient, and he informed me he was a good Marine and would address '. . . Air Force colonels standing on my feet, sir.' I had to turn away so he would not see the tear in my eye. He did not have 'feet' because we amputated his right leg below the knee on the first night he came in.
"I asked a Marine Lance Corporal if there was anything I could get him as I was making rounds one morning. He was an above the knee amputation after an IED blast, and he surprised me when he asked for a trigonometry book. 'You enjoy math do you?' He replied, 'Not particularly, sir. I was never good at it, but I need to get good at it, now.' 'Are you planning on going back to school?' I asked. 'No sir, I am planning on shooting artillery. I will slow an infantry platoon down with just one good leg, but I am going to get good at math and learn how to shoot artillery.' I hope he does.
"I had the sad duty of standing over a young Marine sergeant when he recovered from anesthesia—despite our best efforts there was just no way to save his left arm, and it had to come off just below the elbow. 'Can I have my arm back, sir?' he asked. 'No, we had to cut it off, we cannot re-attach it,' I said. 'But can I have my arm?' he asked again. 'You see, we had to cut it off.' He interrupted, 'I know you had to cut it off, but I want it back. It must in a bag or something, sir.' 'Why do you want it?' I asked. 'I am going to have it stuffed and use it as a club when I get back to my unit.' I must have looked shocked because he tried to comfort me, 'Don't you worry now, colonel. You did a fine job, and I hardly hurt at all; besides I write with my other hand anyway.'
Now, please tell me that these young guys aren't the Greatest Generation that has ever lived.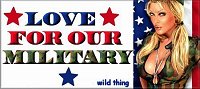 Wild Thing's comment........
I have such tremendous respect for those that have served our country, in the past and those in the war we are in now. Everyone of them is a true warrior. I agree with this writer and Marine Joseph Kinney. His writing is powerful and I wish everyone could read this.
Thank you with all my heart to those who have served and are serving now.

....Thank you Mark for sending this to me.

Mark
3rd Mar.Div. 1st Battalion 9th Marine Regiment
1/9 Marines aka The Walking Dead
VN 66-67


Posted by Wild Thing at January 14, 2009 04:50 AM
---
Comments
You are absolutely right Mark. These men and women are the Greatest Generation.
Posted by: James M at January 14, 2009 06:18 AM
---
I have seen that with the guys and gals I visit at the hospitals time and time again. They constantly amaze me with their spirit and get 'r done attitude.
And number one concern for them are their buddies still in theatre.
When I was in CA, on one of my visits to the Palo Alto VA Hospital, I took one of the local recruiters with me to visit the guys on the polytrauma and brain injury unit. There was this one kid, maybe 20, who had been "blowed up", multiple amputations and a grave head wound. Well, SSGT. B had come in his blues and when he entered the room, this young man tried to stand up and salute SSgt B. He was waved down and SSgt B got down on his knees and took this soldier's one hand in his and Thanked him for being such a fine example of the military.
(Needless to say, there wasn't a dry eye in the room and the hugs from his Mom and young wife were hard and long.)
No one can ever tell me our military is just made up of losers who couldn't do anything else!
If you want to read a wonderful book about the Vietnam experience of a double amputee Marine, got to:
http://www.redenginepress.com/eddie_beesley.htm
And read about Eddie Beesley's experience. He too, spends time with our newest wounded warriors. They were amazing heroes too - no doubt about it.

Posted by: yankeemom at January 14, 2009 08:08 AM
---
I just got an email last night from a guy I grew up with, having been friends since before we started grade school. He has three children. His daughter recently joined the Air Force. His son's are both Navy Seals. His oldest is being awarded the Bronze Star with Valor. They say the WWII Generation is the greatest generation but I beg to differ. I believe we are presently witnessing the greatest generation; the men and women of today whose foundation was founded in those who fought for this nation in all its previous wars.
Posted by: BobF at January 14, 2009 08:21 AM
---
I am glad they are allowing as many wounded to stay in the military as possible. Each generation has it's "greatest". Many of today's greatest are found wearing military uniforms.
Posted by: TomR at January 14, 2009 12:29 PM
---
This is truly awesome!!! And herein lies our hope for the future. Many of these fine young men and women will tomorrow's leaders of this country!!! Then we can get rid of the PC, spineless, vile, loathsome Liberal assholes!!!! These warriors will know what Freedom is all about and how fragile it is and won't be afraid to stand up to scum like John Kerry, Harry Ried, Murtha, Jane Fonda, Ted Kennedy, etc. and tell then all to go to hell!!!!
I love the part in the story above about the Marine that wanted his amputated arm back!!! It reminds me of the movie starring Paul Newman about a family of lumberjacks. Can't remember the name of the movie but there is one scene in the movie where Newman is going down a river that passes their house after his father (in the movie) has lost his arm and dies from a tree that spilt out while he was cutting it. There were many in the small lumbering community that did not like Newman or his family so when Newman floats by them, he has his father's amputated arm secured to the boats rigging in a fashion that the hand is giving everyone the proverbial finger!!!!! LOL
I can just see this Marine doing the same thing!!!!
God Bless them all and keep them safe!!!!
Posted by: John at January 14, 2009 01:20 PM
---
I've disagreed with that too, BobF. Tom Brokaw is the one who wrote the book of the same title.
Maybe its because Brokaw never did anything but lie about what was news and couldn't see how great the Vietnam generation was or the ones since then.
I am not saying WW 2 generation wasn't great, my parents came from that gerneation. But to imply 'Greatest' implies it has no peers, not before and not after. Before it certainly had peers in our founding fathers. But as myopic as Brokaw is. It's no wonder he can't see that far.
Posted by: Mark at January 14, 2009 02:56 PM
---
"I Will Always Place The Mission First,
I Will Never Accept Defeat,
I Will Never Quit,
I Will Never Leave A Fallen Comrade."
Warrior Ethos
Posted by: JohnE PFC U.S. Army at January 14, 2009 04:31 PM
---