« Republicans Find Voice in Opposing Stimulus: 'Oh, My God' | Main | Wax Version of Barack Obama at Madame Tussauds in London »
January 15, 2009
'Attempted hit' Put On Ramos Family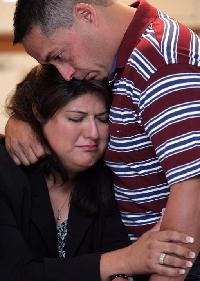 Monica Ramos embraces her husband, former U.S. Border Patrol agent Ignacio Ramos, two days before he was sentenced to 11 years in prison
'Attempted hit' put on Ramos family
Thank God no one turned on a light! Monica and her 3 boys would be gone!'
The family of imprisoned Border Patrol agent Ignacio Ramos was the victim of an attempted hit on their lives this month, as the agent's wife says someone broke into their El Paso home and filled it with gas, trashing photographs and pummeling their dog.
Just weeks after Monica Ramos spoke with WND about the difficulty of enduring Christmas without her husband, her family returned from visiting Ignacio in prison on Jan 3. While she was away, burglars stole DVDS, a BB gun and cell phone and slashed her couch with a knife.
They even beat her dog and ripped cherished wedding pictures and family photos of their life with Ignacio off the walls, smashing them on the ground.
"It wasn't so much that stuff was burglarized or that they actually took much," she said. "What was really hard was that when we got here, the gas was turned on. It was very intentional in that somebody was trying to hurt us."
Her son opened the front door and discovered the strong odor.
"Right away he alerted me," she said. "He started yelling, 'Mom, don't walk in. Don't bring my brothers.' He said, 'The gas is on!' He ran in and started turning everything off."
Her father, Joe Loya, wrote on his blog, "Thank God no one turned on a light! Monica and her three boys would be gone!"
Monica said she believes the gas was left on for two days.
Her 11-year-old son walked into their home and started crying, 'Look at our house. Haven't they done enough?'
Then he said, "Why won't the president just let my dad come home? This wouldn't have happened."
Monica said the incident is still under investigation.
Her older son has also faced troubling circumstances at school due to his father's imprisonment.
Three months ago, his high school hosted a career day. Border Patrol agents spoke with students about the field.
Monica said one Border Patrol agent stood in front of the student body and said, "I know many of you may have heard about this Ramos-Compean case, and we just want you to know that we got rid of two bad apples. You know, not all agents are rogue agents. They're not out to break the laws."
"I thought, 'Oh my God. Is this propaganda?' Monica said. "This is what you are using as your hiring technique? Did they not ever think that my son was going to be part of that student body? My son got a lot of heat at school."
She talked to the school and reported the incident to the Department of Homeland Security.
Meanwhile, Monica said visiting Ramos has become very difficult for her family.
"My husband, the deplorable conditions that he's in, it's unheard of," she said in the interview. "When I go in and I see him, I try to keep him in the highest spirits I can possibly keep him in. It is difficult for him."
She said Ignacio is in segregation for 23 hours every day, and he's not allowed out of his cell on weekends.
"I'm surprised that my husband hasn't accidentally ended up on death row with the way he's being treated in prison," Ramos said. "He doesn't even go by a name any more. He is literally 58079180. He's a number in the system. It is awful."
When Monica and her children enter the Phoenix prison, they are extensively searched for weapons and drugs. The family is not allowed to touch Ignacio for more than one second because guards worry that visitors may be giving him contraband.
"I mean, are we for real? He's in there because he was stopping a drug smuggler," she said. "And yet my kids have to go through an extensive search when we see him. ... We're not able to have any physical contact with him while we're there. "
Monica said Ignacio is enjoying the letters he receives from supporters – especially encouraging ones.
Despite the family's troubles, they remain hopeful that Bush may still show mercy and pardon Ignacio and Jose Compean before Jan. 20.
"Whatever this week holds for us," she said, "I just want everybody to know that we genuinely appreciate from the bottom of our hearts everything that everybody has done and continues to do."
.
And also this.........................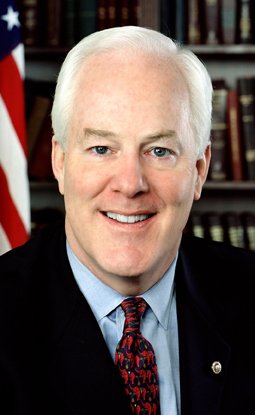 Big name senators plead for agents' freedom
Urge Bush to 'right the wrongs against Ramos and Compean'
Lawmakers are urging President George Bush to pardon imprisoned Border Patrol agents Ignacio Ramos and Jose Compean.
Today, Sen. John Cornyn, R-Texas, released an open letter to the president pleading for their freedom.
"Because of the excesses of the prosecution against them, they will continue to sit alone in those cells for another decade," Cornyn wrote. "That is unless President Bush commutes their unjust sentences. In his remaining days as President, I ask President Bush to show mercy and use his clemency power to give back Agents Ramos and Compean the next 10 years of their lives."
Cornyn and Sen. Dianne Feinstein, D-Calif., have written two letters to President Bush urging him to commute the men's sentences. Cornyn has also spoken publicly in support of the agents.
While the senator agreed that law enforcement officers must be held accountable for their actions, he said the agents have endured enough.
"I have reached the conclusion as a Senator, a former judge, and a citizen, that the loss of their jobs and the prison time they have already served has been more than enough punishment," he wrote. "This is a case of prosecutorial overreaching."
Cornyn said Ramos and Compean were unfairly treated by federal prosecutors and should not have been charged with a federal gun crime that was not meant to be used against law enforcement officers.
"As a result, the penalty levied on these men was grossly excessive," he wrote. "… Let us hope that President Bush will hear these concerns and right the wrongs against Ramos and Compean."
Meanwhile, Rep. Kevin Brady, R-Texas, is also asking Bush to commute the agents' sentences.
"These officers made mistakes, but their sentences were far too harsh. They have served enough time for their convictions," Brady told the Montgomery County Courier. "… President Bush needs to relieve these officers of the remainder of their sentences."

.

Wild Thing's comment.......
This family has had so much happen to them. This is so horrible and to mess with their dog as well.

....Thank you Mark for sending this to me.

Mark
3rd Mar.Div. 1st Battalion 9th Marine Regiment
1/9 Marines aka The Walking Dead
VN 66-67


Posted by Wild Thing at January 15, 2009 05:14 PM
---
Comments
I have supported a lot of what Bush said and did. That being said this is a black stain on him and his legacy. It remains to be said why would anyone join the Border Patrol to be charged and convicted by the likes of Johnny Sutton.
I have always said that the Border Patrol should be disbanded and integrated into local and state police forces.
Give the job of keeping our borders secure to the military and let them operate within military guidelines and jurisdiction with no political or civil interference.
Bob A.
Posted by: Bob A at January 15, 2009 05:32 PM
---
That is FUBAR. I can tell y'all who it most likely is; friggin "La Raza." Since I'm hispanic I get a LOT of heat from other hispanics. The way they act it's as if I were some damn klansman because I want the fence up, all because they assume I'll side with them. It's just like the mentality of the so called "black community" and it's just so stupid. I'm also glad to see John Cornyn taking a stand and I'm glad I voted for him. I also saw on, I think it was C-Span (I was very bored), him giving a presentation about the things Hugo Chavez buys with the money from citgo. It was ALL russian military hardware. Tanks, APC's, Mobile Anti-Aircraft Artillery you name it.
Posted by: JohnE PFC U.S. Army at January 15, 2009 05:49 PM
---
Bob A., I know what you mean, I feel the same.
This attacking the family like this and I pray they don't do this to the other one too, is beyond horrible.
Posted by: Wild Thing at January 15, 2009 06:53 PM
---
JohnE PFC U.S. Army, it sure is FUBAR!!!!
Thank you so much JohnE for sharing about that, it is so sad that Laraza has to be like that and put presssure on other hispanic's. I wondered if they did that kind of thing. You are such a great guy so they probably really want to claim you as someone that got to change their minds.Just to show they win no matter what. Thank you for all you do.
Posted by: Wild Thing at January 15, 2009 06:57 PM
---
Thank you John. I agree, it's most likely La Raza. My ex brother in law is hispanic, he is a legal citizen, born in the United States. As were about 20% of my company being hispanics from the local area and all farm boys. My ex brother in law served alongside me in Vietnam, he spent most of the tour working the Ashau Valley, even though he's no longer a member of the family by marriage, he's my brother, closer than my own kin. I had a long talk with him last August, he is appalled at the Sanctuary State and the conditions of the hometown. It has been overrun by illegals, gang crime is rampant and the authorities are powerless. None of us like the situation, and it has killed the community.
Just like Campeon and Ramos, if the police act to enforce the law they don't last long in the job, they are labeled racist, even if hispanic and the council finds a reason to punish them, it's only when the crime escalates to murder that they are forced to take action and then it seems only if the FED's are involved in the prosecution.
"""Today, Sen. John Cornyn, R-Texas, released an open letter to the president pleading for their freedom.""" It's about time someone from the inside got vocal!!!
Yep the honorable John Cornyn:
IN THE SENATE OF THE UNITED STATES JUNE 29, 2006
Mr. CORNYN (for himself and Mr. COLEMAN) introduced the following bill;
which was read twice and referred to the Committee on Foreign Relations
A BILL S 3622 IS
To authorize the President to negotiate the creation of a North American Investment Fund between the Governments of Canada, of Mexico, and of the United States to increase the economic competitiveness of North America in a global economy.
Be it enacted by the Senate and House of Representatives of the United States of America in Congress assembled, SECTION 1. SHORT TITLE. 3
This Act may be cited as the ''North American Investment Fund Act''
'Snip'
Now when is the next election and when is Cornyn's term up for a vote? I know he want's to get Campeon and Ramos out of prison but his actions are part of the reason they were railroaded. Instead of getting behind the closing of the borders to illegal traffic he introduces an open borders bill with the accompanying funds to finance the scheme. Sorry but as noble as his current efforts are his hands are as dirty as those of President Bush. Trying like McCain to redeem himself in the hope that all will be forgotten next election. Some of us aren't going to forget the debacle of the past 4 years or why. It's time for Bush to demonstrate that compassionate conservative crap that's been espoused for 8 years and pardon those border agents.
Posted by: Jack at January 15, 2009 07:53 PM
---