« Soldier Rejoins After 38-year Service Break | Main | Did Roland Burris's Business Partner Help Patti Blagojevich Land Her Job? »
January 07, 2009
Andrew Breitbart Introduces " Big Hollywood" blog

Andrew Breitbart introduced "Big Hollywood" yesterday.

"Today, I launch Big Hollywood (bighollywood.breitbart .com), a big group blog that will feature hundreds of the big minds from the fields of politics, journalism, entertainment and culture.
Big Hollywood is not a "celebrity" gabfest or a gossip outpost - it is a continuous politics and culture posting board for those who think something has gone drastically wrong and that Hollywood should return to its patriotic roots.
Big Hollywood's modest objective: to change the entertainment industry. To make Hollywood something we can believe in - again. In order to give millions of Americans hope. "

A once-timid group of social outcasts is emerging from the shadows in Hollywood. If the past year is any indication, Tinseltown may have to get accustomed to the loud presence of a growing minority.
After years of silence, conservatives are coming out of the closet.
Andrew Breitbart, the conservative founder of Breitbart.com and author of "Hollywood Interrupted: Insanity Chic in Babylon," is launching a Web site he hopes will help challenge the status quo in what he believes has been a one-party, left-tilting town. Set to debut on Jan. 6, "Big Hollywood" will be a place where center, right and libertarian-leaning celebrities and industry-insiders can weigh in on Hollywood politics, offer film, television and movie reviews, and have an open forum for political discussion.
"Our goal," says Breitbart, who lives in Los Angeles, "is to create an atmosphere of tolerance — something that does not exist in this town."
Breitbart has invited a number of conservative politicians, commentators and journalists to write regularly about the cult of celebrity, liberalism in popular culture, and politics. Among the names who will be contributing, he says, are Rep. Eric Cantor (R-Va), political commentator Tucker Carlson, and former Tennessee Senator and Republican presidential contender Fred Thompson.
The site will also feature the punditry of some well-known Hollywood actors, directors, producers, and writers, Breitbart says.
As celebrities like Jon Voight, Gary Sinise, Charlton Heston, Patricia Heaton, Stephen Baldwin and Kelsey Grammer came out publicly with their political ideas over the past few years, the news that there were, in fact, conservatives in Hollywood, had many wondering who would be next.
Recently, there have been rumors that Robert Downey Jr. is a closet Republican, though his publicist will neither confirm nor deny it, saying only, "We unfortunately have no comment, as RDJ does not comment on political matters."
But Breitbart says the goal of Big Hollywood is not to "out" conservative celebrities, and he will not pressure celebrities like Downey to jump into the fray. He says conservative celebs who aren't comfortable with full transparency will be allowed to write under an alias.
"I want them to come on their own volition," he says. "'Big Hollywood is going to have to be a compelling daily read that speaks to Hollywood conservatives' unique burden before some will stick their necks out and choose to speak up for what they believe."
Sticking their necks out has not always been good for business. Mark Vafiades, president of the Hollywood Congress of Republicans, says, "I'm hoping that one day politics won't make a difference in Hollywood. But because there is still subtle intolerance here, conservatives remain somewhat shy.
"If you come to an audition wearing a Bush or McCain button, the casting director will most likely pick another actor. Just being on a set you hear people bashing Bush and the right, because they assume everyone agrees."
Some have suggested the purported anti-conservative tilt in Hollywood is overstated — if it exists at all. Perez Hilton, the self-proclaimed "Queen of All Media" and author of his eponymous gossip site, said, "I think Hollywood is very tolerant. They may mock you for your political beliefs, but at least they'll do it to your face!
"It won't ever interfere with people getting a job. Kelsey Grammer still works!"
But some conservatives in the entertainment industry say there may not be a literal blacklist in Hollywood, but there is pressure to keep silent.
"Conservatives don't necessarily have to be covert about their politics, but in many cases they are because the liberals aren't fair and balanced towards those with differing points of view," says Jerry Molen, the Oscar-winning producer of big Hollywood hits like "Schindler's List," "Jurassic Park" and "Rain Man."
"In too many cases, conservatives are immediately labeled racist, homophobic, bigoted, hateful, demonic, or even un-American without the benefit of debate, and are locked out of the hiring process, with a few exceptions."
But the doors may be slowly opening "An American Carol," a conservative parody that lampooned liberal Hollywood this year, galvanized conservative celebrities like Robert Davi, Dennis Hopper, Kevin Farley, Voight and Grammer, all of whom had roles in the film.
And conservative film festivals, including the American Film Renaissance and the Liberty Film Festival, have also helped bring to market conservative projects that a few years ago might have had a difficult time getting made.
Some industry insiders credit John McCain with helping to embolden Hollywood conservatives during this year's presidential election. Andrew Klavan, a conservative author and screenwriter of psychological thrillers including True Crime and Don't Say A Word, said, "For people who had a lot to lose, McCain gave them some cover. He wasn't a true Republican like Bush was. He was someone even the left liked, whereas Bush was demonized. Hollywood conservatives could support McCain without necessarily supporting the GOP."
Klavan suggested that a spate of recent political movies like "Rendition" and "Redaction" also strengthened the conservative cause.
"These movies are genuinely anti-American. Never before have we had anti-war movies made while our troops were at war. Many people like me were ashamed of the industry, and there's been a bit of a backlash."
Vafiades says increasing numbers of conservatives have joined his organization in the past year, and more organizations like his are sprouting up.
But hush-hush groups like "Friends of Abe," a secretive society of Hollywood conservatives, still operate well under the radar. And the increased spotlight on conservative celebrities has not changed the political climate as much as Breitbart, Vafiades, Molen and Klavan would like.
They say liberal celebrities still have an easier time "being political" than conservatives do.
"Sean Penn is out dancing with dictators, and no one gives him flak. Instead they give him Oscar nominations," says Klavan. "Jon Voight may have some semblance of job security, but he still has to be careful about what he says."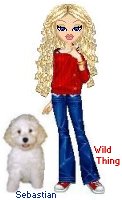 Wild Thing's comment......
I am so glad to see this happening. A lot of good things start with the first step and this is one for sure.

....Thank you Lynn for sending this to me.
Posted by Wild Thing at January 7, 2009 03:44 AM
---
Comments
I'm glad to pass it on.
Time for us to stand up and tell the world that whether they like us or not, we aren't going to go away. Bruce Willis is a conservative too.
People fear what they don't understand and it scares them.
I always tell people "do you want to take care of yourself or do you want the government to do it for you?" The answer is always "I want to take care of myself." When I tell them that's the conservative way, they get all blushed in the face.
Posted by: Lynn at January 7, 2009 04:42 AM
---
Wow, a new favorite for me. I could get lost there for hours it looks like!
Thanks!

Posted by: Eden at January 7, 2009 08:19 AM
---
Not all are Hollyweirdos in LA LA Land and San Fransicko 'Cal E Forn Ya?'
- "Hooray for Hollywood 1941 / 2009!"
-- BO DEREK IS THE BEST!
Posted by: darthcrUSAderworldtour07 at January 7, 2009 10:12 AM
---
Yippee!!! Thanks WT and Lynn
Bookmarked.
Glad to see them come out, hey, welcome to the front. We can't boogie to Europe or the Bahama's to escape whats happening at home. We for sure can use more support from those with name recognition. This nation is the last bastion of freedom and it needs all the protection we can offer.
Posted by: Jack at January 7, 2009 01:37 PM
---
Is this really a good idea ? All these conservatives coming out of the closet ? What will it do to their careers and additional jobs. A conservative in Hollywood, like a square peg in a round hole. It' good to see but that's living dangerously especially in Hollywierd.
Posted by: Mark at January 7, 2009 05:43 PM
---
Just took a look at this site and read the following item with joy. Thank you Chrissie and Lynn for passing this on.
One Pissed-Off Dude
http://bighollywood.breitbart.com/ggraham/2009/01/06/one-pissed-off-dude-5/
"I was asked by the founder of this site to write an article… an 'opening salvo'. Considering who might read it, and who in Hollywood might be incensed, the temptation to parse words and couch my opinions was strong. But the guy in the mirror counsels me the loudest. I was always impressed with John Hancock, when, reminded that signing one's name to that Declaration in Pennsylvania could very well lead to their deaths…solemnly stepped forward and with grand flourish signed his name in huge, legible script. In that grand spirit…"
"I hereby declare my independence…from the small-minded, America-hating, race-bating, Christian-bashing, class-warfare-waging, politically-correct, collectivist, Liberal Hollywood establishment."
"Anybody got a problem with that, I'll mapquest you directions to my front door, we'll settle it like men."
Signed,
GARY GRAHAM

Posted by: Les at January 7, 2009 06:54 PM
---
Lynn, that is a good thing to tell people.
Posted by: Wild Thing at January 7, 2009 07:37 PM
---
Eden, he got a lot of good writers together. I was very imrpressed with it.
Posted by: Wild Thing at January 7, 2009 07:38 PM
---
Darth, yes Bo Derek is a Republican, she campaigned for Bush both times. She is a really nice person too.
Posted by: Wild Thing at January 7, 2009 07:40 PM
---
Jack, I agree, I just hope it does well. Some will go to it right away, others will come later on. Little by little it just might be a really big deal and help others to know they are not alone. That is the biggest thing in Hollywood feeling like you are the only conservative out there.
Posted by: Wild Thing at January 7, 2009 07:45 PM
---
Mark all you said is so right. It is playing with ones career, a person's way top make a living that they love to do. I hope it goes, it should, but some will still be very careful about it.
Nick lasted over 44 years in the business because he never ever discussed politicis. Now he asked total strangers who they voted for, since he is retired. hahaha It is like he feels such a huge freedom now.
Posted by: Wild Thing at January 7, 2009 07:48 PM
---
Les, that was awesome, it gave me goosebumps.
Posted by: Wild Thing at January 7, 2009 07:49 PM
---
This is great. As a conservative actress in Hollywood, I have had to keep my mouth shut. But now I am "out and proud" to call myself a conservative in hollywood
Posted by: sharise parviz at January 9, 2009 10:30 AM
---
PS: Wild Thing, Frau Vader (Von Dusseldorf WEST Germany) say's in reference to Nick being a stuntman on THE RAT PATROL... "GOOD guys wear gray!"
Posted by: darthcrUSAderworldtour07 at January 10, 2009 08:42 AM
---