« Obama To Continue GWB's Inaugural Ball Honoring US Troops | Main | Traditional Family Defenders Now in 'gay' Agenda Bull's-eye »
January 03, 2009
Amazing Free-Flying Bald Eagle "Challenger"
Named in honor of the lost space shuttle crew, "Challenger" has performed free-flights during the USA's National Anthem at hundrews of events coast to coast—raising substantial public awareness for the Bald Eagle protection cause. He is the first Bald Eagle in American history trained to free-fly during the singing of the Star Spangled Banner. He has helped educate millions of people about the need to protect the USA's National Bird.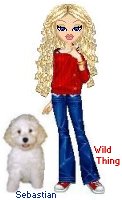 Wild Thing's comment.........
This is so wonderful, and very special. I love our Eagle!!!

......Thank you RAC for sending this to me.

RAC has a website that is awesome. 336th Assault Helicopter Company

13th Combat Aviation Battalion - 1st Aviation Brigade - Soc Trang, Republic of Vietnam


Posted by Wild Thing at January 3, 2009 05:44 AM
---
Comments
Thanks WT and RAC. I'm blessed, there are two that live in the area year round, their nest is less than a quarter mile from home. In the summer there are usually a half dozen. I hear them a lot as they hunt the woods. They live on the small critters, squirrels, mice, raccoons, opossums and fish when they are running to spawn. I had one take a possum from the back yard a few years ago, dinner put up a brief but loud fuss and the big male ate it right there, to bad they can't work on the coyote population around here. They'll even steal a road kill from the ravens, who raise a ruckus when they do.
Posted by: Jack at January 3, 2009 08:55 AM
---
A few years ago, Challenger came to our town on Memorial Day and we took the kids. There was a free concert by a local Air Force band and the Silent Drill USMC team came from Washington DC. It was the best concert I think we've ever been to. And Challenger was a sheer delight. She is beauty and grace and everyone was just in awe of her.
Thank you for sharing the video.
Posted by: Lynn at January 3, 2009 10:31 AM
---
Jack, wow that is something.
I am so glad we have the Eagle, it was the perfect choice.
Posted by: Wild Thing at January 3, 2009 07:04 PM
---
Lynn, oh my gosh, that is sooo neat that you did that. How exciting, I have never been to anything like that. That would be something a person would have such special memories of forever. How special it was for your kids to see go too. You are such a neat family Lynn.
Posted by: Wild Thing at January 3, 2009 07:06 PM
---