« 'On the Road in Iraq With Our Troops and Gary Sinise' ~ On FOX Tonight | Main | Hamas' War Crimes »
January 10, 2009
Aircraft Carrier Named the USS George H.W. Bush Commissioned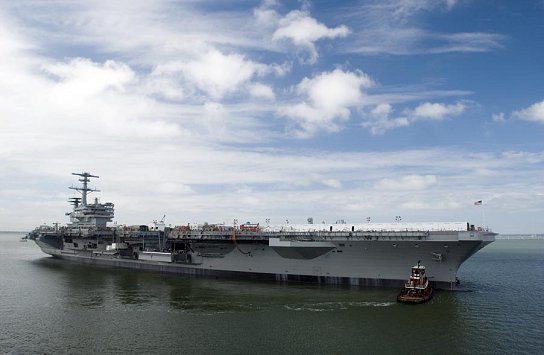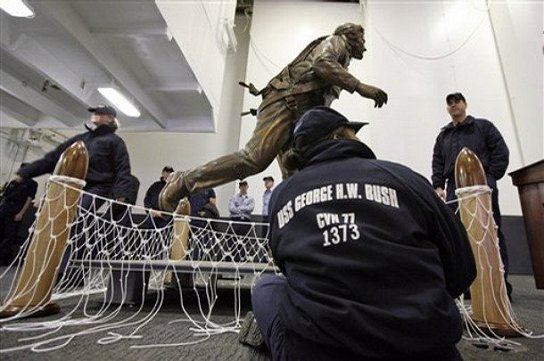 Crewman aboard the nuclear aircraft carrier USS George H.W. Bush work on a display of a statue of the former president on the hangar deck of the carrier at the Naval Station Norfolk in Norfolk, Va
Aircraft Carrier Named the USS George H.W. Bush Commissioned
NORFOLK, Va. — President George W. Bush landed Saturday on the USS George H.W. Bush, a new aircraft carrier named after his father — the ultimate honor for a decorated Navy pilot from World War II.
With just days left in his presidency, Bush and first lady Laura Bush joined his father, now 84 years old, and other Bush family members at Naval Station Norfolk in Virginia for the commissioning of the nuclear-powered carrier.
"Laura and I are thrilled to be here to help commission an awesome ship and to honor an awesome man," Bush said. "So what do you give a guy who has been blessed and has just about everything he has ever needed? Well, an aircraft carrier."
The steel-gray vessel is more than three football fields long, one in the Nimitz class of nuclear-powered aircraft carriers that are the largest warships on the world. Its price tag is just as hefty: $6.2 billion.
The mood was celebratory aboard the ship, spit and polished for its unveiling. The Marine One presidential helicopter ferried the president, his father and their wives to the ship.
It was sunny, but a chilly breeze blew across the deck of the ship as the president, his father and their wives got off the helicopter with their wives. The elder Bush, sporting a purple scarf inside his overcoat, walked with a cane from the helicopter to a golf cart. He got in the back seat with former first lady Barbara Bush; the president grinned and waved as he took the driver's seat with his wife by his side.
Defense Secretary Robert Gates, one of the first speakers, said there is no one more worthy than the former president to have the last ship of the Nimitz class to bear his name — "the last of the World War II generation to serve as commander in chief."
The president's daughters, Jenna Hager and Barbara Bush, and Vice President Dick Cheney and his wife, Lynne, were among the estimated 20,000 people who attended the event. Also on hand were Secretary of State Condoleezza Rice, Adm. Michael Mullen, chairman of the Joint Chiefs of Staff, and Virginia Gov. Tim Kaine.
The Nimitz class of nuclear-powered aircraft carriers was first launched in 1972. The USS George H.W. Bush is the 10th and final vessel of its type.
A bronze statue on the hangar bay deck of the 1,092-foot warship depicts the former president as a youthful, smiling pilot in his flight suit. On an upper deck, a "tribute room" presents Bush's life from his days in the Navy to his four years in the White House.
Bush joined the Navy on June 12, 1942, his 18th birthday and six months after the Japanese attack on Pearl Harbor. During the war he flew torpedo bombers off the converted aircraft carrier USS San Jacinto. He was awarded the Distinguished Flying Cross and three Air Medals for his service.
On a mission over the Pacific in September 1944, Bush's plane crashed into the ocean after being hit by Japanese anti-aircraft fire. The future president parachuted into the sea and was rescued by a Navy submarine. He returned to combat and served until the end of the war.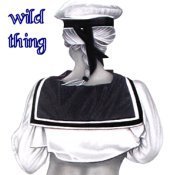 Wild Thing's comment.......
I got to see this on TV today and it was wonderful. I only wish they could skip Obama when it comes time to have to do something for him. The friend of Ayers deserve NOTHING America given or done for him.

....Thank you Darth for sending the article to me.
Darth
U.S. Airforce
C-5 loadmaster
84-97
Posted by Wild Thing at January 10, 2009 04:25 PM
---
Comments
Wouldn't it be something to see the USS Ronald Reagan and USS George H.W. Bush cruising the ocean side-by-side?
Posted by: BobF at January 10, 2009 05:08 PM
---
Amen Bob, I got to see the dedication this morning it was great. Thanks for posting Chrissie.
Posted by: Jack at January 10, 2009 07:02 PM
---
Posted by: Les at January 10, 2009 08:24 PM
---
Obama will be enshrined by the media with posters. Anyone want to bet that Obama's picture during the inaguration gets half-page front page coverage all over the country?
Of course, the best thing about that is it will be printed on newspaper...
Posted by: Ogre at January 10, 2009 10:42 PM
---
Ogre--
Makes me sad I'm not paper-training a puppy right now.
Posted by: Rick at January 11, 2009 12:05 AM
---
BobF, yess great idea that would be wonderful.
Posted by: Wild Thing at January 11, 2009 12:54 AM
---
Jack, I am so glad you got to see it too.
Posted by: Wild Thing at January 11, 2009 12:58 AM
---
Posted by: Wild Thing at January 11, 2009 12:59 AM
---
Hi Ogre, good to see you.
Yes your right, that is just what will happen. I think I will clean out our fridge that day and use the newpaper to put things in for the trash. heh heh
Posted by: Wild Thing at January 11, 2009 01:03 AM
---
Posted by: Wild Thing at January 11, 2009 01:04 AM
---
I watched this live, as well. I watched from the gun salute through the bringing the ship to life segments. It struck me how classy the Bush's are and how much I do not relish the idea of hip hopping into the Obama Whitehouse era.
The surprise flyover of GWHB's plane was perfect.
This is the kind of thing kids should see in school instead of inaccurate textbook chapters that apologize for bad America's historical actions.
Posted by: Eden at January 11, 2009 05:36 AM
---
Oh, and Greta was on GWB's last Air Force One flight, she's got pictures up. http://gretawire.foxnews.com/
I think she was on the new ship, so I look for some good segments from her next week on the Air Force One flight and the ship. Yea!
Posted by: Eden at January 11, 2009 05:58 AM
---
On C-SPAN, they showed the whole ceremony, for ONCE! The F-18 fly over at the end, followed by a lone WW II torpedo bomber - was unreal. Now President #41 gets to skydive in five more months?
Slick Willie turned down the invitation because the word SEAMAN gets him nervous? (Not to be confused with Semen).
WT, hopefully my NY Giants will be down your way for Super Bowl XX LLL!
Posted by: darthcrUSAderworldtour07 at January 11, 2009 09:20 AM
---
I had never seen a commissioning of a Navy ship before but we saw it Saturday and it was a very special moment.
Posted by: cuchieddie at January 12, 2009 06:00 PM
---