« Michelle Obama We Need To Talk! | Main | Obama Sets Up National Network: "Organizing for America" »
January 18, 2009
After Cease-Fire ~ Rockets Hit Israel!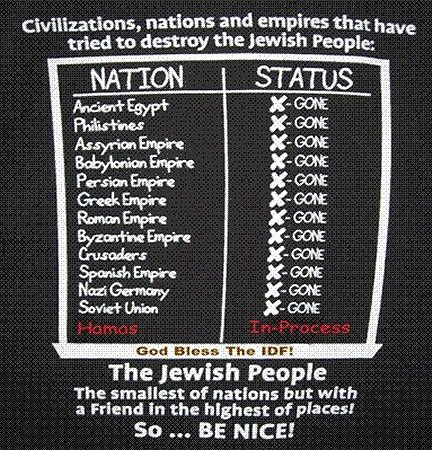 Sun Jan 18, 2:54 AM EST ( USA time)
Israel declared a unilateral cease-fire in the Gaza Strip meant to end three devastating weeks of war against Hamas militants, but just hours later militants fired a volley of rockets into southern Israel, officials said, threatening to reignite the violence.
No one was injured in the assault in which five rockets were fired and four landed. But shortly afterward, security sources in the northern Gaza town of Beit Hanoun reported an airstrike that wounded a woman and her child. The Israeli military had no comment.
In another incident after the truce took hold, militants fired small arms at an infantry patrol, which directed artillery and aircraft to strike back, the military said.
"Israel will only act in response to attacks by Hamas, either rockets into Israel or firing upon our forces," government spokesman Mark Regev said. "If Hamas does deliberately torpedo this cease-fire, they are exposing themselves before the entire international community as a group of cynical extremists that have absolutely no interest in the well-being of the people of Gaza."
Regev would not say what level of violence would provoke Israel to call off the truce.
The cease-fire went into effect at 2 a.m. Sunday local time after three weeks of fighting that killed some 1,200 Palestinians, about half of them civilians, according to Palestinian and U.N. officials. At least 13 Israelis also died, according to the government.
Israel stopped its offensive before reaching a long-term solution to the problem of arms smuggling into Gaza, one of the war's declared aims. And Israel's insistence on keeping soldiers in Gaza raised the prospect of a stalemate with the territory's Hamas rulers, who have said they would not respect any truce until Israel pulls out.
The military warned in a statement early Sunday that Israeli forces would retaliate for attacks against soldiers or civilians and that "any such attack will be met with a harsh response."
The cease-fire went into effect just days ahead of President-elect Barack Obama's inauguration Tuesday. Outgoing Secretary of State Condoleezza Rice said the Bush administration welcomed Israel's decision and a summit set for later Sunday in Egypt is meant to give international backing to the truce.
In announcing the truce late Saturday, Prime Minister Ehud Olmert said Israel would withhold fire after achieving its goals and more.
"Hamas was hit hard, in its military arms and in its government institutions. Its leaders are in hiding and many of its men have been killed," Olmert said.
If Hamas holds its fire, the military "will weigh pulling out of Gaza at a time that befits us," Olmert said. If not, Israel "will continue to act to defend our residents."
Israel apparently reasons that the two-phase truce would give it ammunition against its international critics:
Should Hamas continue to attack, then Israel would be able to resume its offensive after having tried to end it. It was not immediately clear how many rockets would have to fall to provoke an Israeli military response.

Wild Thing's comment........
I wish Israel would stop caring what the rest of the world thinks. They have to fight for their survival and with Obama in power soon there is no promise he will stand with Israel. This is so sickening what we are facing with the creep Obama and I do soooo wish, hope and pray we side with Israel always.
This is from Muqata blog a great site for information on what is happening.
"So this is a unilateral ceasefire. Gunfire from Gaza at IDF positions, IDF tnak responds with a shell and automatic gunfire (Channel 10, minutes ago). Our IDF troops are now sitting ducks in Gaza, and can only respond to attacks."

......Thank you RAC for sending this graphic to me.

RAC has a website that is awesome. 336th Assault Helicopter Company

13th Combat Aviation Battalion - 1st Aviation Brigade - Soc Trang, Republic of Vietnam


Posted by Wild Thing at January 18, 2009 06:45 AM
---
Comments
Posted by: Bob A at January 18, 2009 08:11 AM
---
I hope that the Israelis have a good military strategy in mind for offering a ceasefire. Like maybe allowing the remaining Hamas to gather as one big target. The Iraelis will never offer the Palestinians enough. The Palis want the Israelis destroyed. Israel has to go all out when it conducts military ops.
Posted by: TomR at January 18, 2009 11:47 AM
---
Israel went into Gaza to stop the 7000 rockets, missiles, and mortars fired at it's civilian population over the last three years. Hamas, with the support of "not so innocent Palestinian civilians", continued firing rockets, missiles, and mortars at Israeli civilian population centers the whole time and vows to continue to do so until Israel is totally destroyed. So, what has Israel achieved?
Unfortunately, another hudna that gives Hamas time to rearm and fight another day.
http://www.omdurman.org/leaflets/pali_word.jpg
http://sheikyermami.com/wp-content/uploads/hamas_terror_academy.jpg

Posted by: Les at January 18, 2009 04:44 PM
---
There is supposed to be another election. Hopefully, Netanyahu will re-take it.
Posted by: Mark at January 18, 2009 05:34 PM
---
Bob A., I agree excellent and thank you so much Bob. You do a lot and you are such a great guy. I am so glad to know you.
Posted by: Wild Thing at January 18, 2009 05:46 PM
---
Tom,I hope so too.
They have got to stop worrying what the rest of the world thinks. I guess I would make a terrible politician. haha But if someone wants to destroy us what do I care if some other countries don't want me to fight back.
Posted by: Wild Thing at January 18, 2009 05:51 PM
---
Les, those say so much as to how the Hamas is. Hiding behind children like they do....sickening.
Posted by: Wild Thing at January 18, 2009 05:53 PM
---
Mark, that is so good. And I agree Mark, I like Netanyahu and I think he would be good.
Posted by: Wild Thing at January 18, 2009 05:56 PM
---
PS: The Crusaders are gone... except for darth crUSAder 2007..... "CHARGE!"
Posted by: darthcrUSAderworldtour07 at January 18, 2009 09:03 PM
---