« Ratchet the Iraq Dog Welcome Soldier Home Who Rescued Him | Main | Town Looks to Record When You Drink Alcohol »
January 19, 2009
A Special Difference for Disabled Veterans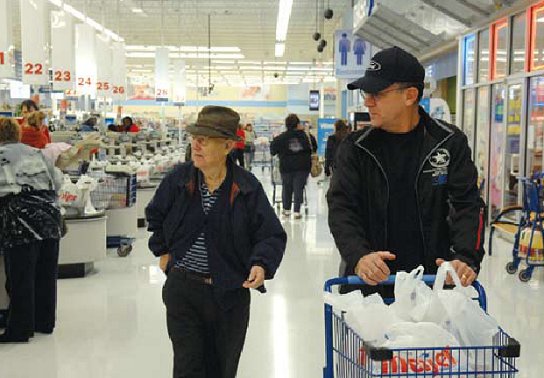 Kevin Quigley, right, a retired Ford employee, helps Alvin Hoffman, a disabled World War II veteran, at a local grocery store. The DAV's Local Veterans Assistance Program is designed to encourage and reward creative volunteerism to improve the lives of veterans and advance the DAV's mission.
A Special Difference for Disabled Veterans
DAV Magazine
By D. Clare
Kevin Quigley was driving toward an expressway onramp near his Wayne County, Mich., home when he first laid eyes on Alvin Hoffman. The World War II veteran seemed out of place as he trudged along with his groceries.
"I circled back around and found him on a rock. I thought he was lost. There weren't a lot of homes. It was a mile and a half from the grocery store and he was walking," recalled Quigley.
What began as a simple act of kindness, with Quigley giving the elderly man a ride home, soon turned into a pleasant routine. For the past 14 years, Quigley has helped Hoffman get his groceries and done odd jobs around his home.
Quigley is one of three people in the elderly man's life who make independent living possible. Along with Hoffman's neighbors all of the retired automotive industry employee's basic needs are met.
Over the years, Quigley learned about the Army veteran's combat service — service which contributed to his extreme loss of hearing.
"He's my friend, and he's an amazing connection to the past. There just aren't that many World War II veterans left. I appreciate his service and enjoy the time I get to spend with him," said Quigley, who is a retired Ford metal model maker.
With veterans of Hoffman's generation aging and a new generation of veterans returning from the battlefields of Iraq and Afghanistan, the needs of disabled veterans are on the rise.
"Our traditional voluntary service programs make an incredible difference for hundreds of thousands of veterans every year. But the unique, random acts of kindness that brighten lives deserve recognition as well," said National Director of Voluntary Services Edward E. Hartman.
The new Local Veterans Assistance Program, or LVAP, was established to encourage DAV members, youths and patriotic citizens to use their time, talents and good will to help veterans. It recognizes the quiet heroes who reach out in creative ways to make a difference.
"Just about any service someone provides to enhance the lives of veterans is considered worthy of consideration," Hartman said. "From a DAV member participating in service work or fundraising activities, to a friendly neighbor who cleans an elderly veteran's gutters or gives a young veteran a lift to the base when his buddies are returning from deployment."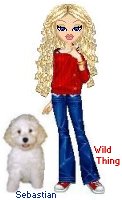 Wild Thing's comment........
I love to hear about stories like this. We owe our Veterans so much. We have lived in a better world because of the sacrifices our Veterans have made.

....Thank you Jack for sending this to me.

Army Combat Engineers
67-69

Jack's blog is Conservative Insurgent

Posted by Wild Thing at January 19, 2009 04:47 AM
---
Comments
Now that's really nice and very caring. It's so wonderful that the men have developed a friendship over these many years. What if we all did something like this? How much different would the world be if we like James said in the Bible that we should care for our brothers? We're all family in the end anyway.
Posted by: Lynn at January 19, 2009 06:40 AM
---
TRICARE FOR LIFE may go bye bye under Obamanation since they believe freedom is free. - Try And Get Care 2009!
Posted by: darthcrUSAderworldtour07 at January 19, 2009 08:32 AM
---
See, we don't need Michele or Uhbama telling us to get involved in helping the community - Hell, Lots of folks have been doing this "community service" for longer than the great ones have been alive. Just look at all the troops support organizations that have sprung up just since the wars began and now the wounded warrior organizations.
I wonder if they even know about them. Of course, these folks aren't out to fleece anyone, so probably not.
Posted by: yankeemom at January 19, 2009 10:00 AM
---
This is a good story. It reminds me of your post last week about the NYPD policewoman who cared for the WWII vet that had no family. When he died she made sure he had a proper burial.
Regardless of all the bad news we get, there are still more good people than bad ones in America.
Posted by: TomR at January 19, 2009 11:15 AM
---
Thank you Chrissie, That story touched me too, we're just a band of brothers and we don't need the yoke of Communisn to share and help.
The really good news of the day is that President Bush has Commuted the sentences of Campeon And Ramos, not a pardon but a chance to rebuild their lives if they can survive until they are released..
Posted by: Jack at January 19, 2009 01:36 PM
---
Hmmmmm! Good people helping other good people without the government telling them what to do, when to do it, how to do it, who to do it with, and taking money out of someone elses pocket to pay for it. What a country! Too bad Obama and the Democrats are trying to ruin it.
Posted by: Les at January 19, 2009 03:41 PM
---
Great story. As said above, we don't need the guvment telling us our business.
Posted by: Mark at January 19, 2009 06:43 PM
---
Lynn, I agree so much, well said.
Posted by: Wild Thing at January 19, 2009 07:14 PM
---
Darth, we have so much to be excited and happy about that Obama is going to do for us and help us with.....not.
Posted by: Wild Thing at January 19, 2009 07:17 PM
---
Yankeemom, exactly, when caring people are left alone to do the things their heart wants to do soooo many will do things like this. From their heart not from the government telling them they have to.
Posted by: Wild Thing at January 19, 2009 07:20 PM
---
Tom, there sure are, I agree I think the good people weigh out number the bad people.
Posted by: Wild Thing at January 19, 2009 07:22 PM
---
Jack, that is great news. I really was praying for them.
Posted by: Wild Thing at January 19, 2009 07:25 PM
---
Les, yes isn't that something. Obama never told them to do this and here we have good things happening.
Posted by: Wild Thing at January 19, 2009 07:26 PM
---
Mark, yesss so government stay the heck out of our lives.
Posted by: Wild Thing at January 19, 2009 07:28 PM
---
As one who is intimately familiar with DAV, this is just one of their outreach programs for veterans.
Posted by: Gothguy at January 20, 2009 06:04 PM
---