« U.S. Issued 3,400 Visas to Immigrants from 'State Sponsors of Terror' in 2008 | Main | Awesome IDF Take Out Hamas Leader Nizar Rayan~ BRAVO! »
January 02, 2009
2008 Military Times Poll: Wary About Obama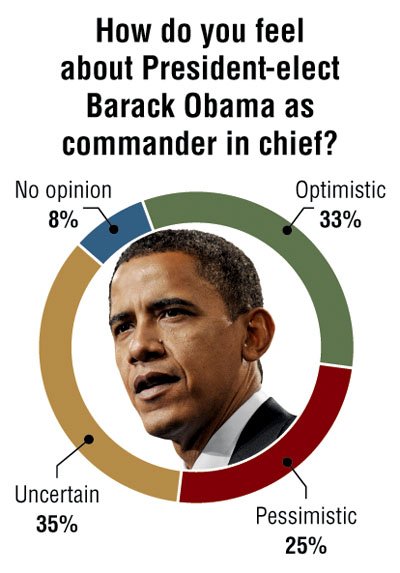 2008 Military Times poll: Wary about Obama
Troops cite inexperience, Iraq timetable
By Brendan McGarry

When asked how they feel about President-elect Barack Obama as commander in chief, six out of 10 active-duty service members say they are uncertain or pessimistic, according to a Military Times survey.
In follow-up interviews, respondents expressed concerns about Obama's lack of military service and experience leading men and women in uniform.
"Being that the Marine Corps can be sent anywhere in the world with the snap of his fingers, nobody has confidence in this guy as commander in chief," said one lance corporal who asked not to be identified.
For eight years, members of the U.S. military have served under a Republican commander in chief who reflected their generally conservative views and led them to war in Afghanistan and Iraq.
Now, the troops face change not only at the very top of the chain of command, as Obama nears his Jan. 20 inauguration, but perhaps in mission, policy and values.
Underlying much of the uncertainty is Obama's stated 16-month timetable for pulling combat troops out of Iraq, as well as his calls to end the "don't ask, don't tell" policy to allow gays to serve openly in the military, according to survey responses and interviews.
"How are you going to safely pull combat troops out of Iraq?" said Air Force 1st Lt. Rachel Kleinpeter, an intelligence officer with the 100th Operations Support Squadron at RAF Mildenhall, England. "And if you're pulling out combat troops, who are you leaving to help support what's left? What happens if Iraq falls back into chaos? Are we going to be there in five years doing the same thing over again?"
When asked who has their best interests at heart — Obama or President George W. Bush — a higher percentage of respondents picked Bush, though Bush has lost ground over time. About half of the respondents said Bush has their best interests at heart this year, the same percentage as last year but a decline from 69 percent in 2004.
Nearly one-third of respondents — including eight out of 10 black service members — said they are optimistic about their incoming boss.
Even some service members who voted against Obama — only 1 in 4 supported him over Sen. John McCain in a pre-election survey of Military Times subscribers —now express goodwill toward him as their new commander in chief.
"Overall, the prospect of having someone who isn't necessarily tied to old strategies is a good thing," said Air Force Master Sgt. David Ortegon, who said he voted for McCain. "Sometimes you need a fresh perspective to be able to handle our military readiness and the needs of the nation."
The findings are part of the sixth annual Military Times survey of subscribers to Army Times, Air Force Times, Navy Times and Marine Corps Times newspapers. This year's survey, conducted Dec. 1 through Dec. 8, included more than 1,900 active-duty respondents.
The responses are not representative of the opinions of the military as a whole. The survey group overall under-represents minorities, women and junior enlisted service members, and over-represents soldiers.
But as a snapshot of the professional corps, the responses highlight the challenges Obama faces as he prepares to take command of military careerists with different political and cultural attitudes.
In keeping with previous surveys, nearly half of the respondents described their political views as conservative or very conservative. Slightly more than half said they consider themselves Republicans, 22 percent independents and 13 percent Democrats.
Peter Feaver, a political science professor at Duke University who has written extensively about civil-military relations, said a degree of uncertainty among service members toward Obama is appropriate, given their questions about how he will govern as commander in chief.
"Those numbers don't convince me he has got a big problem on his hands because what he is seeing is not military hostility, but rather military caution, and caution that is reasonable because he has never been in the position of this office," Feaver said. "It's sensible and understandable that they have doubts about him.
"They respect the office of the commander in chief," Feaver said. "As long as he wields that office responsibly, then these numbers need not morph into a problem."
David Segal, a military sociologist at the University of Maryland, said respondents' optimism toward Obama can be partially attributed to confidence in his military advisers, including Richard Danzig, former secretary of the Navy, and retired Gen. James Jones Jr., former commandant of the Marine Corps and NATO's Supreme Allied Commander Europe.
On Dec. 1, the day the survey was released, Obama announced his national security team, including Jones as national security adviser and Robert Gates, a holdover from the Bush administration, as defense secretary.
"There is an understanding that the president doesn't do all his own paperwork," Segal said. "The quality of any president is going to depend on the quality of the people he has around him."
When to leave Iraq
While nearly half of the respondents said they disapprove of Obama's proposal to withdraw combat brigades from Iraq within 16 months of taking office, a slightly higher percentage said they support the Status of Forces Agreement calling for U.S. forces to leave the country by the end of 2011.
Army Spc. Robbie Blackford, an infantryman with C Troop, 1-71st Cavalry Regiment, 1st Brigade, 10th Mountain Division, who returned from a 14-month tour in Iraq in late October, said Obama should gradually reduce the number of U.S. service members in Iraq.
"In my mind, things were changing to the point where we could get out of there and the Iraqis could take over their own country," Blackford said. "I think that he should just pull out a little at a time."
Although realistic about the challenges ahead, troops overwhelmingly support the mission in Afghanistan.
Eight out of 10 respondents said the U.S. should have gone to war in Afghanistan. Nearly the same amount support plans to boost the number of troops there by more than 20,000, for a total of more than 50,000.
"We just don't have enough manpower to be out there doing what we need to do, winning the hearts and minds and so forth," said Chief Warrant Officer 4 Jay Brewer, a meteorological and oceanographic officer with Marine Forces Pacific who has twice deployed to Iraq. "In Iraq, when we increased the number of troops, we were able to increase our presence full-time in certain areas."
While the majority of respondents expressed some degree of optimism the U.S. will succeed in Afghanistan, 30 percent said troops will need to stay for more than a decade to achieve its goals.
The survey results also suggest that despite the military's efforts to address mental-health issues, such as post-traumatic stress disorder and traumatic brain injury, stigma associated with the conditions lingers.
About 15 percent of active-duty respondents said they are suffering from or have suffered from PTSD, TBI or other mental health issues.
Most of those respondents said they sought help with the treatment. But four out of 10 said they believed seeking care for such disabilities would negatively affect their career.
Navy Gunner's Mate 2nd Class William Rioseco, an instructor at Center for Security Forces, Pearl Harbor, Hawaii, said mandatory post-deployment screening across all services would help to reduce stigma associated with mental health disorders.
"Like PT, it should be mandatory. It doesn't matter if you've been in action, or you're doing support," he said. "If you're in a combat zone, you're subject for mandatory psychoanalysis because people can get affected by different things."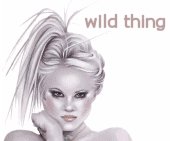 Wild Thing's comment...........

Two things, first Barack Hussein Obama will be the BOGUS-POTUS.
Secondly, Barack Hussein Obama is best friends with this anti-American traitorous man and others lilke him. And as Ayers has said gleefully "Guilty as hell, Free as a bird...". He STANDS on the American flag and grinds it into the dirt. He stands on it with his filthy shoes.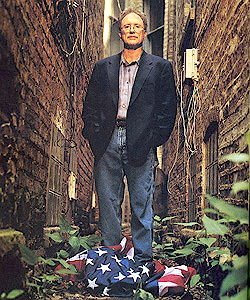 Men in my family, men in my friends family, all of my cherished Veterans, my HEROES have served and fought under this Flag.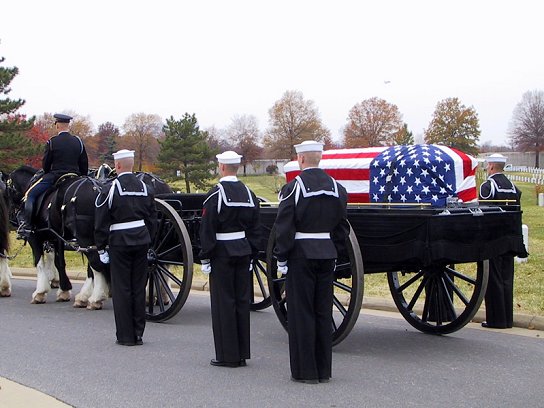 Many of them have friends and family members that were buried under this flag and so do I.. So as far as I am concerned about Obama deserving one atom of respect for one breath of air he breaths, I say NO! He and his buddies can all rot in hell.

And God Bless our military and all our Veterans.

Posted by Wild Thing at January 2, 2009 04:50 AM
---
Comments
I agree 100% Chrissie. "Bogus Potus" thats perfect! A long four years ahead of us.
Posted by: James M at January 2, 2009 05:52 AM
---
Anyone remember what it was like under Jimmy the Dhimmi?
I was on Active Duty during the peanut farmer's time. It pretty much sucked.
Stand By for round 2.
And Carter was a Naval Academy grad and one of ADM Rickover's hand picked nuke boys.
Posted by: Glenn M. Cassel AMH1(AW) USN RET at January 2, 2009 05:52 AM
---
I hate to say this, but after seeing a story on Drudge a minute ago about rockets near Israel's nuke facility, I think we are headed for another huge war...soon.
I thought their purpose was to get a "better" cease fire proposal, but now I'm not sure. These people are so filled with hate and insanely so, I'm not sure they will stop until they are all dead.
And thanks so much, intolerants, for raising a couple generations of wimps. Thank God for the brave ones and heaven help them.
Posted by: Eden at January 2, 2009 06:23 AM
---
Of course the troops are (I love this description) "cautious" about their incoming CIC - after all, he has tried to make them losers. Which just goes to show he has absolutely no concept of what makes a warrior a warrior. They scare him. Cautious is not the word I would use to describe the soldiers I've talked to about him.
The Zero and all that he says he stands for (of course, that is subject to change without notice) does fly in the face of what most red, white and blue folks believe in and are willing to fight for.
I'd love to hear the chatter after his wife has had her little get-togethers with the military families. We don't hear much about those, do we? Just that she went and had such a nice time with the families. I'm sure they were hand-picked.
Posted by: yankeemom at January 2, 2009 08:33 AM
---
I wonder if Obama's wife will treat the military guards at the White House the way Hillary did? For the sake of those troops doing their job, let's hope she treats them with respect and dignity.
Posted by: BobF at January 2, 2009 09:58 AM
---
Obama will have to be very different from his campaign rhetoric if the military is going have a lot of confidence in him. His promise of 25% in defense spending, his promiseto leave Iraq in 16 months and his talk of invading Pakistan are all statements that have to make military people nervous.
A year from now it should be interesting to see how "The One's" presidency is shaping up.
Posted by: TomR at January 2, 2009 10:20 AM
---
Puttin a fine edge on my cutlass,
standin by to repell boarders!!
may be gettin old,but these colors will not
back down!
Posted by: Chief at January 2, 2009 10:28 AM
---
Go to the Korean and Vietnam war memorials for my answer as to how I feel about Bogus-Potus.
Obama isn't the only Democrat to fall short in the arena, that distinction has at least three Democrat predecessors in my lifetime.
Ask John McCain and John Kerry why our MIA, CIA aren't being repatriated from both those wars.
Ask the Democrats why Murtha and the main stream media continue to persecute our troops, report troop strength and movements to the enemy. Ask why the media continues to demean the troops, with their enemy biased reporting, slandering the American people and the nation before the world. Gone is the past support from leadership who formerly stood before their charges in defense of them, instead they bow to political correctness because they lack the support of elected officials who bow to world opinion and the dictums of the UN. The election of this imposter will do more harm to the all volunteer forces than Jimmy Carter did. Carter had, a legitimate birthright to screw up the nation, this arrogant SOB has neither.
Posted by: Jack at January 2, 2009 12:14 PM
---
How can 8% have no opinion, the man has spent his life leading malcontents in Chicago to get more handouts and take absolute advantage of the system. He taught them how to cheat, defraud and steal. And Only 25% are Pessimestic ?
33% are optimistic. It took more than 33% to elect this dolt, so where are the rest of these Nitwits that voted for this Usurper. If this poll has any relevance then what it says is a huge group of people are having second thoughts about electing this puppet.
So now we come to the uncertain(s) 35%, which is the majority of those polled. Probably alot of this group voted for the 'dolt' or 'ODolt' and they are still uncertain. Now how can this be ? They voted for this asshole, now they are realizing that their choice wasn't that swift. So at least 35% of those who voted had no idea who they were voting for, but they wanted Change and now are beginning to realize the change is the samey-same all Clinton cast-offs and some that have been re-packaged as New Deal democrats. So what I see is a nation of sheep being led by a pack of Wolves to the slaughter house.
Only in America can something this bizarre come to pass and be called CHANGE.
Posted by: Mark at January 2, 2009 12:21 PM
---
Well, this morning my wife read something from a so called intelligence source that said the US was planning on deserting Israel which means that she will be left to fend for herself without Americas help. I do hope that this was just a load of crap, but if true, you can expect to see Israel to begin tossing a few nukes at Iran and Syria so that the world finally realizes that they had better quit fucking with her. Go IDF!
Posted by: cuchieddie at January 2, 2009 04:32 PM
---
Those in the military who aren't wary of BOGUS-POTUS as their CIC should be. He promised to cut the military budget by 25%. How do they figure this will help the military logistics of getting troops and equipment out of Iraq in 16 months, support a surge in Afghanistan, and protect the United States from an increased military and nuclear flexing of power from China, Russia, and nations in the Middle East and Southeast Asia including rogue nations such as Iran and Syria while a nuclear Pakistan can be taken over by terrorists at the slightest provocation like Barack Obama unilaterally invading their country to go after Osama bin Laden to make his bones as CIC-in training? Be wary? All of the military should be scared shitless.
Conservatives need to have a running report card on Obama's promises versus his actions. Will it come to a time when people will be forced to say, "Obama lied, soldiers died"?
Posted by: Les at January 2, 2009 06:28 PM
---
James M, yes 4 long years coming up. Maybe he will self destruct somehow, someway...before that. I know that is not going to happen with the dems having Congress and all but deep sigh.....just wishing here.
Posted by: Wild Thing at January 2, 2009 07:21 PM
---
HI Glenn M. Cassel AMH1(AW) USN RET, good to see you.
I am so sorry you had him for your CIC.
I agree with you ....."Stand By for round 2."
Posted by: Wild Thing at January 2, 2009 07:27 PM
---
Eden, thanks for the information.
Yes I think Israel is sick and tired of the cease fires that keep getting broken by the terrorists. I sure would be too.
The Hamas sure is stupid, I would not mess with the IDF ever. Just like our military we are no one to mess with.
Eden, I agree with you, I wonder too what is to come. I just don't want Israel to stop like they did was it last year? with Lebanon. That was horrible to do to their IDF start and stop like that.
Posted by: Wild Thing at January 2, 2009 07:34 PM
---
Yankeemom....( big huge smile) yes don't you just love how he phrased that..... "cautious". Gosh I LOVE our troops.

I agree too....."I'd love to hear the chatter after his wife has had her little get-togethers with the military families."....
I really hated that she got anywhere near anyone connected to our military with her not being able to even be proud of our country for starters.

Posted by: Wild Thing at January 2, 2009 07:38 PM
---
BobF, I sure hope she does like you said and treats our troops with respect. Your so right Hillary was horrible to them.
Posted by: Wild Thing at January 2, 2009 07:39 PM
---
Tom, I agree, and I sure pray that his decisions do not make it harder for our troops to do their jobs. His stupid desire for huge cuts on things they need really concerns me.
Posted by: Wild Thing at January 2, 2009 07:44 PM
---
Chief, good one! Love how you put that.
Posted by: Wild Thing at January 2, 2009 07:46 PM
---
Posted by: Wild Thing at January 2, 2009 07:48 PM
---
Mark, you did a great breakdown of the voting, thank you!!!
"Only in America can something this bizarre come to pass and be called CHANGE."
Boy howdy ditto that!!!!!
Posted by: Wild Thing at January 2, 2009 07:51 PM
---
cuchieddie, thanks for the information. I pray with all I am that we never do that. Oh my gosh to not side with Israel, to not be a friend to Israel would be more horrible then one can say.
I agree with you cuchieddie, if that does happen I hope Israel does just what you said.
Posted by: Wild Thing at January 2, 2009 07:55 PM
---
Les this is a good idea. I have no time to do that but it would be a great thing to keep a running chart on over the next 4 years.
"Conservatives need to have a running report card on Obama's promises versus his actions."
Posted by: Wild Thing at January 2, 2009 07:57 PM
---