« The Life-and-Death Cost of Gun Control | Main | Vietnam Deck Of Cards by Red Sovine »
December 05, 2008
The Marine Corps Toys for Tots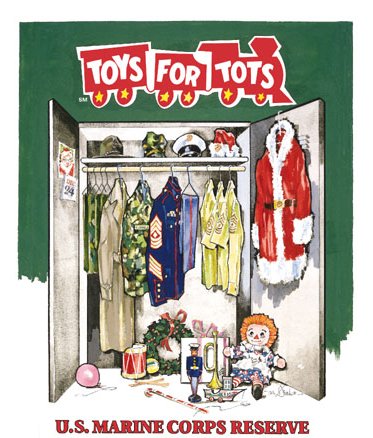 The Marine Corps Toys for Tots Foundation kicked off its annual toy drive with a ceremony in Virginia. Country music star Aaron Tippin was the featured guest.
About The Marine Toys for Tots Foundation
The Marine Toys for Tots Foundation is a not for profit organization authorized by the U.S. Marine Corps and the Department of Defense to provide fundraising and other necessary support for the annual Marine Corps Reserve Toys for Tots Program. Now in its 61st year, Toys for Tots provides joy and a message of hope to economically disadvantaged children through the gift of a new toy during the Christmas holiday season. Our gifts offer these children hope, recognition and a positive memory they will cherish for a lifetime. Many of the gifts we provide, such as books, games and sports equipment, make a significant contribution to the educational, social and recreational development of these children. In 2007, Marines distributed gifts to 7.5 million children in over 600 communities nationwide. The Marine Toys for Tots Foundation relies on individual donations from the American public as well as support from corporate sponsors.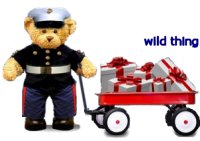 Wild Thing's comment.........
Several years ago I had the opportunity to work with Toys for Tots with the Marine Corps. We had a Television marathon over the weekend that year and it was so wonderful to see so many people responding.
Posted by Wild Thing at December 5, 2008 03:45 AM
---
Comments
This is a wonderful charity! I have seen the Marines and the Hells Angels work together for years on this. My company is having a toy drive for Toys for Tots, too. It's tough out there and the kids shouldn't have to be left without a doll or a toy car or puzzles and games on Christmas. No one should think that Santa forgot them. If there is one thing about my town that I just love, is that at this time of year, everyone takes on the case of caring for everyone. Our radio stations do telethons for food, clothing, toys for the kids. We do coats, hats, mittens, blankets for the homeless, there is so much we do and it makes my heart happy.
I feel blessed to have been involved with this since I was young. It is a very worthwhile charity and it just makes you feel really good to put a toy, a puzzle, a game, a stuffed animal, a dolly, into the barrel and know that you've made a child happy. We should be like this year round.
Posted by: Lynn at December 5, 2008 04:51 AM
---
When Gunny Dad Vader was at Quantico in the early 60's, we used to collect used and broken toys and the Marines would IMPROVISE and clean 'em up and fix them for Toys For Tots...We passed by Quantico on Sunday (on I-495)and thought of the Manassas Bull Run history, and of Dear Old Dad!
God bless Team Theodore and GO NAVY, BEAT Army!
Posted by: darthcrUSAderworldtour07 at December 5, 2008 09:23 AM
---
One of the very few worthy charities around, I collected toys for them two years ago. One thing I found was a strong unwillingness of most merchants to participate as collection centers. I remember those who did and still patronize their places of business. Sadly it boils down to what's in it for me, the bulk of 'charities' are merely a tax write off for most, I don't call that being charitable if you expect remuneration or public glorification of any kind. Semper Fi all you Leathernecks,Toys for Tots is a prime example of leading from the front.
Posted by: Jack at December 5, 2008 11:26 AM
---
Lynn, that is so neat, thank you so much for sharing about being involved with this. It really does a lot of good and to have it connected to our military makes it even more special.
Thank you Lynn.
Posted by: Wild Thing at December 5, 2008 07:31 PM
---
Darth, that is so neat, thank you so much for sharing about your Dad and what you all did.
Posted by: Wild Thing at December 5, 2008 07:33 PM
---
Jack, that is so sad, thanks for telling about it, we need to know what these stores are for and against too. Thank you so much for what you did, your right about the what's in it for me with some stores.
Posted by: Wild Thing at December 5, 2008 07:35 PM
---