« Palin To Refuse Proposed $25K Pay Hike | Main | Obama Calls For "shift in ethics" On Wall Street »
December 19, 2008
Thank you 2,000,000 Hits, No It Is Not The Bailout ~ LOL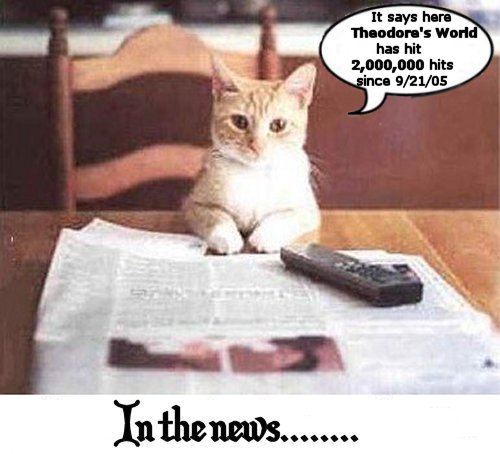 .

The sitemeter count can be found in the sidebar on the right,.if you ever want to see it. It is at the bottom of the sidebar column.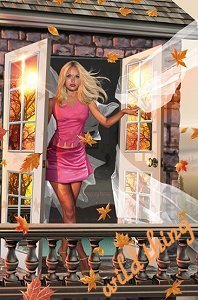 Thank you everyone for your awesome comments,for coming by Theodore's World. For those of you that peek in each day to read what is posted and the comments thank you to you too.
A very special thank you XOXOXOXOXOXOX ..... to Team Theodore for all you do each day. For your knowledge, for the things you share, your marvelous wonderful humor, links and graphics and articles and all the things that make you all so much a part of this blog and make it happen. A special love and hug for each of you. Thank you for your kindness to me and your friendship it really means so much to me, more then I can say .
Hits are counted each time a new ip address comes to this blog. The ip address is only counted one time, so that means that since this blog began there have been 2,000,000,000 people that have visited their first time.
Thank you to LindaSOG ( her blog is Something .....and Half of Something ) for helping me set up my blog when I had no idea how to get started.
I look forward to what our future holds with joy since you are all in my life. My online family and you all mean so much to me, more then any of you will ever know. Nicholas loves to sit at my side at the end of the day to see what I have posted and what everyone had to say, he loves it too. So a thank you from him as well.
The future for our country is loaded with questions and scary, but it also has the promise of the human spirit that lives inside each one of us. That spirit that rose up after Pearl Harbor was attacked and 9-11. The spirit that lives inside each one of our service members in all the branches of the military and in our Veterans.
Love
Chrissie aka Wild Thing
Posted by Wild Thing at December 19, 2008 04:50 AM
---
Comments
Congratulations Chrissie, I do hit it every day as well as some other sites. Since you are the person that got me into this, I will also thank Lynn for getting you started.
Bob A.
Posted by: Bob A at December 19, 2008 06:56 AM
---
Congratulations !!! Chrissie glad to be one of 2 million...Have a great Friday.
Posted by: James M at December 19, 2008 07:21 AM
---
Congratulations Chrissie, your site and Linda's site are daily musts. You consistently have topics that are cutting edge fresh and you are supportive of all things American. That only comes from very hard work, dedication and inner strength. Thank you for all you do.
Posted by: Jack at December 19, 2008 10:08 AM
---
Congrats! That's quite an achievement! Here's to 4,000,000 by close of next year!
Posted by: Vilmar at December 19, 2008 11:05 AM
---
Oh Boy! Congratulations for the milestone. You work very hard at this Chrissie and obviously it is enjoyed by many. I have made a few friends via your blog. Thanks for the enjoyment and information. Your graphics are the best!
Tell Nick to post something once in a while. He posted once and it was well done.
Posted by: TomR at December 19, 2008 12:25 PM
---
I sent you a private message. CONGRATS.
Is it possible that all TRUE members of "Team Theodore" get membership certificates.?
With your talent (or mine) an electronic version could be drafted.
Posted by: Steve Gaston, USMC at December 19, 2008 01:23 PM
---
I am proud to be counted as one of those 2,000,000 hits as well as part of Team Theodore. Chrissie, you are the best and I am healthily addicted to you and the PC Free Zone Gazette. Theodore's World should be required daily reading for everyone as the country would be better for it.
Thank-you to Nicholas for sharing you with us and thank-you to LindaSOG for all she is and all she has done to bring Theodore's World to us.
http://www.pawsawhileonline.com/images/720_PROUD_TO_BE_AN_AMERICAN.jpg
Posted by: Les at December 19, 2008 01:59 PM
---
What is there to say Chrissie, you're just the best. I may not leave a post everyday but I do check in on a daily basis. Oh.....congratulations too!
Posted by: cuchieddie at December 19, 2008 03:42 PM
---
Congrats, Chrissie! You're the best, especially when it comes to defending our troops. This is one of my top 5 favorite stops in blogland. (and you've seen my sidebar...lol!)

Posted by: yankeemom at December 19, 2008 03:48 PM
---
Congratulation, Chrissie, and many, many more for many, many more years.
Posted by: Mark at December 19, 2008 05:13 PM
---
Oh Wow Chrissie. Two Million hits, that's a whole lotta peoples!
See that Chriise, I told ya, you just be you right here, just be you, lovable wonderful you.
Post your dolls, post your bears, and speak your mind. Don't hold back. Cuss if you have to or want to. People will come. Maybe they'll agree with you, maybe they won't. Some will respond, some won't. Some will come back, some won't. Some will love you. Some won't.
And ya know what, I was right. Two million people came. Thousands come every day. Hundreds come back every day, over and over and over again.
And two million hits later, Chrissie, I get to say I told ya so!
Congratulations.
I love you Chrissie. You are my hero!
Posted by: LindaSoG at December 19, 2008 09:01 PM
---
I love each one of you. Thank you for being part of this little world online.

(((((((((( hug ))))))))))))
Posted by: Wild Thing at December 20, 2008 05:19 AM
---
That's a lot of hits on ya in just one night!
Posted by: darthcrUSAderworldtour07 at December 20, 2008 05:31 PM
---
Congratulations Chrissie!!!!!!!!! It is all of us 2,000,000 that should be thanking you every day for the awesome job you do here on Theodore's World!!!! You are truly one of a kind but the U.S. needs many more like you!!!!
Now if we can get this 2,000,000 plus a few more million to get out and vote, we might be able to take bake Congress!!!!!
Keep up the great job and let us all know how we can help!!!
Love and Hugs to you!!!!!
Posted by: John at December 22, 2008 10:04 AM
---