« Obama Chief of Staff R. Emanuel Ducks Reporters' Questions - Refuses to Answer | Main | "Preserve, Protect and Defend the Constitution of the United States" »
December 12, 2008
Patriot Guard Riders and Snowball Express California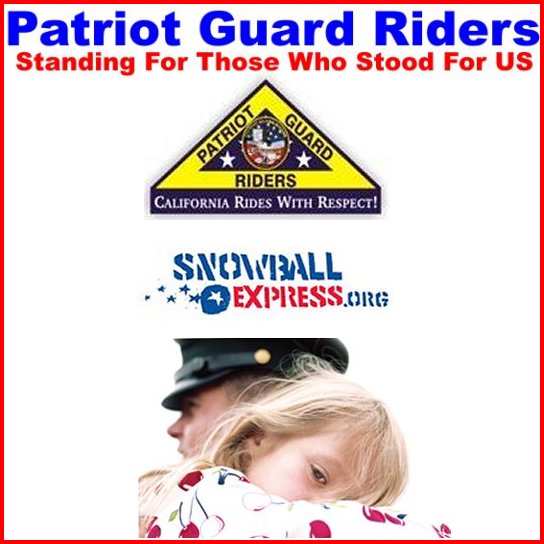 The Patriot Guard Riders have been invited to attend the SNOWBALL EXPRESS arrival and departure at Sacramento International Airport on December 16, 2008 . It arrives at 11:08 am and departs at 11:48 am. Terminal B American Airlines.
Patriot Guard Riders to arrive at 09:00 HRS and greet the Children of those Military Fallen Heroes who will be boarding the "Snowball Express".
The PGR will be escorting the children from the curbside to the gate. If you plan on attending this event you MUST let me know asap. American Airlines will be issuing special passes to riders to enter the restricted areas to escort the Children to the gates.
Bill Hawkins
Patriot Guard Riders - Regional Ride Captain, Sacramento - NorCal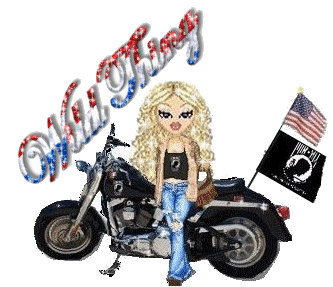 Wild Thing's comment.........
This is so awesome what they are doing. I love the Patriot Guard Riders and the Snowball Express really does a lot of good too. Thank God for these that know how important it is NEVER to Forget.
The "Snowball Express" was created so that Americans and businesses could honor and pay tribute to the children (and parents) of those military fallen heroes who have died while honorably serving since 9/11. The program started in December of 2006 when nearly 900 family members from all across America and the world gathered in Southern California for an unforgettable holiday gathering. In Nov 2007, over 1,100 children and surviving parents attended (as guests of Americans, corporations, and service groups who donated their time, money and resources) yet another healing event. Kids, parents, and widows discovered they weren't alone. And they found they weren't forgotten.
The Snowball Express flight on the West coast will originate in Seattle (45 people will board), make a stop at PDX (23 people will board), and another stop in Sacramento (35 people will board) before arriving in Southern California. This flight is one of six in the U.S. all destined for the same place (Disneyland/Universal Studios).
At Sacramento the Sacramento Ballet's production of The Nutcracker (soldiers, mice, party children, and the Nutcracker) will be costumed at the theater and transported to the airport to offer a festive atmosphere. The soldiers will "Stand Guard" at the gate as the passengers board. The Sacramento Ballet is also bringing equipment to play Holiday Music. This is an event that we all will never forget and what a wonderful way to help the children celebrate the Holiday Season. We will never forget the fallen!
Snowball Express is dedicated to helping the children of those who have made the ultimate sacrifice while serving in the U.S. Armed Forces since 9/11.
On December 16th through December 20th of this year, Snowball Express will host 2000 children and surviving spouses in Southern California, from all across America, for an all-expense paid holiday gathering none of them will ever forget.
The price of freedom for these families is paid every day with the loss of a loved one.
Their heroes died as Americans. Let's step up as Americans and help their families

....Thank you Cuchieddie for sending this to me.
Posted by Wild Thing at December 12, 2008 05:47 AM
---
Comments
That is so wonderful!! The PGR are the best!
Posted by: yankeemom at December 12, 2008 08:25 AM
---
I don't know how the PGR do it. They ride missions here almost every day. Sometimes two or three missions a day for funerals. They also attend dedication ceremonies and patriotic events and they visit schools to talk to children about patriotism.
The PGR exemplify what I think traditional America is all about.
Posted by: TomR at December 12, 2008 12:10 PM
---
Thank God there are a few left like the Patriot Guard Riders who do so many great things for ordinary people. Thanks Chrissie and Cuchieddie
Posted by: Jack at December 12, 2008 12:23 PM
---
Thank you so much all of you. And thank you Cuchieddie for telling me about this.
Posted by: Wild Thing at December 12, 2008 11:24 PM
---