« Videos From Ohio State House To Save The Constitution | Main | Hillary To Head State: Is it constitutional? »
December 14, 2008
Gov. Sarah Palin's Church Damaged in Suspicious Fire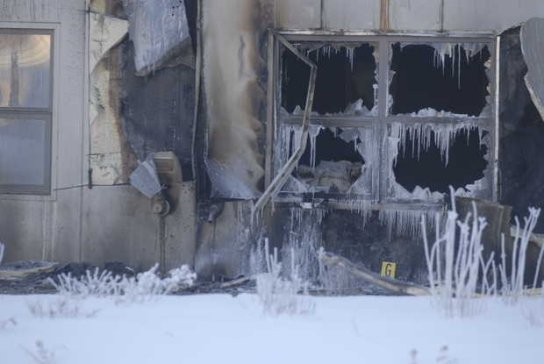 Anchorage Daily News A evidence tag sits beneath a window at the Wasilla Bible Church on Saturday, December 13, 2008, after a suspicious fire on Friday night did an estimated $1 million. A multi-agency task force is investigating the scene.

Palin's church damaged in suspicious fire
By RACHEL D'ORO
ANCHORAGE, Alaska
An arson fire has badly damaged Gov. Sarah Palin's home church, which came under the national spotlight during her failed campaign as the Republicans' vice presidential nominee.
Damages to the Wasilla Bible Church were estimated at $1 million, authorities said Saturday. No one was injured in the fire, which was intentionally set Friday night while a handful of people, including two children, were inside, according to Central Mat-Su Fire Chief James Steele. He said the blaze was being investigated as an arson.
Palin was not present when the fire broke out.
Steele said a multi-agency task force was being assembled to investigate the fire.
He said he didn't know of any recent threats to the church. Steele said authorities were noting the church's connection with Palin, but added that they didn't know if that was relevant to the fire.
"It's hard to say at this point. Everything is just speculation," he said. "We have no information on intent or motive."
Steele would not comment on the means used to set the fire.
Pastor Larry Kroon declined to say whether the church had received any recent threats.
"There are so many variables," he said. "I don't want to comment in that direction."
Palin on Saturday stopped by the church, which is located in her home town of Wasilla, 40 miles north of Anchorage. Her spokesman, Bill McAllister, said in a statement that Palin told an assistant pastor that she apologized if the fire was connected to the "undeserved negative attention" the church has received since she became the vice presidential candidate on Aug. 29.
"Whatever the motives of the arsonist, the governor has faith in the scriptural passage that what was intended for evil will in some way be used for good," McAllister said.
The thousand-member evangelical church was the subject of intense scrutiny after Palin was named John McCain's running mate. Early in Palin's campaign, the church was criticized for promoting in a Sunday bulletin a Focus on the Family "Love Won Out Conference" in Anchorage. The conference promised to "help men and women dissatisfied with living homosexually understand that same-sex attractions can be overcome."
The fire was set at the entrance of the church and moved inward as a small group of women were working on crafts, Steele said. Two children also were present, he said.
The group was alerted to the blaze by a fire alarm.
Kroon said he was called about 9:30 p.m. Friday and by the time he got to the church, smoke was pouring out of the building.
Firefighters worked in minus-20-degree temperatures outside the building.
Sprinklers kept the fire from spreading beyond offices and classrooms on the first two floors of the three-story building. But Steele said firefighters had to break through some of the interior to reach flames trapped inside walls. The main worship area sustained some water damage.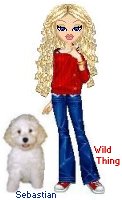 Wild Thing's comment..........
Thank you God that no one was injured. What sick loons would do this? Unbelievable.

"church, which came under the national spotlight during her failed campaign as the Republicans' vice presidential nominee."
"failed" .... the stupid hateful media has to put the failed word in. They could at least not be so obvious about their hate for conservatives.
The article is about a fire that could have easily taken lives and yet the media has to make it political in how they write their report.
It will be interesting to see how many politicans speak out against this IF it is proven to be a politically inspired arson attack. My bet is that there won't be many, and the media will say that Gov. Palin brought it upon herself and the church. We have nothing but physical and moral cowards as leaders, and that is why Gov. Palin is so valuable.

So sad that Sarah blames herself for this, this was NOT her fault, this was the fault of the left wing liberal nut jobs that are now controlling the majority of the United State. Sarah Palin is wonderfull and first class. I realize too that is also why she felt she had to say something.
Posted by Wild Thing at December 14, 2008 02:44 AM
---
Comments
Probably Obamabots trying to chase Sarah away. They got another think coming, she don't run, she shoots back.
Posted by: Mark at December 14, 2008 06:25 PM
---
Hopefully, the proper authorities will get to the bottom of this despicable deed and arrest the responsible individual or individuals. I would not be surprised if it turns out that they were encouraged by the permissive hate filled rhetoric of the Democrats, MSM, and Obama supporters these last eight years.
Posted by: Les at December 14, 2008 07:41 PM
---
Mark, I love how you put that. Yesss she shoots back.
Posted by: Wild Thing at December 14, 2008 07:48 PM
---
Les, yes, I was even wondering if it was about the Prop 8. Her church took a strong stand against it and the Prop 8 people, the gay community can be very cruel. Not all but there is a fringe element in it that is violent.
Posted by: Wild Thing at December 14, 2008 07:51 PM
---