« Barney Cam 2008 at the White House | Main | Thank you 2,000,000 Hits, No It Is Not The Bailout ~ LOL »
December 19, 2008
Palin To Refuse Proposed $25K Pay Hike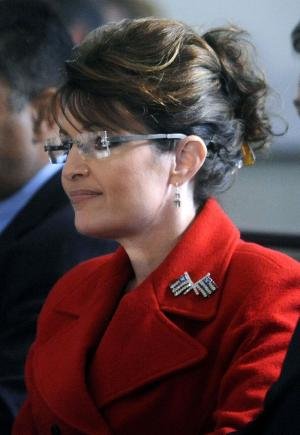 Palin to refuse proposed $25K pay hike
JUNEAU, Alaska
Former Republican vice presidential candidate Sarah Palin said she would refuse a $25,000 pay raise during her current term as Alaska governor.
A state commission recommended boosting the governor's pay to $150,000 from $125,000.
The five-member state Officers Compensation Commission, created by the state Legislature, also said legislators needed more money, along with the lieutenant governor and government department heads, the Anchorage Daily News reported.
If the commission pushes ahead with a pay raise, Palin will not accept the money, spokesman Bill McAllister said.
"Her view is, it's just not appropriate to accept a pay raise in the middle of the term," he told the newspaper.
Palin's term ends in 2010.
Palin makes 46 percent more than her most recent predecessor, Frank Murkowski, but is the 24th-lowest paid governor, the commission said.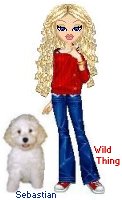 Wild Thing's comment.......
Palin 2012........Change We Will Be Begging For!
Contrasting this to the various and sundry silverspooners like Kennedy and Pelosi as they gobble up every Congressional pay raise like clockwork.
California should take a page from her book. Michigan too!

LOOK at this..........
With economy in shambles, Congress gets a raise
By Jordy Yager
Posted: 12/17/08
A crumbling economy, more than 2 million constituents who have lost their jobs this year, and congressional demands of CEOs to work for free did not convince lawmakers to freeze their own pay.
Instead, they will get a $4,700 pay increase, amounting to an additional $2.5 million that taxpayers will spend on congressional salaries, and watchdog groups are not happy about it.
"As lawmakers make a big show of forcing auto executives to accept just $1 a year in salary, they are quietly raiding the vault for their own personal gain," said Daniel O'Connell, chairman of The Senior Citizens League (TSCL), a non-partisan group. "This money would be much better spent helping the millions of seniors who are living below the poverty line and struggling to keep their heat on this winter."
However, at 2.8 percent, the automatic raise that lawmakers receive is only half as large as the 2009 cost of living adjustment of Social Security recipients.
Still, Steve Ellis, vice president of the budget watchdog Taxpayers for Common Sense, said Congress should have taken the rare step of freezing its pay, as lawmakers did in 2000.
"Look at the way the economy is and how most people aren't counting on a holiday bonus or a pay raise — they're just happy to have gainful employment," said Ellis. "But you have the lawmakers who are set up and ready to get their next installment of a pay raise and go happily along their way."
Member raises are often characterized as examples of wasteful spending, especially when many constituents and businesses in members' districts are in financial despair.
Rep. Harry Mitchell, a first-term Democrat from Arizona, sponsored legislation earlier this year that would have prevented the automatic pay adjustments from kicking in for members next year. But the bill, which attracted 34 cosponsors, failed to make it out of committee.
"They don't even go through the front door. They have it set up so that it's wired so that you actually have to undo the pay raise rather than vote for a pay raise," Ellis said.
Freezing congressional salaries is hardly a new idea on Capitol Hill.
Lawmakers have floated similar proposals in every year dating back to 1995, and long before that. Though the concept of forgoing a raise has attracted some support from more senior members, it is most popular with freshman lawmakers, who are often most vulnerable.
In 2006, after the Republican-led Senate rejected an increase to the minimum wage, Democrats, who had just come to power in the House with a slew of freshmen, vowed to block their own pay raise until the wage increase was passed. The minimum wage was eventually increased and lawmakers received their automatic pay hike.
In the beginning days of 1789, Congress was paid only $6 a day, which would be about $75 daily by modern standards. But by 1965 members were receiving $30,000 a year, which is the modern equivalent of about $195,000.
Currently the average lawmaker makes $169,300 a year, with leadership making slightly more. House Speaker Nancy Pelosi (D-Calif.) makes $217,400, while the minority and majority leaders in the House and Senate make $188,100.
Ellis said that while freezing the pay increase would be a step in the right direction, it would be better to have it set up so that members would have to take action, and vote, for a pay raise and deal with the consequences, rather than get one automatically.
"It is probably never going to be politically popular to raise Congress's salary," he said. "I don't think you're going to find taxpayers saying, 'Yeah I think I should pay my congressman more'."
Posted by Wild Thing at December 19, 2008 04:48 AM
---
Comments
Yes, Congress should take a page from her book. Once again Governor Palin shines like a bright star. The economy is in the tank and I can see down the road that many of those that do not lose their homes to bank foreclosure stand to lose them through tax foreclosure and the greedy politicians just keep holding their hands out for more.
Posted by: Bob A at December 19, 2008 07:01 AM
---
She is interested in giving the government back to the people and being their representative a steward of their rights. Where Washington is taking the control of government away from people to have more control over the people.
If it wasn't so damn cold all the time up there i'd move to Alaska . I guess I'm stuck in the Peoples Republic of Pennsylvania.
Posted by: Mark at December 19, 2008 10:22 AM
---
Sarah is once again setting an example, I've lived in Anchorage and worked the oil fields, her salary as Governor is comfortable but the cost of living there is not low either, it takes will power and strong ethics to turn down a $25K pay raise, ethics keeps her husband from pursuing his vocation in the oil field due to potential conflicts of interest. Sarah then becomes the breadwinner as a result of walking that tight wire. Any woman who has to juggle kids, a home and all the other tasks when the husband is away for from 1 to 6 weeks at a stretch soon becomes self reliant and self sufficient, all too often when we husbands returned we were interfering with their routine schedules. Sarah is one of those women, Todd has balanced his career for her's, both are a remarkable couple.
Not a favorite president but one I deeply respect for his fiscal ethics is Truman.
"After it was discovered that former president Harry Truman was living off his Army pension and little more, Congress passed the Former Presidents Act of 1958. The act was implemented to prevent former presidents from having to sell their names and the presidency to live comfortably. Truman believed that he "could never lend himself to any transaction, however respectable, that would commercialize on the prestige and dignity of the office of the presidency." When in office, President Truman made $100,000 a year. When he retired he lived off his pension from the Army. Reserve Colonel Harry Truman, Field Artillery, got retirement pay of $112.56 a month. I in turn look at GHW Bush, Jimmy Carter and Bill Clinton and gag at their blatent selling of their former status and their open intervention of the setting president's authority and policies. Charitable my Butt!!! Untaxable yes!!! Meanwhile all are pointing fingers at Wall Street or they'll single one of their own like Bernard Madoff as a scapegoat, when they are equally culpable. Will someone hand these Ex's a mirror.
Since 1958 the Former Presidents Act of 1958 has been expanded to the point that a pauper can become a multimillionaire if they manage to get into any branch of government. What happens to all that candidate's campaign money unspent after a campaign? I look about and shudder at how licentious and larcenous politicians really are. Off base, maybe, but look at who PEBHO has surrounded himself with; just from Chicago. PEBHO, from a muzzie-socialist upbringing in Indonesia and Hawaii to Chicago and the White House all on the shoulders of corruption.
Posted by: Jack at December 19, 2008 10:59 AM
---
Posted by: Les at December 19, 2008 02:38 PM
---
They are in washington for about 6-7 months out of the year. They are constantly whining about how bad everything is yet they do nothing but take more of our money to make matters worse.
But what do they do to earn 160,000 dollars a year. Have the time they are drunk and dirve on the sidewalk, but never get a ticket, but go to a rehab, paid for by US. They call the President Hitler, and turn around and call our troops Nazi's because they can't get enough from the public coffers. Some of them flat out steal it and then freeze it, like some left over from last nights dinner. If any of these idiots worked for a living they would have been fired for not doing there job.
But every two years they keep getting re-hired by their employer. And they want a raise, for what ?
Posted by: Mark at December 19, 2008 05:10 PM
---
Thanks so much Chrissie, I posted this post on my site and linked back to and gave credit to you for posting it.
Bob A.
Posted by: Bob A at December 19, 2008 06:16 PM
---
Bob A., oh good, I am soooooo glad. I should have sent the link to you for your Sarah blog that is so wonderful. I was just up so late I wanted to get too much done in a short amount of time.
Posted by: Wild Thing at December 19, 2008 06:19 PM
---
Hey Mark, you have it right. We all have to unite and put the message out. Visit my site
http://www.boudica.us/palin2012.html
and join the fine sites there and spread the word.
Bob A.
Posted by: Bob A at December 19, 2008 06:20 PM
---
Mark I was thinking that too. Alaska is gorgeous, but it is very cold and short not really warm summers.
Nick would end up with colds all the time so no way can we live where it gets cold. I am the the snow and cold weather person. haha
Posted by: Wild Thing at December 19, 2008 06:22 PM
---
Jack, thank you for the information about Alaska and Todd and Sarah too. I agree they both are a remarkable couple.
I never knew about the Former Presidents Act of 1958. Thank you.
Posted by: Wild Thing at December 19, 2008 06:29 PM
---
Les, good political cartoon for this. Thannk you.
Posted by: Wild Thing at December 19, 2008 06:34 PM
---
Last year our female governor gave herself a nice $24,000 pay raise too! She is not a conservative either. Imagine that?
Posted by: darthcrUSAderworldtour07 at December 20, 2008 05:34 PM
---