« GITMO Prisoners "Stop the music torture" | Main | Obama To Create Iran Outreach Post »
December 20, 2008
Gov.Bill Richardson Lawyers Up ?..."pay to play" The Democrats Motto Maybe?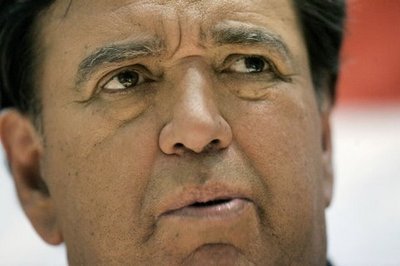 Governor's Office mum on investigation
by Steve Terrell
12/18/08

Gov. Bill Richardson's office Thursday would neither confirm nor deny reports the governor has hired a lawyer to represent him in a grand jury investigation over a possible "pay-to-play" scheme involving a state transportation and highway program.
Gov. Bill Richardson cut short a news conference Tuesday, abruptly leaving the room and ignoring reporters' questions about a federal grand jury investigation.
KRQE, Channel 13, reported Wednesday that Richardson had hired Albuquerque lawyer Peter Schoenburg as his legal counsel in the grand jury case. The grand jury, as reported by The Associated Press and other news organizations this week, is looking into a possible connection between a Beverly Hills, Calif., financial company's large contributions to Richardson political action committees and nearly $1.5 million the company received for work on a state road-building program.
Schoenburg, who was not in his office Thursday, couldn't be reached for comment.
Richardson's spokesman, Gilbert Gallegos, responded, "No Comment," when asked whether the governor had hired Schoenberg. Asked by e-mail whether the news report was false, Gallegos responded, "I'm not confirming anything. I have no comment."
Schoenberg represented former Albuquerque Mayor Ken Schultz in the Albuquerque Metro Court corruption case, which led to the conviction of former state Senate leader Manny Aragon. Schultz took a plea deal, agreeing to testify against Aragon and others in that case. Schultz has yet to be sentenced.
Richardson, who is President-elect Barack Obama's nominee for U.S. commerce secretary, has not answered media questions about the grand jury case. Gallegos has issued a statement saying the governor is aware the federal government is investigating, and he expects members of his administration to cooperate.
The New Mexico Finance Authority in 2004 awarded a contract to CDR Financial Products Inc., making it part of a team of financial consultants that would put together a bond-financing deal for GRIP (Governor Richardson's Investment Partnership), a state road-building program.
The Associated Press reported in August that CDR and its chief executive officer, David Rubin, contributed at least $110,000 to three political action committees formed by Richardson.
A person familiar with the proceedings told The Associated Press this week that the grand jury is looking into dealings between CDR Financial Products and someone in a position to push the contract through with the state of New Mexico. The source asked not to be named because the proceedings are secret.
The grand jury follows an FBI probe in which agents sought documents from the NMFA. The FBI interviewed former and current authority officials about New Mexico's 2004 contract with CDR for the $1.6 billion transportation program.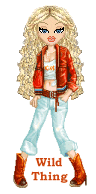 Wild Thing's comment........
Did the Richardson catch the Blago virus? Shucks, that would be a darn shame. Chortle, snort, guffaw!
Let's see when Bill Clinton was President we had 8 years of the gazillion gates ( TravelGate, FBIGate, FileGate, WhietwaterGate, ChinaGate, etc.) and now we have criminals, Richardson, Browner, Emanual, Clinton, etc., are scheduled to come back in 2009 with Obama. Adding in the ObamathugGate friends and cronies.
Also just a side note, Bill Richardson was the man who introduced Bill Clinton to Monica Lewinsky. LOL No wonder Hillary is not a big fan of his.
These guys barely made it half way to inauguration day before the sleaze started tumbling out of their closets. And the hits just keep on comin' unveiling the corruptness of obamanation's administration. The people filling the positions are just like him—rotten to the core.
Things keep getting more interesting.

Looking back at Bill Richardson:
In the January of 1999, the U.S. House Select Committee on Intelligence published ... the "Cox Report" -- which found that China had stolen and still was stealing nuclear weapons secrets from the U.S.
The committee reported that "the primary focus of this long-term, ongoing PRC intelligence collection effort has been on … national weapons laboratories." The national laboratories were under the jurisdiction of Richardson's Energy Department.
Then in early 2000, two computer hard drives containing information on U.S. nuclear weapons disappeared from Los Alamos.
With the hard drives still missing, and invited to speak before the Senate Intelligence Committee on nuclear security on June 14, 2000, Richardson instead attended a campaign function for Vice President Al Gore at the National Press Club. The committee's chairman, Sen. Richard Shelby (R.-Ala.), left an empty seat at the witness table with Richardson's nameplate to highlight his absence. "Perhaps if the secretary would spend more time ensuring the safety of our nation's nuclear treasures," Shelby said, "and less time trying to get the Vice President elected President, we would not be here today."
Posted by Wild Thing at December 20, 2008 04:48 AM
---
Comments
Richardson, like all the rest thought he could do business as usual, after all it's a Democrat landslide and anything goes. I don't believe this would have seen the light of day in the media if not for friction between the Clinton and Obama factions in the media. It's like catching monkeys, put something they want in a heavy jar with a tiny hole and they'll reach in and grab the object, that object and their hand being to big to remove, they are hopelessly trapped by their greed. Seems that the old proverb is still true. An example from the monkey: "the higher it climbs, the more you see of its behind". Look no further than the Chicago Mafia, Obama and those in the inner circle for a bunch of greedy monkeys, and how they rally to preserve their code of ethics. The Republicans haven't proven to be any more ethical, only adept at putting distance between themselves and the offender.
Posted by: Jack at December 20, 2008 07:08 AM
---
I'm not surprised that the dums are into this "pay for play" crap. If you look at them, there are so many multi millionaires in their club and it's been shown that there are more extremely wealthy dums than republicans. And they say they're for the poor, little guy. I don't think so. Why should I have to pay something to get a job? That's a scam in itself! They promise you the world and then just when you think you're doing well, wham-o! They pull the rug out from under you and land you on your ass.
That ought to be illegal and anyone who was part of that should be drummed out of the congress, senate, whatever.
Posted by: Lynn at December 20, 2008 07:10 AM
---
Too many politicians consider their offices as business offices. Their power is for sale. Just like the Third World. The Dems are especially mercenary with their power. Bill Clinton sold favors. Obama's bunch are shaping up to be the grand masters of graft.
Posted by: TomR at December 20, 2008 12:14 PM
---
Democrat power tends to corrupt, and absolute democrat power(which is what we have now) corrupts absolutely.
Now the Governor of New Mexico is involved in another scheme. Blago, was the tip of the ice berg. He couldn't have answered all those questions honestly, you know the ones that said, 'have you done anything that would embarrass yourself, your family or the PEBO'.
Yeah boy, this sure is change from an inept Bush to the Chicago street thugs, taking over Washington. The President elect and his band of thieves, crooks, shakedown artest, Wanna-be Tough guy, and probably a few 'Real' Wiseguys thrown in for good measure. Yessiree, This is the Change we can believe in.
Posted by: Mark at December 20, 2008 02:44 PM
---
Richardson is just the tip of the questionable Obama administration already put in place. It sure does look like Barack Obama is trying to out do Bill Clinton on the parsing of words and things like "It depends on what the meaning of the word 'is' is." as he tries to cover up his ethically challenged administration and Democratic party.
From the Obama friendly New York Times.
In Transition, Ties to Lobbying
http://www.nytimes.com/2008/11/15/us/politics/
15transition.html?scp=8&sq=obama%20lobbyists%20transition%20team&st=cse
"WASHINGTON — President-elect Barack Obama has imposed stricter conflict-of-interest restrictions on his White House transition team than any president before him. But a list of transition team members that his office made public on Friday includes a complicated tangle of ties to private influence-seekers."
"Among the full roster of about 150 staff members being assigned to government agencies between now and Inauguration Day are dozens of former lobbyists and some who were registered as recently as this year."
Obama Unable to Keep His Promise on Lobbyists
http://www.newsmax.com/politics/
obama_influence_lobbyists/2008/12/06/158899.html
"An Associated Press review of more than 400 members of Obama's transition team identified at least 34 who have registered in recent years to lobby government officials on behalf of clients or employers -- some as recently as this summer."
-----------------------------------------
"Overall, the people Obama is relying on to build his administration have represented unions; energy, environmental groups, insurance, and drug companies; Wal-Mart; the National Association for the Advancement of Colored People; and the lobbying arm of the Washington-based Center for American Progress. The center is a think tank headed by John Podesta, former chief of staff to Bill Clinton and now co-chairman of Obama's transition."
"Also prominent on Obama's new team are his big-money fundraisers. At least 18 of Obama's major financial backers are helping him create his administration. They collected at least $50,000 each from friends and associates to help pay for the most expensive presidential campaign in history."

Posted by: Les at December 20, 2008 03:13 PM
---
I'm sick of these gangsters in pin-stripes! Were Al Capone, Frank Nitty and Dutch Schultz really BAD GUYS after all? - Seriously 2008
Posted by: darthcrUSAderworldtour07 at December 20, 2008 05:18 PM
---
And what's up in NY. A Kennedy with no experience, other than following the clan and endorsing B. Hussein Obama in the lead of being picked by Patterson. He can not see (pardon the pun) what he is doing with this issue any more than what his big spending and tax proposals will do to the state. NY needs to be split into 2 states. Upstate as New York State and the rest as New York City State.
Bob A.
Posted by: Bob A at December 20, 2008 07:20 PM
---