« Bush Holiday Greeting Outtakes ~ LOL | Main | Actor David Spade Buys High-Powered Rifles for Local Police Department »
December 24, 2008
Christmas Memories While Deployed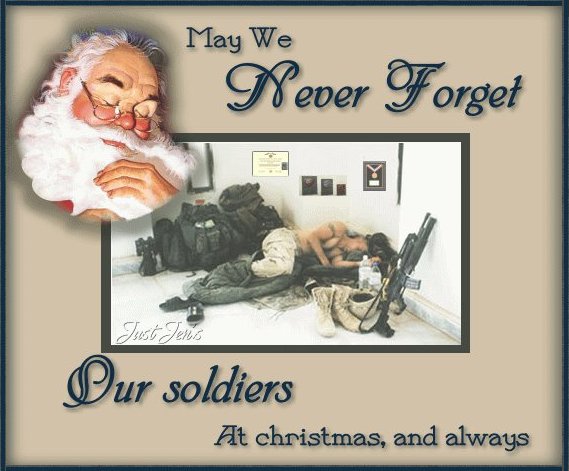 Service members are deployed worldwide if possible they are singing hymns, sharing good wishes, dreaming of home, and generally making the best of whatever situation they are in as they always have done this time of year.
Not that this has always been easy. In fact, there have been some very dark Christmases in our nation's military history; from that bitter December at Valley Forge in 1777 to the massive wound-lickings following devastating December losses at Fredericksburg in 1862 and Pearl Harbor in 1941 to the terrible December siege of Bastogne in 1944, and others.
We all may have a favorite Christmas that holds a special place in our hearts and memories, maybe more then one. To those that are deployed at Christmas it takes on a whole new meaning.
I have never served in the military, but the gift to be able to go and see our troops overseas those 4 times will be as real to me today as they were then. Those visits live in my heart forever. As each of the Christmas shows finished there was always the song "Silent Night".
Here is my favorite Chrtmas memory.
It was 1968, I was living in Dallas, Texas and the modeling agency I was with picked a few of us to hostess an event that Bob Hope was having.It was not a big event, just a small gathering to entertain a handful of Dallas business people that were Republicans and supporting the Vietnam War. When we showed up we were all introduced to Bob Hope. I was thrilled, he was one of my parents favorites as well as my own. He always made me laugh and his support of our military had meant a lot to my family.
He took me aside and asked me some questions and then asked if I wanted to do a few skits with him for part of the entertainment. I told him yes I would love to and even though I was a nervous, my shyness was overcome with excitement. He asked if I had anything memorized I could show him since there was no piano there for me to play for him. I remembered one of the things my Uncles had taught me when I was a very little girl. " Ready on the right, ready on the left, ready on the firing line...." For fun I had added body posture and physical animation and changed the words ever so slightly.....giggle.
"Ready on the right, ready on the left, ready on the firing line. You have five (said in slow drawl) seconds to get into a tight prrrrone position and squeeeeeze off your rounds" Then I pretended to aim and fire. LOL When I got done I smiled and asked if it was OK. He loved it. He laughed and smiled and said it was a keeper. LOL After the event that night, he talked to me about his tours to support the troops. The next time I saw him it was in California of that year as we were getting the run down on the 1968 Tour and God blessed my life to be able to go a total of 4 times. To be able to see my heroes, our countries heroes too, and thank them.....those were the best Christmas's in my whole life.
.

This Video below is an outtake from the 1944 20th Century Fox movie "FOUR JILLS IN A JEEP," adapted from Carole Landis' book about the real-life journey by Landis, Raye, Mitzi Mayfair and Kay Francis to entertain U.S. troops overseas in WWII.
Martha Raye also went to entertain the troops during the Vietnam War. She is one of my heroes.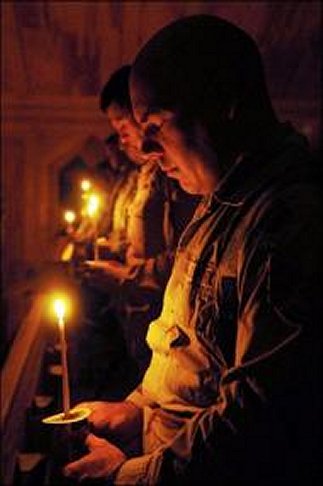 US Soldiers celebrate Christmas by attending midnight services
.
Sharing your past or present most memorable Christmas
memory (ies) when deployed in past wars or present.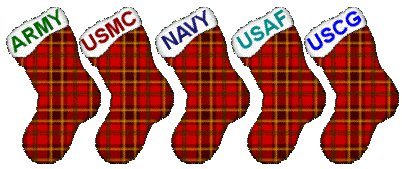 It was a very wet and cold Christmas Eve in Vietnam.

Being on a reconnaissance-sniper mission that day, we had been in the field for more than three straight weeks, living on C-rations and dehydrated foods.

The choppers could hardly be expected to show, since the density of the rain and the fog grew thick as we went deeper into the mountains.

Childhood memories of my brothers and sisters came back to me, and each time we rested, I was drawn into a deep silence. The leeches were all over us, sucking what life we were trying desperately to preserve, but we were much too tired to do anything about them.

Vines and thorns pierced into our necks. Colonies of red ants bundled into balls of leaves swarmed over us at the slightest touch. Our skin was turning into crusts and flaked when scratched. The ringworm on my face and the burning itch between my thighs had taken its toll, and I began to cry.

I could hardly believe that I celebrated my 19th birthday in this God-forsakened country with a pound cake from a C-ration can, and that I was about to celebrate Christmas in the same way, this time having a fruitcake from another C-ration can.

So disgusted with hate, so damned disgusted with fear, so damned disgusted with this stinking life and where it had put me! "God," I prayed, "when is all of this going to end? Why me, and why not someone else?" As I lay with my poncho wrapped around me in the mud, with my head resting on my rucksack, I looked over to see my buddies huddled in their own ways, as if they were being snuggled in their mothers' arms. I could see the same tears of heaven fall on their heads, hiding their own tears.

And as I whispered myself to sleep, I cried, "Mama, mama, I miss you so ... Where's all my brothers and sisters? ... Dad, dad, I love you too ... Don't worry, I'm all right, I'll be strong ... Grandma? Hi, Grandpa, boy I sure miss you guys … Let's go fishing soon, okay?"

Suddenly, a noise – like machinegun bursts – drew quickly toward me. I couldn't think, my mind was blank from being so tired, so cold. I could only think, and feel, fear.

I grabbed my rifle and tried to scream as the noise got louder, echoing and bouncing back and forth in my head. Then I opened my eyes as if a bolt of lightning had pierced my body. To my amazement the rain had stopped and only beads of sweat covered my forehead as I began to look about.

Then I looked up and saw a chopper hovering above us, dropping cannisters attached to ropes. I dropped my rifle in my excitement to see what we had. We carried the cannisters and began to open them. To my astonishment and delight we found steaming hot turkey smothered in gravy, mashed potatoes and yams, peas and carrots, bread and butter, and beer. A new change of clothing, too, and some hot cocoa to relax over.

I just couldn't believe it, I just couldn't, as I cried for joy, and we all gave thanks in our own way. Christmas was never forgotten, even as deep into the mountains as we were, we hadn't been forgotten. The good Lord heard our cries and touched the hearts of our commanders, who knew what it was like here.
This story was originally published in the Honolulu Star-Bulletin in December 1981. The author, Jimmy F. "Jeno" Enocencio, hopes to share his experience of a Christmas spent in Vietnam as a tribute to the service men and women, past and present, who serve our country, as well as to offer a message of hope to family members of service members deployed abroad. For his service in Vietnam, the author was awarded the Bronze Star with valor, the Army Commendation Medal, the Air Medal, the Combat Infantry Man's Badge and the Good Conduct Medal, which is his favorite. Enocencio served as a Pointman in the Reconnaissance/Sniper Team with the Americal Division from 1970-1971.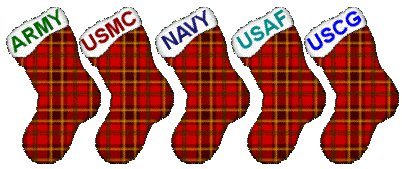 During Christmas 1969, former Army Ranger and artillery forward observer John Temple Ligon was positioned near the Cambodian border.

"It was hot as hell in the day," he tells NRO. "Night was worse: We were being regularly mortared, and the mosquitoes were so big you thought they'd carry you away." But Ligon and his fellow soldiers had a Christmas tree.

"It was artificial, of course, just under three-feet tall, on which we hung cut-and-polished C-ration peanut butter cans for ornamentation," he says. "We stood it up in the sandbagged command post. Other than that, it was just another day in Vietnam."
Please feel free to share your favorite............
Posted by Wild Thing at December 24, 2008 04:48 AM
---
Comments
My personal story is very similar to the original one above. It was Cristmas 1966 and there was a cease fire. HA!
I had written my Mother that everything was ok and I was not in any danger for Christmas. I was in H Company, 2nd BN, 5th Marine Regiment. Well guess what. There was not a cease fire for my company. I spent Christmas Eve and Day in a fox hole, by myself. If is had a dollar for ever bullet that was shot at me I could have bought a brand new Jaguar XKE.
I had not eaten for a long time. My mind says five days, but it was probably less. A chicken walked past my hole. It was the world's most scrawny chicken. I took my rifle butt and clubbed him/her(?). I could not build a fire because everything was wet and it would "draw fire". So I took a rusty razor blade from my pack, skinned it and ate it raw. Best tastin' chicken I ever did eat.
For all of you who are going "yuck"....think about what you eat at a sushi restaurant.
There was a big article in the Dayton Daily News about my unit that weekend. My Dad tried to hide it from my Mother. He failed and my Mother went nuts, as well as a lot of other Moms during Vietnam.
Oh well, ... it seemed bad at the time, but now I remember the good times, except I still feel for the wounded and dead that time.
Damn! I wish I had kept that chickens feathers. They would have made a good "war necklace" or war bonnet.
Semper Fi, to all my good friends, even TomR...I love you buddy.
Posted by: Steve Gaston, USMC at December 24, 2008 07:28 AM
---
Christmas 1967.U/W on the waters of the mekong delta.ambushed at a river crossing.lost some Shipmates.the area became known as the Christmas cross roads.little green boats manned by young sailors.
Posted by: Chief at December 24, 2008 09:19 AM
---
... Our C-5 Galaxy crew delivered food, medical supplies and water to St. Petersburg (former Leningrad) after Somalia ops were completed (1993).
Delivered a C-5 Galaxy full of freshly cut Christmas trees to Mogadishu Somalia in 1992. Rumor had it a C-5 loadmaster had replaced the pallet of bottled water with ... vodka? The ice tea bottles were filled with Jack Daniels too? The MRE cases had cases of beer in them as well? Imagine that? Col.Pappy Boyington (USMC Black Sheep Sqdn.) taught us well? HO HO HO!!!
Posted by: darthcrUSAderworldtour07 at December 24, 2008 11:55 AM
---
I had many good Christmas's in the Army. My first Christmas a buddy took me and another guy on 3 day pass to Panama City, Fla from Bragg to have Christmas with his family. It was great.
Two Christmas's in RVN. One Christmas we were entertained at our advisory team by Vietnamese high school girls singing carols. They sang Silent Night in English and it was done well.
The other Christmas in Vietnam, the Province Chief sent our team a delicious looking roasted pig. Our medic looked at it and said it was cooked in the whole. The pig had not been degutted. We did not know what to do with it. We could not bury it because the Vietnamese on the compound would know we did that and word would get back to the PC. Finally we figured out we would donate it to a local orphanage. It worked out for everyone and we cooked our own turkey.
Another Christmas a local family in Pacific Grove, Ca. invited three of us from the Defense Language Institute at Monterey for Christmas dinner. That family was wonderful and became life long friends. This was in 1969 when the antiwar movement had become so strong. And this was in California no less where the movement was supposedly at it's strongest. Yet, I ran across many wonderful people in Calif. who were very friendly towards the military.
Another Christmas I came home on leave and went with my family to Monterrey Mexico. That was a wonderful family outing and Christmas was much slower and less commercial in Mexico.
My last Army Christmas was spent in the VA hospital in Memphis, Tn. Not a great one, but some volunteers spruced it up. They were nice. The VA in those days was no where near as good as it is now.
Hey Chief. I was at Camau in 1967.
Posted by: TomR at December 24, 2008 11:59 AM
---
Attn Steve Gaston, I'll trade you my Ham & Lima Beans for your pound cake.
Oh and BTW, I was fortunate to have seen Chrissie and Bob Hope that year in Cu Chi.
Thank you Chrissie and a very Merry Christmas to you and Nick.
Posted by: cuchieddie at December 24, 2008 01:54 PM
---
Over 50 years ago I listened to the old service men talk about war and tried to understand what they were saying, today I hear our young service men and women speak and understand it all too well.
Sorry Steve, some of our brothers were just out of reach, that didn't stop the night and day effort to supply everyone. Yuck,(snicker) try some of that raw mystery meat over a bowl of buggy rice with a raw egg broken over, it a dash of some nước mắm. Was it water buffalo, monkey or dog? Didn't matter, you'll not be picky once your belly button thinks your throat has been cut - everything is yummy, including python over a flame. I never got so hungry that a rice beetle appealed to me though. I think it was the 'crunch' they made when the locals bit into them.
Oh yeah, my wife thought we were singing in the local choir until someone spilled their guts to the local news, my best friend was claymored Christmas eve and spent Christmas Day on a litter at Dong Ha on Christmas day, he was stabilized and evacuated the following day to Japan.
Christmas of '69 for me was a visit by Santa (Sarge) dressed in a red suit, we donated whatever we had to him and it went to the local orphanage, a run to the MASH unit, we then saddled up and made another line haul up QL1- QL9, no greater joy than the looks of welcome when the beans and bullets arrive. Our company cooks fixed up a fantastic Christmas dinner from canned stuff. Most of us had lost 20 - 30 lbs and were always hungry. We moved out within the week for Americal Division where we had a 'real mess hall' at Ky Ha, albeit roast beef for breakfast, dinner and supper for a while. Life was good. Life is good.
Love you guys, God bless you all.
Merry Christmas and a humble thank you.

Posted by: Jack at December 24, 2008 01:56 PM
---
Thank you Jack and Merry Christmas to you and yours :]
Posted by: cuchieddie at December 24, 2008 03:27 PM
---
Merry Christmas and a Happy New Year to all you warriors. All my deployed Christmases were a minor peacetime annoyance, compared to the rest of you.
Bless you all, and especially you Chrissie, because you were the one that didn't have to go, but did!
Posted by: Rick at December 24, 2008 06:38 PM
---
Thank you all so much for sharing it really means a lot to me.
God bless you all.
Love and hugs to each of you.
Posted by: Wild Thing at December 25, 2008 01:03 AM
---