« Christmas in Iraq | Main | Attorney for Terri Schiavo's Husband Now Advising Obama »
December 23, 2008
Carter Loves Hamas and Ahmed Yousef, Hamas' Chief Loves Obama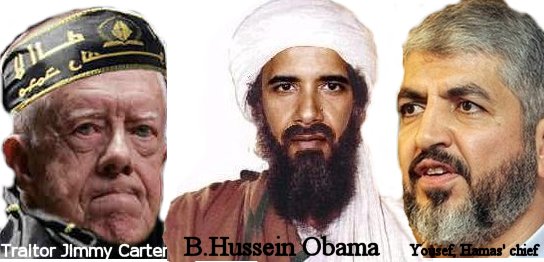 Carter: Hamas putting eggs in Obama basket
Terrorist group has high expectations for incoming Democrat administration
By Aaron Klein
TEL AVIV
Hamas is putting all its eggs in the basket of President-elect Barack Obama, according to former president Jimmy Carter, who met with the chiefs of the terror group in Syria last week.
"Like the Syrians, they (Hamas) are patient, relatively satisfied with the status quo, and putting all their eggs in Obama's basket. We had to caution them about expecting too much of an immediate change in U.S. Middle East policy," Carter wrote in a first-person report posted on his Carter Center website.
Carter recounted how on the anniversary of Hamas' founding, he met last week in Damascus with Hamas chieftain Khaled Meshaal "and his fellow Hamas politburo members, all of whom are scientists, medical doctors, or engineers – none trained in religion."
A senior Israeli security official who was made aware of Carter's description of Meshaal and other top Hamas members as "scientists, medical doctors, or engineers," said such descriptions were "simply outrageous apologies for evil."
The official pointed out there is strong evidence Meshaal, who heads an active terrorist organization, repeatedly directly has ordered numerous Hamas terror attacks over the years, and, until Hamas took over the Gaza Strip in 2007, Meshaal controlled the flow of money for all Hamas activities, including terrorism and the group's vast civilian infrastructure in Gaza and the West Bank.
Carter continued by stating that he discussed with Meshaal "items on my agenda that included an extension of the cease-fire in Gaza."
About an hour after he met with Carter last Sunday, Meshaal announced at a press conference that Hamas would not renew the cease-fre.
"There will be no renewal of the 'calm' after it expires," Meshaal told reporters. But then a Hamas spokesman in Gaza announced no official decision to end the truce had been reached.
Hamas, responsible for scores of suicide bombings, shootings and rocket attacks, officially is listed as a terrorist organization by the U.S. State Department. Hamas' charter calls for the murder of Jews and destruction of Israel.
Last month, a top Hamas official in Gaza sparked controversy after he claimed Hamas held a meeting in the Gaza Strip several months ago with aides to Obama. He claimed the terror group was asked to keep the contacts secret until after last month's elections. The charge was strongly denied by Obama's transition team.
Ahmed Yousef, Hamas' chief political adviser in Gaza, claimed to the leading Al-Hayat Arabic-language newspaper Hamas maintained regular communication with Obama aides that even continued during the past week.
"We were in contact with a number of Obama's aides through the Internet, and later met with some of them in Gaza, but they advised us not to come out with any statements, as they may have a negative effect on his election campaign and be used by Republican candidate John McCain (to attack Obama)," Yousuf told Al-Hayat.
Yousef gave WND a series of recent interviews in which he praised Obama as the leading candidate. Days after last month's U.S. presidential elections, he called Obama's win a "historic victory" for the world and told WND that Hamas was sending a letter of congratulation to the president-elect.
Yousef seemed aware his comments may generate some negative publicity for Obama, but he said he feels it important to "reach out and to express our thoughts and engage."
"I praised him six months ago, some people tried to use that against him. But I knew he would win. Like everyone else, we expected this important victory," he said.
Yousef was referring to an interview he gave to WND and WABC Radio in April in which he praised Obama and then found his comments had fueled a firestorm of accusations in the presidential campaign.
In April, Yousef stated he hoped Obama would become president, comparing the Illinois senator to President John F. Kennedy.
"We like Mr. Obama, and we hope that he will win the election," Yousef told WND at the time.
"I hope Mr. Obama and the Democrats will change the political discourse. ... I do believe [Obama] is like John Kennedy, a great man with a great principle. And he has a vision to change America to make it in a position to lead the world community, but not with humiliation and arrogance," Yousef said.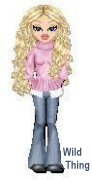 Wild Thing's comment........
Carter the traitor, anti-semite just can't stay out of this kissing up to the Hamas. I wonder whatever happened to the Democrat Senator ( I forgot the name, it was a woman) an she wanted to pull Carter's passport. I was shocked it was one of the Democrats, but actually that is the side of the isle it would need to come from. Even so not enough people wanted to do that to Carter so it never went anywhere.
His passport should be pulled and he should be punished somehow for his actions and statements he has been making now for years. He is a dangerous man.

....Thank you Mark for sending this to me.

Posted by Wild Thing at December 23, 2008 05:48 AM
---
Comments
Agreed, the picture of B. Hussein Obama will make it a quartet.
Bob A.
Posted by: Bob A at December 23, 2008 07:57 AM
---
"Terror is not a new weapon. Throughout history it has been used by those who could not prevail, either by persuasion or example. But inevitably they fail, either because men are not afraid to die for a life worth living, or because the terrorists themselves came to realize that free men cannot be frightened by threats, and that aggression would meet its own response. And it is in the light of that history that every nation today should know, be he friend or foe, that the United States has both the will and the weapons to join free men in standing up to their responsibilities." John F. Kennedy
I wonder if comrade carter will have to change his mind about comparing b.o. to JFK.
Posted by: JohnE PFC U.S. Army at December 23, 2008 08:21 AM
---
Carter is another one of the screaming anti-American liberals that give support to our enemies. Yet none of these liberals leave the comforts and pleasures of America to live with those they claim to support. Think of the numerous celebrities who promised to leave America if Bush was elected or reelected.
Carter is a sick man. I don't now what drives his extreme liberalism. I think he ought to put on a pink tutu and run around with the Code Pink bunch at Berkeley.
Posted by: TomR at December 23, 2008 12:13 PM
---
Posted by: Les at December 23, 2008 04:15 PM
---
Jimmy Carter is a traitor and deserves the death penalty. Why we haven't asked the Mossad to do away with him will always be a mystery to me.
Posted by: cuchieddie at December 23, 2008 06:16 PM
---
Bob A., yes it will.
Hard to believe we will have a President of the USA that has a name that could be the name of a terrorist.
waaaa
Posted by: Wild Thing at December 23, 2008 07:06 PM
---
JohnE PFC U.S. Army, good one, thanks for the quote too. Yes Carter better be aware of his comparisons. Hello Jimmah!
Posted by: Wild Thing at December 23, 2008 07:09 PM
---
Tom.....LMAO....
"I think he ought to put on a pink tutu and run around with the Code Pink bunch at Berkeley."
Yes what chickens, the Hollywood haters are. Promises promises and each one that said they would leave still here still complaiing.
Posted by: Wild Thing at December 23, 2008 07:12 PM
---
Les, this whole thing you said I would love to see across our morning newspaper.
"Jimmy Carter was a national disgrace as President while Jimmy Carter the ex-President has evolved from a terrorist sympathizer to a full-fledged terrorist supporter who wants to arm them with sophisticated weapons, is a radical Islamofascist partner, and a traitor to his country. Three good reasons to hang the bastard. "
Posted by: Wild Thing at December 23, 2008 07:14 PM
---
cuchieddie, I ama huge fan of the Mossad. If they only knew how much so many American's would not shed a tear if they took Carter out. I would celebrate to get rid of the traitor.
Our country used to punish with death traitors and those committing treason.
Posted by: Wild Thing at December 23, 2008 07:18 PM
---