« Calling in Sick | Main | The Freedom Principles »
December 26, 2008
R. Lee Ermey accepts $10,000 Toys for Tots Donation at Naval Air Station North Island
Capt. Michael Kelly, commanding officer of Fleet Readiness Center Southwest, presents toys and a check to retired Gunnery Sgt. R. Lee Ermey to benefit the Marine Corps Reserve Toys for Tots program at Naval Air Station North Island. Fleet Readiness Center Southwest has been supporting the Marine Corps Reserve Toys for Tots program for 49 years. (U.S. Navy photo by Mass Communication Specialist 3rd Class Rialyn Rodrigo/Released)
Actor/Host R. Lee Ermey accepts $10,000 Toys for Tots donation at Naval Air Station North Island

NAVAL AIR STATION NORTH ISLAND, Calif. (NNS) -- The Marine Corps Reserve Toys for Tots program in Southern California got a big boost today, when R. Lee Ermey, retired Marine Corps Gunnery Sergeant and motion picture star visited Naval Air Station North Island Dec. 22.
The History Channel host of 'Mail Call' accepted a contribution valued at more than $10,000 from the Fleet Readiness Center Southwest (FRCSW) Superintendent's Association.
Navy Capt. Mike Kelly, commanding officer FRCSW, presented Ermey a check for $9,500 and an assortment of toys during a brief ceremony at the NAS.
Ermey said the donated money would be used by the wives of Marines from the 4th Tank Battalion at Camp Pendleton to purchase toys "at cost" from Wal-Mart stores.
"I've seen this program grow for years, and it's a wonderful thing when we can get enough toys to give the young kids who have less; a couple of toys each instead of just one," Ermey said.
"We need to show attention to these kids who don't really have a lot. They feel as though nobody cares about them. We need to reach out to these young people and let them know that we do care about them, and are concerned about their well-being and happiness. They deserve to have a Christmas as much as anyone else does," Ermey said.
Ermey has been an official Toys for Tots spokesperson for the past 29 years.
"Today... is Christmas! There will be a magic show at zero-nine-thirty! Chaplain Charlie will tell you about how the free world will conquer Communism with the aid of God and a few Marines! God has a hard-on for Marines because we kill everything we see! He plays His games, we play ours! To show our appreciation for so much power, we keep heaven packed with fresh souls! God was here before the Marine Corps! So you can give your heart to Jesus, but your ass belongs to the Corps! Do you ladies understand?"
SIR, YES SIR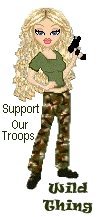 Wild Thing's comment............
God bless those who donated and thanks to R.Lee Emery too and to all our Marines and ALL our troops.
You can go here and listen to the intro.........http://www.rleeermey.com/....or you can drop and give me 50.
heh heh
Now you know I just had to say it that way. hahahaha
Posted by Wild Thing at December 26, 2008 02:07 AM
---
Comments
Ermey is one of the good guys. My daughter loved his Mailcall show. I love how he made them sing Happy Birthday to Jesus in Full Metal Jacket.
God Bless the Marines and their Toys for Tots. So many children had a Christmas this year and in years past because of this program--purely voluntary, but people give so much to it.
Posted by: Lynn at December 26, 2008 05:37 AM
---
Thank you Marine Corps for your decades long Toys for Tots program. Lots of little ones have had a happy Christmas as a result.
Posted by: TomR at December 26, 2008 10:25 AM
---
Thank you WT, Thanks to the Marine Corps for an outstanding program. Many thanks to Ronald Lee Ermey, just wish there were more like him in this world. Semper Fi Marines!!!
Posted by: Jack at December 26, 2008 01:46 PM
---
Ermey's first ever USMC film was a Vietnam War movie that is called 'The Boys in Company C.'
He is awesome in that film and if you ever get a chance to see this UNCUT movie, you won't regret it...OOH RAH and SEMPER FI to all Team Theodore patriots.... all 100 of us? Frohe Weihnachten and Happy New Year!
Posted by: darthcrUSAderworldtour07 at December 26, 2008 04:12 PM
---