« President Bush Visiting Troops At Fort Campbell, Ky | Main | Minneapolis Somali Community Reacts To Terrorist Reports »
November 27, 2008
'We want all Mujahideen released' ~ Says Terrorist Inside Oberoi Hotel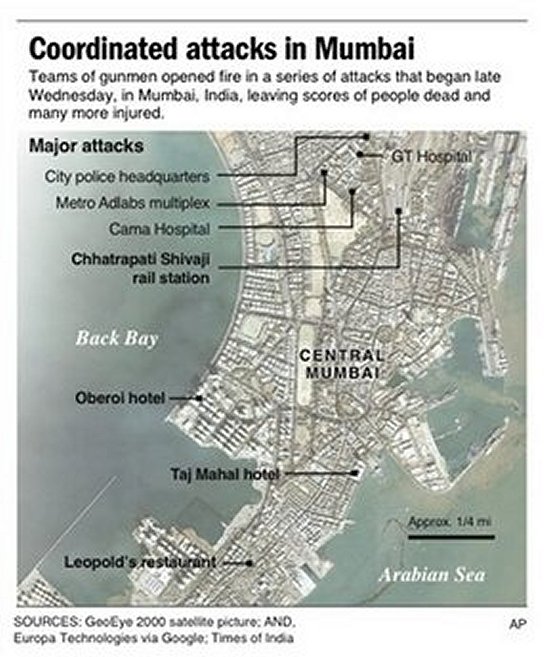 Co-ordinated attacks
.
'We want all Mujahideen released': Terrorist inside Oberoi
MUMBAI: A militant holed up inside Mumbai's Oberoi Hotel told a news channel on Thursday that seven attackers were holding hostages inside the luxury establishment.
"There are seven of us inside hotel Oberoi," the man identified as Sahadullah told the channel. "We want all Mujahideens held in India released and only after that we will release the people."
"Release all the Mujahideens, and Muslims living in India should not be troubled," he said.
Fresh firing erupted early on Thursday in Taj hotel as commandoes moved in to flush out terrorists holding some foreigners hostage after a night of terror targeting ten places in Mumbai.
Army commandoes moved into the luxury Oberoi and the Taj Mahal hotels to flush out terrorists holed up hours after an unspecified number of heavily armed gunmen went on a rampage in ten places in South Mumbai killing 80 persons and taking some foreigners hostage.
Fire and smoke was seen billowing from the hotel as firemen struggled hard to rescue over 100 people still trapped inside.
Five suspected terrorists were killed in two separate incidents overnight including two during a gun battle in the country's iconic landmark Taj hotel, police said.
Maharashtra deputy chief minister R R Patil said nine suspected terrorists have been arrested. Schools and colleges were ordered to be closed.
Chief Minister Vilasrao Deshmukh said five police officers including Anti Terrorism Squad chief Hemant Karkare were killed in one of the worst terror strikes in the country's financial capital that in all claimed the lives of at least 11 police personnel.
"The operation (by security forces) is still going on," he said. Besides army commandoes, naval commandos and Rapid Action force personnel joined in the operations to rescue those stranded in the two hotels. Five columns of Army and 200 NSG commandoes have been rushed. Two sten guns have been recovered by police so far, he added.
Deshmukh said it was not immediately known how many terrorists were involved in the audacious attack in ten places that shook the western metropolis. The chief minister said the Taj and Oberoi are not in control yet. He said there are no terrorists in Cama hospital which was also targeted by gunmen.
Police reported that some hostages were still being held at the Taj Mahal and Oberoi with eyewitnesses saying the gunmen had targeted foreigners after they kept shouting: "Who has US or UK passports?" Several guests were also stuck.
Fire was still raging in the old wing of Taj hotel several hours after it was rocked by five to six blasts and enormous clouds of black smoke rose from the century-old edifice on Mumbai's waterfront.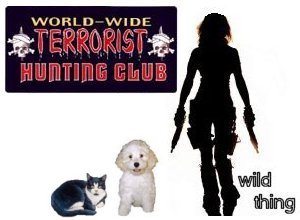 Wild Thing's comment........
Execute ALL in Gitmo. Nuke Mecca and Medina. These Muslimes are trying to kill the civilised world by a thousand cuts.
Every mosque or school that produced those men should be razed with napalm and every dime that is in their bank accounts paid to the surviving family members.
Every apologist should be jailed and we should CONTINUE the policy of actively seeking every person that's been educated or trained at their facilities.
OK Your move, punk!
Posted by Wild Thing at November 27, 2008 03:44 AM
---
Comments
Yeah, like the government is going to do that. Sure. I can't for the life of me understand why the dums want to close Gitmo. The prisoners are in a safe facility, they get their meals, muslim clerics will pray with them, tv, exercise, medical care (same as what we get here) and sunshine. So they're away from their families. So are those two border guards, sitting in a much worse place than Gitmo. These are terrorists and we need to keep them separated from the population. Most of them aren't even wanted back by their own countries!
We can't just bring them here and let some pantywaist liberal ass judge let them go, now can we? They're already here in America, just waiting for this to happen so they can strike. The Dums are exactly that-DUM!!!!!!!!!
Posted by: Lynn at November 27, 2008 06:25 AM
---
Like the way you think Chrissie. Didn't get the nickname "Wild Thing" by being a wussy.
Posted by: James R McKenna at November 27, 2008 08:54 AM
---
The world has already experienced thousands of cuts by muslim terrorists and radicals. The world does little about it.
Only America, with a minimum effort by a few allies, has actually gone to war. George Bush went after the terrorist bases in Afghanistan and Iraq. These wars have resulted in tens of thousands of terrorists being killed and their organizations being disrupted.
The future looks bleak as the muslim world works toward obtaining more nukes.
Posted by: TomR at November 27, 2008 11:03 AM
---
India, should take all the Mujihadeens being held and march out to a wall one at a time and shoot one every 30 minutes until these ratbastards surrender. Once surrendered line them up and shoot them. called Quid pro quo.
Posted by: Mark at November 27, 2008 11:07 AM
---
Lynn, I don't get it either. Gitmo is such a perfect place for them, it is all set up for this kind of thing.
Posted by: Wild Thing at November 28, 2008 12:28 AM
---
James R McKenna, giggle hahaa yes I do what I can. heh heh
Posted by: Wild Thing at November 28, 2008 12:29 AM
---
Tom, yes it does, the nukes should concern every American.
That is one thing I will always be proud that Bush did unlike Bill Clinton. Bush like you said did go afetr the terrorists. And he does love our troops.
Posted by: Wild Thing at November 28, 2008 12:32 AM
---
Mark, that would be so good if they did that.
Posted by: Wild Thing at November 28, 2008 12:34 AM
---