« President Bush and Laura Meet With Arrogant Barack Hussein Obama and His Wife Michelle | Main | Team Sarah Defends Gov. Sarah Palin »
November 11, 2008
Veterans Day ~ You Live In Our Hearts Every Day
Every day we are grateful and want to honor those all who have served in America's Armed Forces. Today has been set aside for a special thank you!! It was originally known as Armistice Day because the armistice or temporary cessation of hostilities for World War I took effect on the eleventh hour of the eleventh day of the eleventh month. - Wild Thing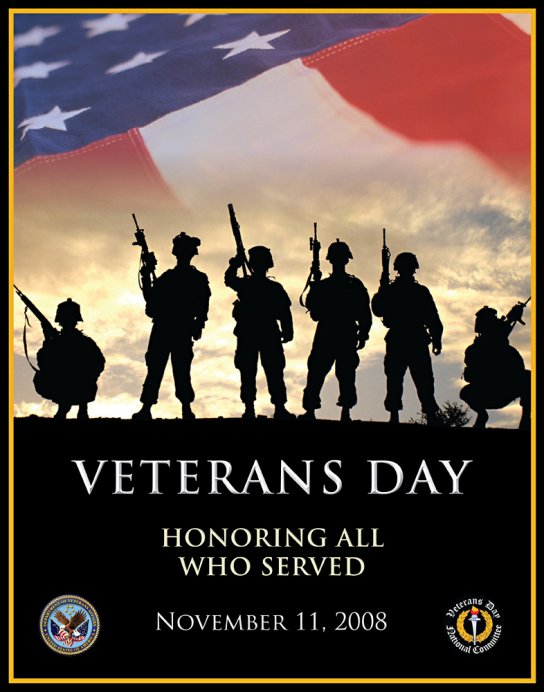 .
To protect the Nation they love, our veterans stepped forward when America needed them most. In conflicts around the world, their sacrifice and resolve helped destroy the enemies of freedom and saved millions from oppression. In answering history's call with honor, decency, and resolve, our veterans have shown the power of liberty and earned the respect and admiration of a grateful Nation.
All of America's veterans have placed our Nation's security before their own lives, creating a debt that we can never fully repay. Our veterans represent the best of America, and they deserve the best America can give them.
As we recall the service of our Soldiers, Sailors, Airmen, Marines, and Coast Guardsmen, we are reminded that the defense of freedom comes with great loss and sacrifice. This Veterans Day, we give thanks to those who have served freedom's cause; we salute the members of our Armed Forces who are confronting our adversaries abroad; and we honor the men and women who left America's shores but did not live to be thanked as veterans. They will always be remembered by our country.
To the corpsmen, the doctors and nurses so very brave to do what they do.
To the pilots and crews, the crew chief, mechanics and base engineers. the missileers, submariners , the reservists, the National Guard , the paratroopers, the cavalry, the Special Forces, the SEALS, the UDT, the EOD, the Delta Force, the Air Commandos, the Marine Recon, the Rangers , the cooks and truck drivers and the fuelers and the boiler tenders and the boatswain mates, quartermasters, the gunner's mates and the stewards and the laundrymen, the clerk-typists , DI's, the guards, the MPs, the Shore Patrol ............so many all a part of making our military the best.
If I left anyone out I am so sorry. We owe our Veterans so much, we owe them everything. And damn to hell anyone that does not appreciate our Military, our Veterans, and our troops today.
God bless them all and may they always know the pride we have for each one of them.
Thank you Veterans one and all!!
Wild Thing
.

A Pittance of Time
Posted by Wild Thing at November 11, 2008 04:55 AM
---
Comments
Thank-you Chrissie for honoring our vets.As a father of five and grandfather of seven i have tought them the same.God Bless all of these "Brave Rifles", their families and those that support them and their mission.Sincerly... James M
U.S. Cavalry
1974-1981
Posted by: James R McKenna at November 11, 2008 07:29 AM
---
Thank You Chrissie for honoring ALL vets....past and present!!! You truly are an inspiration for those who have served and those that are serving this Great Nation of Ours!!!! Thank you from the bottom of my heart for all that you do!!!!
And Thank You James for passing on this heritage to your family!! God only knows are school system isn't!!!!!
Posted by: John at November 11, 2008 08:44 AM
---
Proud to serve Lady Liberty and Uncle Sam from 1976-1997 at Myrtle Beach AFB (A-10 Thunderbolt mission), SPangdahlem Air Base (F-4 Phantom mission)and Dover AFB (C-5 Galaxy missions)...
Freedom IS NOT Free and all of TEAM THEODORE are my brothers and sisters. Like my hero, Bishop Fulton J. Sheen used to say on his B&W TV shows in the Cold War days..."GOD LOVE YOU!" Wild Thing is the Bob Hope of 2008!!
Posted by: darthcrUSAderworldtour07 at November 11, 2008 08:59 AM
---
To all Vets-Thankyou for your service!
to there familys-you are what it is all about.
thanks for your support.
1964-1988.navy/coast guard.
Posted by: Chief at November 11, 2008 09:55 AM
---
By an Anonymous US Marine: "I recently attended a Kansas City Chiefs football game at Arrowhead Stadium. It was their annual Veteran's Day tribute so members of all the services were asked to participate in the festivities.
A color guard for the National Anthem was provided by the Buffalo Soldiers Association. They looked very sharp in their 1800s-era US Army Cavalry uniforms. Following that, the Navy parachute team put on an impressive display that brought cheers from the 78,000 football fans in attendance. Shortly thereafter, we were treated to the truly awesome sight of an Air Force B-2 Spirit stealth bomber flyover as well as a few other aircraft.
All of these sights -- but especially the B-2 -- were truly appreciated by the crowd who let it be known by their cheers.
I expected that was all we would see of the US Military that day. I thought we would see a high school or college marching band during half-time. Few watch those shows anyway because they have to go to the head or grab another beer during the intermission.
Shortly before half-time, however, I looked down on the sidelines near the end zone and saw the Marine Corps' Silent Drill Team forming up. As the half-time show started, the players left the field and the announcer came on the public address system to advise us of the Drill Team's performance. Many of us Marines have seen these performances in the past and they're always awe-inspiring. I didn't expect that the large civilian crowd of football fans would be as appreciative of the Drill Team as they had been of the high-tech B-2 or the daring of the Navy parachute team. However, I was on the edge of my seat. As the Drill Team marched onto the field, the crowd grew noticeably quieter. Soon, the team was fully into their demonstration. The stadium was absolutely silent.
From high in the stands' upper reaches where my seats were, I was able to hear the "snap" and "pop" of hands striking rifles. Both big screen "Jumbotron" scoreboards displayed close ups of the Marines as they went through their routine. As they completed their demonstration and lined up for the inspection, the crowd began cheering as the Marines twirled their rifles in impossible fashion. Then came the inspection. Again, the crowd fell silent and watched intently as rifles were thrown, caught, twirled, inspected and thrown some more. Each well-practiced feat brought a "wow" or "did you see that?" from those sitting around me.
I sat there in silent pride as I watched my brother Marines exit the field. A young girl behind me asked her mother a question about how the Marines learn to do the things they just did. The mother replied, "They practice long and hard and they're Marines; they're the best."
Posted by: Mark at November 11, 2008 10:11 AM
---
I want to thank my fellow Veterans and also Chrissie and the men and women who sacrificed to visit us and provide us a "piece" of home while we served.
Posted by: BobF at November 11, 2008 10:44 AM
---
Thank you Chrissie, every veteran appreciates what you do for us. Thank you Team Theodore.

"Not all women wore love beads in the sixties."
Veterans more than anyone else know what their bretheran have accomplished, many are gone, many are missing, my gratitude to all veterans and their families who have served to keep this nation free. Many served that were not military, they seldom get recognition. Thank you one and all.
For those who have fallen :
"They shall not grow old, as we that are left grow old,
Age shall not weary them, nor the years condemn,
At the going down of the sun and in the morning
We will remember them."
~Binyon

Posted by: Jack at November 11, 2008 11:33 AM
---
I hope all our veterans, their families and their supporters have a meaningful Veteran's Day. Thank You Chrissie for your wonderful support of our military and veterans.
Posted by: TomR at November 11, 2008 11:34 AM
---
Today is the day that the country officially remembers and pays tribute to our veterans and their families not instead of, but in addition to, all of the other days of the year that we remember and pay tribute to them too. To paraphrase Michelle Obama, 'for the first time in my adult life I am not proud of the Commander-in-Chief that our country has chosen to lead the military.' It is both a punishment and mockery to those brave volunteer patriots who now serve their country and an insult to those who have served before them.
Posted by: Les at November 11, 2008 01:52 PM
---
James R McKenna, thank you!! God bless the U.S. Cavalry and you and your family.
Posted by: Wild Thing at November 11, 2008 06:46 PM
---
John, I love today, I love that places still have parades and music and we get a chance to walk up to a lot of Vets and say thank you. Big ole smile.
Posted by: Wild Thing at November 11, 2008 06:49 PM
---
Darth, thank you so much for listing those. And thank you.
Posted by: Wild Thing at November 11, 2008 06:51 PM
---
Chief, thank you so much!
Posted by: Wild Thing at November 11, 2008 06:52 PM
---
Mark, thank you so much for sharing that from the Anonymous US Marine. I wish my Uncles that were Marines were alive today. I would love to introduce them to everyone on here. And my Uncles that were in the Army and Air Force too. One went from the Army and then later in life joined the Coast Guard as well. He used to kid us about taking care of the land and the sea.
Posted by: Wild Thing at November 11, 2008 06:56 PM
---
BobF, thank you and for your service in the Air Force.
Posted by: Wild Thing at November 11, 2008 06:59 PM
---
Jack, thank you so much for that by Binyon. And thank you for serving our country.
Posted by: Wild Thing at November 11, 2008 07:01 PM
---
Tom, thank you Tom for serving our country. I hope everyone has a special day today too. I hope we get to do this always.
Posted by: Wild Thing at November 11, 2008 07:03 PM
---
Les, yes exactly..... in addition too, good one, I like the way you said that.
And Michelle Obama can put her opinion where the sun does not shine.
Posted by: Wild Thing at November 11, 2008 07:05 PM
---
Chrissie, since no one has said it yet, "THANK YOU FOR YOUR SERVICE." We all adore and love you.
C 4/23 Inf 25th ID
173rd AHC (Robin Hoods)
Posted by: cuchieddie at November 11, 2008 07:31 PM
---
cuchieddie beat me to it again.
Thank you Chrissie, for your work on the website.
ATCS (NAC), USN
1972-1993
Posted by: Rick at November 11, 2008 07:59 PM
---
PS: Mark, QB Tyler Thigpen (KC Chiefs) is a CCU Chanticleer! Every single day is Memorial Day, the 4th of July, Veteran's Day, and Flag Day in our house. Now, it's beginning to look a lot like Thanksgiving & Christmas!!! My liberal blue state Baracksheviks detest our flying Old Glory, state flags and U.S. historical flags. On January 20th, 2006, I'll fly our 4' x 6' Lone Star flag in honor of President George W. Bush, Laura, Barbara and Jenna! Too bad neighbors....
Posted by: darthcrUSAderworldtour07 at November 12, 2008 10:03 AM
---