« Intimidation by ObamaNation | Main | Gov.Sarah Palin Slamming Obama's Plan to Bankrupting the Coal Industry! Yeah Sarah! »
November 03, 2008
"The MAC is BACK!" ~ McCain Holds Midnight Rally At University of Miami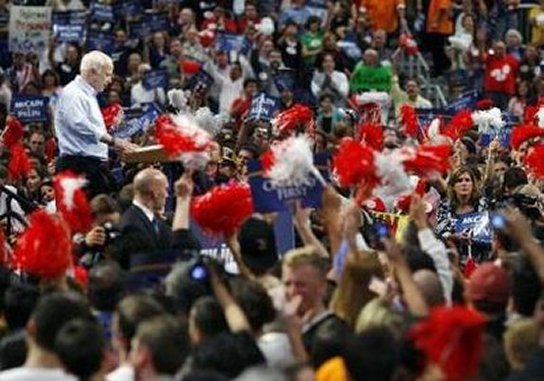 McCain Electrifies Post-Midnight Miami Rally
Actor Kelsey Grammar and his wife Mrs. Kelsey Grammer (Camille Donatacci, a former Playboy model).
are also on stage with them.Crowd is going wild!
For the late hour almost 1 in the morning the crowd is going nuts!
John McCain is finishing out the weekend with a "Midnight Rally" at the University of Miami. At the rally at the BankUnited Center, McCain will get a final energetic boost from a huge crowd of several thousand supporters.
"McCain has a proven record," Sylvia Millor exclaimed.
McCain supporters waited anxiously for the Senator, talking about their votes. "We're fighting two wars and we need someone with experience. And Obama, he's not experienced," said Steve Jansen.
For other supporters, Obama's pro-choice stance on abortion was enough to decide their vote. "When a person will allow the slaughter of babies, why should you think he will protect you or keep his promises to you?" Carol Thompson asked.
And this was posted on HillBuzz Sunday night:
"Harriet and Betty Jean are back from the airport. They were turned down at the rally for McCain because there wasn't room. So they high tailed it to the airport with their signs in the hope they could see him. They saw McCain's car drive onto the tarmac and were despondent when the car headed away from them. Then, the car abruptly turned around and John McCain leapt out of the car and he ran over to the group with a huge smile on his face. Cindy and Joe Lieberman quickly followed. Betty Jean said McCain was quicker than the Secret Service who had to run to keep up with him. McCain thanked them enthusiastically and hugged Betty Jean. It made her day."
.
And this from notes from a friend that was also there:
"It holds 8,000 and it is full, packed. Amazing enthusiasm down the stretch. McCain must be so tired. But he doesn't act like it. His voice is going a little he sounds a little horse, but he is bright eyed and so is Cindy she was here too. Srah has given McCain an energy, this is just so thrilling to able to go to one of the rallies. place is absolutely rocking...McCain is on fire at 1 AM. McCain has stamina...unreal...the Cuban-American population is erupting every 45 seconds. They booed loudly when John McCain said that Obama would sit down with Hugo Chavez and the Castro bros."
.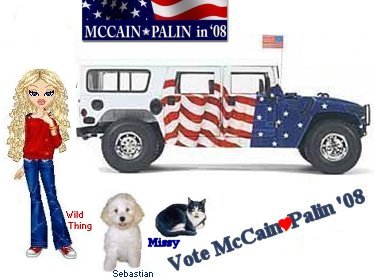 Wild Thing's comment..........
I am so glad McCain and Sarah jumped on this about coal. It is down to the wire and if this had been brought up months ago it would have given Obama lots of time to come up with excuse after excuse. Now he can't do that, oh he can make a statement but nothing like he could have done if this had come up say 3 months ago.
Posted by Wild Thing at November 3, 2008 04:48 AM
---
Comments
During my Myrtle Beach AFB days I must admit I had a crush on PB centerfold Sondra Theodore....
TEAM THEODORE?!!! WOW!!!!
Now we have to settle in and watch OHIO and your state WT - Florida / Floriduh tomorrow night.... RECOUNTS would be GREAT news for Mac & Sarah!
Magic number is 270 folks!
Posted by: darthcrUSAderworldtour07 at November 3, 2008 07:24 AM
---
It's too bad McCain waited to the very end to get his act together and realize the vicious Obama hate machine enemy that has been crucifying him, George Bush, and all Republicans since the beginning of the year. It would be great if by some miracle of justice that McCain/Palin pulled that carpet of arrogance from under the feet of Barack Hussein Obama and they become our next President and VP.
Posted by: Les at November 3, 2008 06:44 PM
---
Darth, LOL I knew her, how funny.
yessssss 270 tah dah!
Posted by: Wild Thing at November 3, 2008 06:44 PM
---
PS: WT.... You mean she is NOT on TEAM THEODORE? OUCH! How about... Shannon Tweed then? YESSSS?
Posted by: darthcrUSAderworldtour07 at November 3, 2008 10:06 PM
---
Les, yes it is, he really has gotten it together and I have been really pleased. But oh my gosh he should have known how we would back him if he would just really go for it from the start.
Posted by: Wild Thing at November 4, 2008 02:15 AM
---
Darth, hahaa not Sondra Theodore and not Shannon Tweed and giggle I know .... you are so funny, and I love it.
Posted by: Wild Thing at November 4, 2008 02:16 AM
---
You'd think that states that have coal mines and mills would go against Obamanation with what he's proposing to do, wouldn't you?
It's like the military voting for Obama, which is against their own interests!
And don't diamonds come from coal?
Certainly Bitchelle doesn't want to shut down the diamonds, does she?
My family is known as the Irish who can't swim because they worked in the mines in Wales as Slaves and when they asked to go home to Ireland, they were told okay, but they couldn't have any boats, so they jumped in and swam back.
Coal is good and we have clean coal plants. It's getting better all the time.
Barackoli Obamanation is an idiot!
Posted by: Lynn at November 4, 2008 04:32 AM
---