« Happy Thanksgiving To All, and a BIG Thank You To Our Troops and Veterans | Main | A Special Video " To My Parents" from Operation Mom »
November 28, 2008
Russian President Visits Cold War Ally Cuba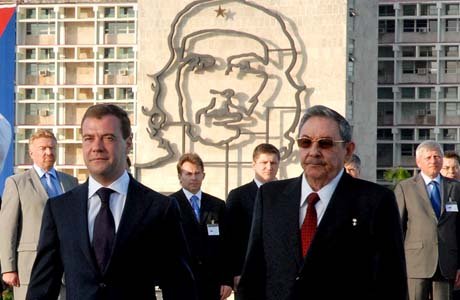 Russian President, Dmitry Medvedev, left, walks alongside his Cuban counterpart Raul Castro as they participate in a flower offering in honour of Cuban national hero, Jose Marti, in Havana on Nov. 27.

Russian president visits Cold War ally Cuba
HAVANA
Russia's president visited old Cold War ally Cuba on Thursday after meeting with his nation's new friends in Latin America in a tour aimed at reviving relationships that have frayed since the Soviet Union's collapse.
Dmitry Medvedev arrived in Havana from Venezuela, where he met with socialist President Hugo Chavez and agreed to help the oil-rich South American country start a nuclear energy program.
Russian officials deny that Medvedev's trip to Latin America — traditionally considered in the U.S. sphere of influence — is meant to provoke the United States, but the voyage included meetings with Washington's staunchest opponents in the region.
In Havana, Medvedev was greeted by Cuban Foreign Minister Felipe Perez Roque and Ricardo Cabrisas, the island's chief of foreign trade and investment. He was immediately sped away in a limousine without addressing reporters.
Medvedev later met with President Raul Castro, who was especially friendly with the Russians during the Soviet years.
Earlier Thursday, Medvedev and Chavez toured a Russian destroyer docked in a Venezuelan port, one of two large Russian warships that arrived this week for training exercises in the first deployment of its kind in the Caribbean since the Cold War.
Chavez saluted the captain, and while touring the vessel joked to reporters from the deck: "We're going to Cuba!"
The warships will hold joint exercises with Venezuela's navy next week. ....
Wednesday's accords included a pledge of cooperation on peaceful nuclear energy.
Moscow plans to develop a nuclear cooperation program with Venezuela by the end of next year, said Sergei Kiriyenko, head of the Russian Federal Atomic Energy Agency.
Cuba is the last stop on a four-nation tour, which also included visits to Peru and Brazil and talks in Caracas with Bolivia's Evo Morales and Nicaragua's Daniel Ortega.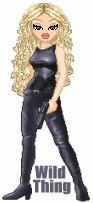 Wild Thing's comment.......
Aw, look at the cute picture of Che in the background. How adorable.....not.
Posted by Wild Thing at November 28, 2008 03:45 AM
---
Comments
They're trying to start the Cold War up again. This time the Cuban boats won't get turned around. At least Kennedy took a shot and worked with Cuban and Russia. Obamammy won't because he's one of them. He'll let us get bombed because, God knows, we deserve it because we Americans are ever so evil and bad.
I don't know why anyone would have Che Guevara as a hero. Under him, millions of people died needlessly and senselessly. He was a very bad man, but the hispanics seem to think he's some kind of hero for the killings. He's not a hero. I see people with Che tshirts and Che pictures in the windows of their cars and think, "These people don't even know who Che is and what he did."
Posted by: Lynn at November 28, 2008 05:54 AM
---
The world is full of spoilers. Russia is a has been power now returning to a form of dictatorship. Russia is also a dying country. Her population is declining. Her military is aged and rusted. Her only power right now is oil, but it is only valuable when the price is above $90 bbl.
Cuba is a never was power. A communist dictatorship with killers as national heroes. Most of the Cuban people would leave for Florida if they could.
Hugo Chavez is doing his best to make Venezuela another Cuban type basket case.
These countries can be a thorn in the side of America and the civilized world, but their flawed political systems keep them from being productive to themselves.
Posted by: TomR at November 28, 2008 10:45 AM
---
I think after the invasion of Georgia the cold war was on its way back. With putin now giving Hussein orders, it shouldn't be long before he will actually have to show up and vote, Yes or No.
Posted by: Mark at November 28, 2008 04:11 PM
---
I can see it now. Russia moves missiles to Cuba and when Obama is asked about it he responds with, "Present".
Posted by: Les at November 28, 2008 04:47 PM
---
Lynn, I bet the re-writing of history has changed a lot of things about Che and they might teach he was not such a bad guy. Not sure of course, but so few people realize who and what he did.
Posted by: Wild Thing at November 28, 2008 08:06 PM
---
Tom, I agree, I think the only use the Russian's would have or China or Iran for that matter to be friends with Cuba would be how close they are to the USA for attacking us.
Posted by: Wild Thing at November 28, 2008 08:09 PM
---
Mark, interesting, yes, Obama might have to do that even during his first week.
Posted by: Wild Thing at November 28, 2008 08:11 PM
---
Les, haha yes that will be his logo instead of change it will switch to Present after he is sworn in. sheesh
Posted by: Wild Thing at November 28, 2008 08:13 PM
---