« Sarah Palin TV ad by the Our Country Deserves Better Committee | Main | Wright's Chickens Coming Home To Roost »
November 09, 2008
President-Elect D'oh-bama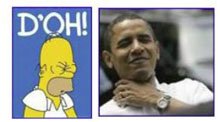 LOL this is good. Michelle Malkin came up with a good name for Obama.
After he just had to attack Nancy Reagan in his very first speech with the Media.
Obama was asked at his press conference today if he'd spoken to all the "living" presidents.
"I have spoken to all of them who are living," he responded. "I didn't want to get into a Nancy Reagan thing about doing any séances."

President-Elect D'oh-bama

....Thank you Mark for telling me.

Posted by Wild Thing at November 9, 2008 04:45 AM
---
Comments
But that's making fun of Homer Simpson!
I'd rather be friends with Homer than Barackoli.
At least Homer accepts you for you.
Posted by: Lynn at November 9, 2008 06:31 AM
---
Lynn, oh yes it is I hadn't thought of that, I like Homer he is a good guy.
Posted by: Wild Thing at November 9, 2008 03:37 PM
---
Yeah but the D'ohbama has a nice ring to it. I guess we could call him Dumbobama, but then Dumbo was an elepant, did walt make any cartoons about an Ass.
Posted by: Mark at November 9, 2008 09:44 PM
---
Mark, LOL I agree, I don't think ole Homer would mind one bit. It will make him even more famous.
I think only Eyore he is a donkey. From Winnie the pooh.
Mark my all time favorite one is the one you came up with .............
ho-bama
Posted by: Wild Thing at November 10, 2008 12:12 AM
---