« Newt Considers a Run for RNC Chairman | Main | Cat vs. The Printer »
November 08, 2008
Leaker Of Palin Attacks ~ Nicolle Wallace In Her Full Rino Glory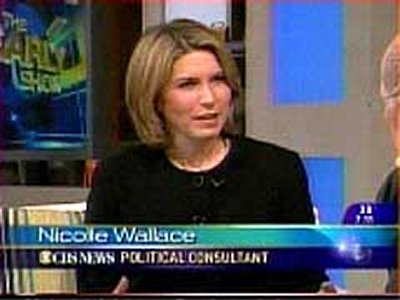 Read this little gem below said by contemptible Nicole Wallace trashing conservative critics of McCain as "crazies.
From February 13, 2008
CBS Political Analyst: McCain Critics are Conservative 'Crazies'
By Kyle Drennen

On Wednesday's CBS "Early Show," co-host Harry Smith discussed the 'Potomac Primaries' with Democratic Strategist Dee Dee Myers and Republican CBS Political Analyst Nicolle Wallace, a former Bush Administration Communications Director, who said of John McCain's conservative critics:
"The more that we see kind of the crazies like Ann Coulter out attacking John McCain, the better Republicans feel about their chances in the general election."
This attack upon conservatives critical of McCain, who include Rush Limbaugh, Sean Hannity, Mark Levin, Laura Ingraham, and others, was prompted by Harry Smith asking about Mike Huckabee's continued support in the race: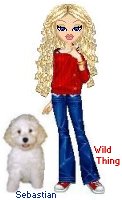 Wild Thing's comment......
Before she was on the McCain campaign staff, Nicolle Wallace was a "CBS Political Analyst" who said that Katie Couric was one of her most admired people in the world...... meanwhile she sneered at conservative critics of McCain during primary season last February as "crazies like Ann Coulter"..........
OOOH, Nicolle Wallace, and now you are (allegedly) trying to destroy Sarah Palin???!!!?? You are going to be persona non grata for any future Republican campaign that wants to get anything more than the RINO vote.
McCain endorses attacking Palin by his refusal to come out and refute it !
Sarah is an awesome lady and she took a bashing from the libtards that no one should have to take all of this from the rino's like Wallace and others. And then spread so joyously by the likes of Cameron and others in the media.
STAND STRONG SARAH!!! YOU HAVE MORE INTEGRITY AND HONOR THAN ANY OF THESE PEOPLE!

And also this.....................
Rush Limbaugh
Rushbo said on his show he was going to declare war on two enemies: Barack Obama and the Republican party. GOOD and I agree!
"Ladies and gentlemen, it is worse than I thought," Limbaugh told listeners. "What the Republican party, led by disgruntled and failed McCain staffers, is trying to do to Sarah Palin, is unconscionable ... There are country-club, blue-blood ... Republicans who want nothing to do with a firebrand conservative [who] can fire up people." He added: "We're going to be taking on two things here [over] the next four years: Obama, and our own party establishment."
Posted by Wild Thing at November 8, 2008 05:40 AM
---
Comments
The RNC is an elitist Eastern establishment. They can't stand a true conservative, raised in the West, educated at a small state college, who believes in the Bible and guns. The Repub leadership are snobbish, non conservative globalists. Another example of "I did not leave the party, the party left me".
Posted by: TomR at November 8, 2008 10:11 AM
---
Amen. It's the Rockefeller Republican Party, any semblance of it's former glory are gone, the party left us as surely as the Democrat party left the Democrats. The RNC are the union bosses of politics, where self interests and protecting their turf are more important than the interests of the constituent or the nation, their success is based on their ability to barely stay to the right of the NeoCom Democrats no matter how far they slide to the left, always it is the choice of the lesser of the two evils. Ronald Reagan and Teddy Roosevelt have to be spinning in their graves at the latest Socialist agenda and moves by party leadership. I expect any day to learn that they are moving their operations to, 2 United Nations Plz, New York City, NY 10001. It's time for Change alright, a new party without any bad seed from the old one.
Posted by: Jack at November 8, 2008 12:19 PM
---
All Right...they got Rush fired up. In order for the Republican party to survive, the RINO's need to go and go fast.
Posted by: BobF at November 8, 2008 03:14 PM
---
About that new RNC, maybe some inspiration would help. Someone new without preconceived RNC notions outside the box of DC, Sarah can't be in two places, 'twould be nice.
This singer spent a short time living with his mother in a low-security women's penitentiary at age 8 he was seized by Children's Aid Society and was later adopted by the Aylward family in Skinners Pond, Prince Edward Island, he ran away at 13. He is an inspiration. To it and at it.
Posted by: Jack at November 8, 2008 04:00 PM
---
She worked for CBS, this should've been McCains first clue, she was a retard. Ah Dan Blather and his secret docs that were forgeries about Bush.
It should have been obvious that she was on the other side. Hell with all the leaks to come out of the McCain campaign didn't anyone ever wonder where they were coming from ? And who was doing the leaking, now that it is obvious who it was.
We had better start re-grouping now and start by purging the likes of this POS and start finding conservatives who are what they say they are and not some leftist retard from CBS.
Posted by: Mark at November 8, 2008 04:18 PM
---
OMG! The 'Cossacks For Change' #1 MOLE has been snitched out?
Posted by: darthcrUSAderworldtour07 at November 8, 2008 05:43 PM
---
Tom, yes I sure am learning this, I never knew this before. Thank you Tom.
Posted by: Wild Thing at November 8, 2008 08:12 PM
---
Jack, thank you for the information. All of this just is so upsetting. I wish we had the party I thought we had.
Just so disappointing.
Posted by: Wild Thing at November 8, 2008 08:14 PM
---
BobF, yes I sure hope we can do something to clean house. I would love with all my heart to turn our party around and be conservative strong.
Posted by: Wild Thing at November 8, 2008 08:16 PM
---
Jack, hahaha that was fun. Thank you and thanks for telling about the singer.
Posted by: Wild Thing at November 8, 2008 08:21 PM
---
Mark, yes what the heck did that hire her for if they knew her resume. Something else is up here and I have to wonder if it was meant for McCain to lose before he even began. Just something in my gut thinking this. McCain wanted Lieberman so badly for his VP and Sarah had to have shocked the heck out of the response she got. America loved her immediately.
Posted by: Wild Thing at November 8, 2008 08:24 PM
---
Darth, yes, it has not been stated as fact, but slowly the facts are coming out and this kind of thing of what she said about Couric etc. it sure makes her out to be an unfriendly for sure.
Posted by: Wild Thing at November 8, 2008 08:26 PM
---