« President Bush and Laura At The National Museum of Am. History | Main | Victory In Iraq Day! Declared To Be November 22, 2008 »
November 20, 2008
In Country With Our Troops ~ Thank you!
'Screaming Eagles' relinquish control of IZ's largest FOB
Story by Sgt. Bill Addison
Photos by Maj. Jon Powers
JASG-C Public Affairs
The Joint Area Support Group- Central (JASG-C), took ownership of the International Zone's (IZ) largest Forward Operating Base (FOB) from the Headquarter and Headquarters Company, 2nd Brigade Special Troops Battalion, 2nd
Brigade Combat Team, 101st Airborne Division, under the watch of Maj. Michael Bobinis Oct. 27.
The transfer of authority marked an important step in streamlining overall ownership of the IZ under the JASG-C, which is made up of New Jersey Army National Guard Soldiers from the 50th Infantry Brigade Combat Team.
Bobinis recognized the daunting task ahead.
"We found out our five guys are replacing about 40 guys, so now we have a challenge ahead of us," said Bobinis, a native of Bethlehem, Pa. With that challenge ahead of them, Bobinis and his team remain confident in their mission. The key, according to him, is teamwork. "We call it Team Prosperity. We want people to be proud to be part of Prosperity," said Bobinis.
Part of his team is 1st. Sgt. Edward Santiago, noncommissioned officer in charge (NCOIC) of the mayor's cell. Santiago's typical answer to the everyday challenges: "Too easy." Does the mailroom need a Conex?
"Your tent is flooding and you need gravel? "Too easy." Does a vendor need a tree branch cut down? "Too easy." As a matter of fact, that turned into a big event. "There was a tree branch that people kept banging their head on, we went and cut it down for them. That gave us instant credibility with the people, and it's spreading around the FOB. All it took was cutting down a tree branch." Santiago, a New Jersey
.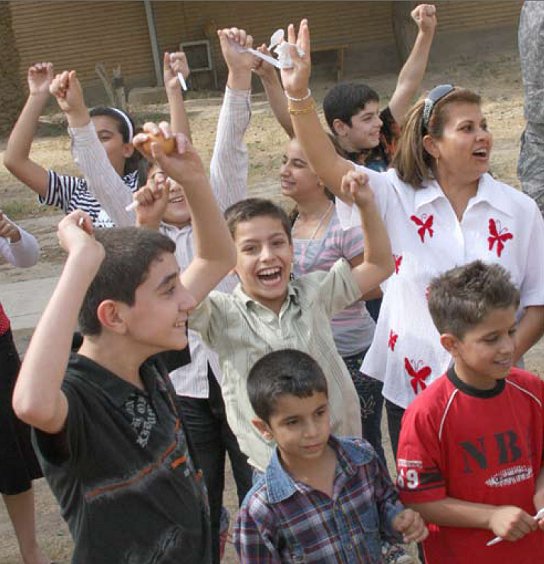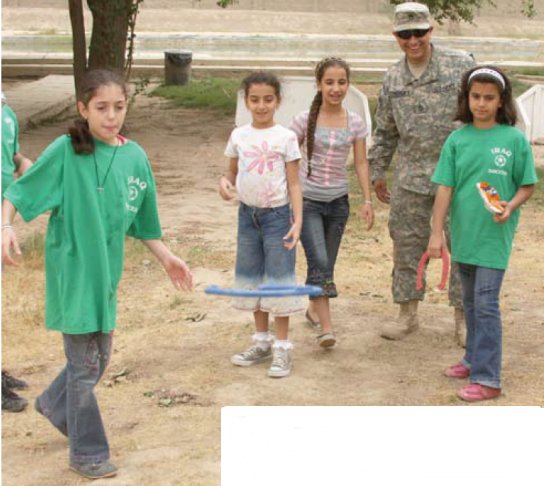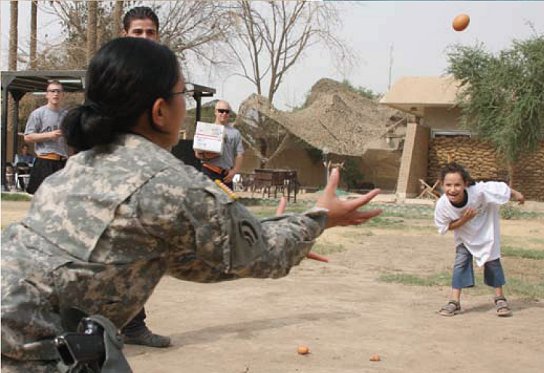 Approximately 20 Iraqi children and their parents from outside Baghdad's International Zone (IZ) enjoyed a day of
games and activities at the IZ's Forward Operating Base Freedom Oct. 24, courtesy of the Joint Area Support Group- Central (JASG-C). Activities ranged from horseshoes with Sgt. 1st Class Robert Stephenson, to egg
tossing with Spc. Hyacinthe Luna, to swimming with Air Force 1st Lt. Jaimie Howard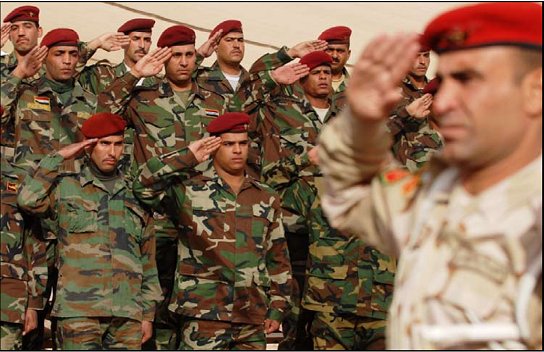 IA Soldiers from 4th Bn., 31st IA Bde., 8th IA Div. salute for the Iraqi and U.S. National Anthems during the graduation ceremony of the Lionclaw Academy on FOB Kalsu Nov. 15.
FOB KALSU– Thirty-one Iraqi Army Soldiers graduated from the last class of the Vanguard Brigade's route clearance course at Forward Operating Base Kalsu Nov. 15. The Lionclaw Route Clearance Academy, which began its first class July 20, taught four iterations of the course to Soldiers in the 31st Brigade, 8th IA Division.
"Today we stand here and celebrate the fourth graduation, and we're celebrating for two reasons," said Brig. Gen. Abdul Amir, 31st Bde. commander. "The first reason is because of you, the heroes who have graduated as a road clearance platoon, and the second reason is because now we have finished training four road clearance platoons. Now, we have one road clearance platoon in each battalion … so now we have more military fighting ability."
Sgt. Thomas Dwyer from Forked River, N.J. of the Command Security Detachment, 3rd Brigade Combat Team, 4th Infantry Division stops to pass out soccer playing cards to Iraqi children while conducting a patrol in a local market in the city of Baghdad, Iraq, on Oct. 22, 2008. They are conducting the patrol to show a strong presence in the local community.
.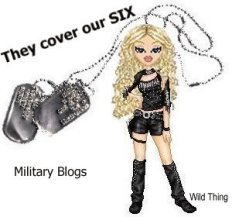 Wild Thing's comment........
More news that the left hates to see and the media turns a blind eye to.
God bless our troops. What a great idea about the games for the children to play. The photos show how much they loved it.
Posted by Wild Thing at November 20, 2008 04:45 AM
---
Comments
Bless our troops and their efforts. The Iraqis have more respect for our soldiers than many Americans do.
Posted by: TomR at November 20, 2008 12:23 PM
---
Tom, your right and it is shameful that it is like that. I am so ashamed of those that do not support our military.
Posted by: Wild Thing at November 20, 2008 07:50 PM
---